Enjoy one or your favorite restaurant copycat soups at home with my version of Olive Garden's Chicken Gnocchi Soup.
Do you love Olive Garden's Chicken Gnocchi Soup and wish you could eat it more often? Now you can with this homemade copycat version that tastes just like the original.
My youngest daughter and I got to spend a lot of quality time together over the summer as both my husband and older daughter were working during the day. She kept busy attending a few day camp sessions, volunteering for a township youth program,  shopping, reading  and completing her school summer assignments and every now and then we ventured out for lunch to some local restaurants.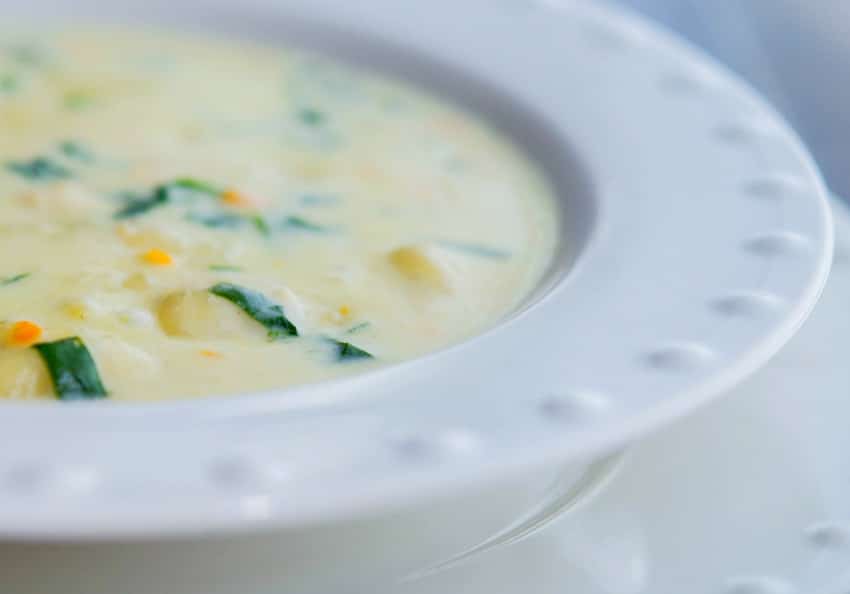 One day while it was a little overcast and rainy, she decided she wanted to go to Olive Garden for soup and salad. It sounded like a good plan to me. She has been there several times before and really loves their Chicken Gnocchi Soup; which is a creamy, chicken based soup with fresh spinach and gnocchi. I usually get their Pasta e Fagioli or Minestrone, but the Chicken Gnocchi Soup sounded good to me too so we both ordered the same thing for lunch. Besides, if I wanted to try to make it at home for her I just had to try it for myself!
About a week later, I bought ingredients to try to replicate this soup at home and of course she was thrilled. This soup recipe makes quite a bit; however, I like to make extra soup when the cold weather is coming so that I can freeze it. Besides, I need to stock pile some additional meals in the freezer for our oldest daughter who is away at college and cooking for herself. This way she'll have some homemade prepared meals for when she comes home to visit that she can take back with her.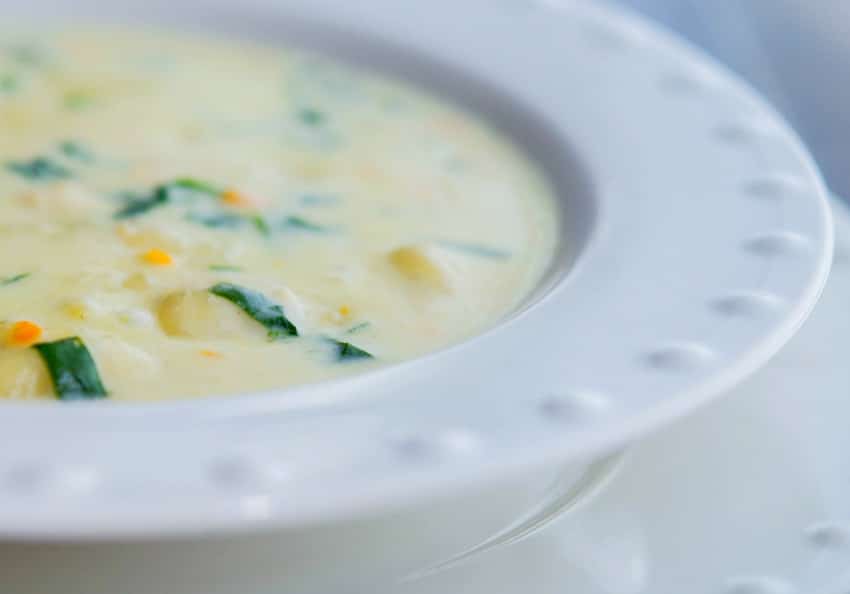 We LOVED this Chicken Gnocchi Soup. It was delicious and tasted just like the restaurant version. The soup does thicken the longer it sits; however, if you want to eat it right away and it's a bit too thin for your liking, simply combine equal parts of cornstarch and cold water and mix it in with the soup. To speed the preparation, I also used leftover grilled chicken and frozen gnocchi, but any type of leftover or store bought rotisserie chicken would work just as well. I'll definitely be making this soup again. ~Enjoy
Olive Garden Chicken Gnocchi Soup (Copycat)
Author:
Carrie's Experimental Kitchen
Ingredients
2 tbsp. Butter
½ c. Celery, washed and thinly sliced
¼ c. Grated Onion
⅓ c. Grated Carrots
1 tbsp. Garlic, minced
2 tbsp. All Purpose Flour
6 Chicken Bouillon Cubes
8 c. Water
⅛ tsp. Ground Nutmeg
½ tsp. Ground Thyme
4 c. Fresh Baby Spinach, rinsed
2 c. Cooked Chicken (roasted or grilled), small dice
2 c. Heavy Cream
16oz. Gnocchi, frozen or fresh
Cornstarch, if needed
Cold Water, if needed
Instructions
In a large pot, melt the butter over medium heat; then add the celery, onions, carrots and garlic. Stir for 1-2 minutes until the celery starts to soften.
Whisk in the flour; then add the water and chicken bouillon cubes.
Next, add the chicken, nutmeg and thyme; stir well. Increase heat and bring to a boil; then reduce heat and simmer for 15 minutes.
Heat the heavy cream in a small saucepan; then add it to the soup along with the spinach and gnocchi.
Simmer for an additional 15-20 minutes or until gnocchi is cooked. If needed combine equal parts of cornstarch and cold water to thicken your soup as desired.
Notes
*Nutritional information for this recipe provided by CalorieCount.com based on ingredients and brands I personally used to create this recipe and may not be 100% accurate.
Nutrition Information
Serving size:
1 cup
Calories:
194
Fat:
11.8
Carbohydrates:
13.1g
Sugar:
2.6g
Sodium:
455mg
Fiber:
.3g
Protein:
8.4g
Cholesterol:
58mg
Do you eat soup only in the cooler months or year round?
If you want to stay up to date on all of my latest recipe experiments, sign up for my weekly newsletter or you can visit the recipe index and search for more recipes by categories. Also, don't forget to visit me on Facebook,Twitter,Pinterest and Instagram too!
This post includes links to my affiliate account at Amazon.com where Carrie's Experimental Kitchen earns a few cents on the dollar when readers purchase the items I recommend. Thank you for supporting Carrie's Experimental Kitchen when you shop at Amazon.