If you partake in no meat on Friday's during the Christian holiday of Lent, these 40 Seafood Recipes will help give you a little menu planning inspiration.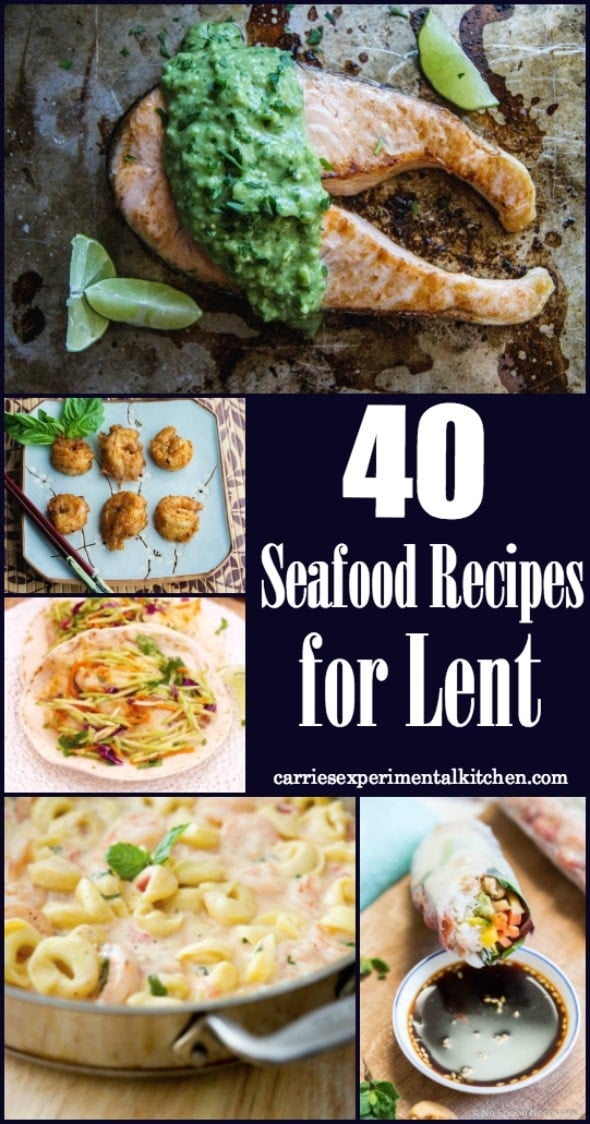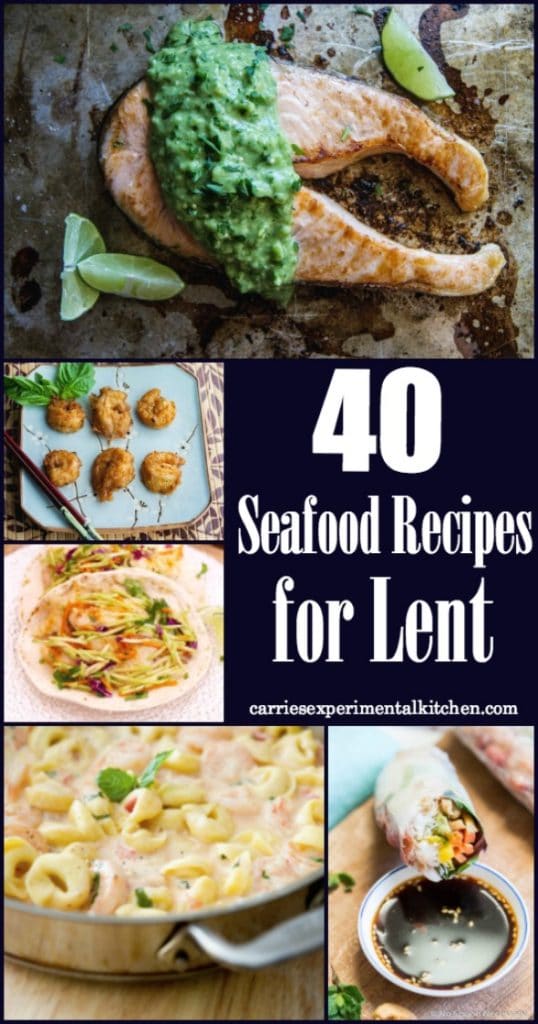 I personally don't like or eat any seafood, so you will rarely find seafood dishes here at Carrie's Experimental Kitchen. But just because I don't cook it often myself, doesn't mean I don't know a fabulous looking dish when I see it.
Being that it's Lent; where Christians don't eat meat on Friday's in the weeks before Easter; I've compiled this list of 40 Seafood Recipes for Lent to give you a little inspiration.
Click on the name of the recipe to be taken to the author's original post. You can also find all of today's recipes on my Seafood Pinterest Board along with other seafood finds. Check back often as I post to this board weekly. Have a great weekend!
SHELLFISH
Cheesy Skillet Shrimp & Tortellini from Carrie's Experimental Kitchen
Grilled Shrimp with Roasted Garlic Cilantro Sauce from The Mediterranean Dish (photo pictured)
Fideos with Shrimp and Peas from Lydia's Flexitarian Kitchen
Oysters Rockafeller from Noshing with the Nolands
Lobster, Mango & Avocado Spring Rolls from No Spoon Necessary
Lemon Basil Grilled Shrimp from Carrie's Experimental Kitchen
Gluten & Wheat Free Crab Cakes with Garlic Aioli from Lauren Kelly Nutrition
Cilantro Shrimp Fried Rice from Sumptuous Spoonfuls
Tomato Basil Tempura Style Shrimp from Carrie's Experimental Kitchen
Irish Scallop Bisque from Beyond Mere Sustenance
Kung Pao Shrimp from Rasa Malaysia
Crab Rangoon Lasagna from What the "Forks" for Dinner
Easy Shrimp and Broccoli Stir Fry from Damn Delicious
Seafood Salad from South Your Mouth
Cajun Shrimp & Pasta from Carrie's Experimental Kitchen
Seafood Pasta Bake from Call Me PMC
Tempura Shrimp with Honey Mustard Dipping Sauce from Coupon Clipping Cook
Cheesy Crab Sliders from Julie's Eats and Treats
Spicy Coconut Shrimp Soup from Ally's Kitchen
Dijon Maple Grilled Shrimp Skewers from Carrie's Experimental Kitchen
Lobster Pizza from In Good Flavor
Beer Steamed Clams from Bev Cooks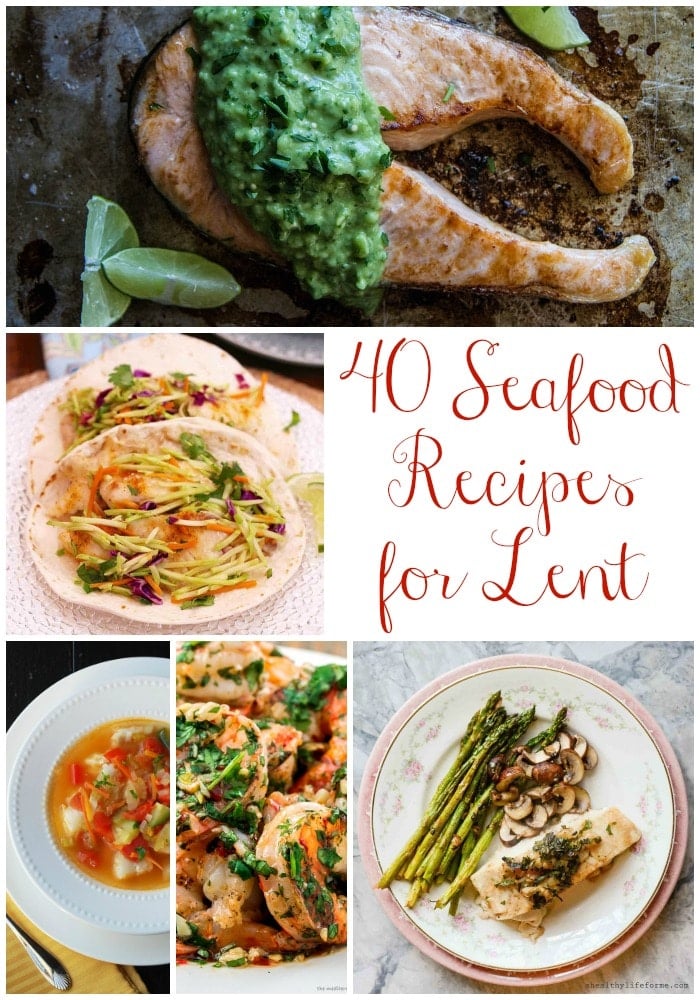 Get my weekly newsletter
for the
latest recipes and receive
a FREE eBook!
FISH
Broiled Salmon Steak with Creamy Avocado Sauce from Heather Christo (photo pictured)
Baked Tilapia and Vegetable Casserole from Natasha's Kitchen
Baked Halibut with Orange Sauce from Simply Fresh Dinners
Cajun Fish Soup from Amee's Savory Dish (photo pictured)
Tuna Burger with Cilantro Garlic Aioli from Hot Eats and Cool Reads
Fish Tacos with Curried Broccoli Slaw from Zagleft (photo pictured)
Homemade Smoked Salmon from Food Done Light
Maple Roasted Salmon from Girl Carnivore
Easy Salmon Foil Packets from Family Fresh Meals
Tuna Patties from Simply Recipes
Fish and Chips Casserole from Bobbi's Kozy Kitchen
Salmon and Avocado Toast from A Zesty Bite
Spice-Crusted Tuna from That Skinny Chick Can Bake
Oven Roasted Sea Bass from A Healthy Life for Me (photo pictured)
Roasted Branzino with Tomatoes and Lemon Basil Sauce from Girl in the Little Red Kitchen
Salmon Ginger Burgers from To Do: Lose Weight
Asian Style Steamed Red Snapper from XOAmy's
Blackened Fish with Mango Salsa from The Unorthodox Epicure
Visit the

recipe index

to search for more recipes by category!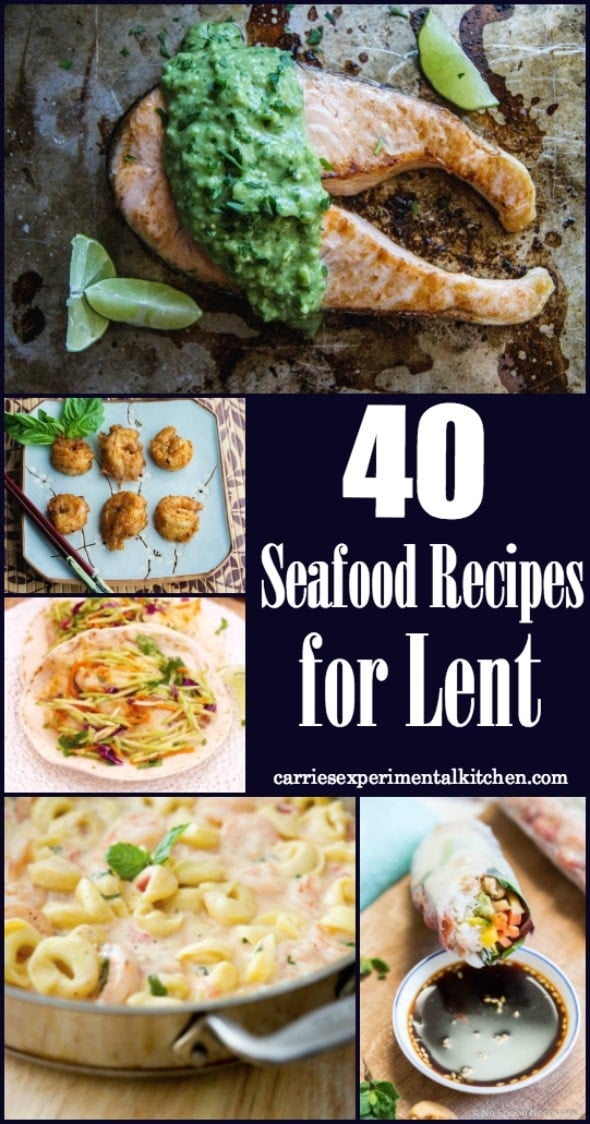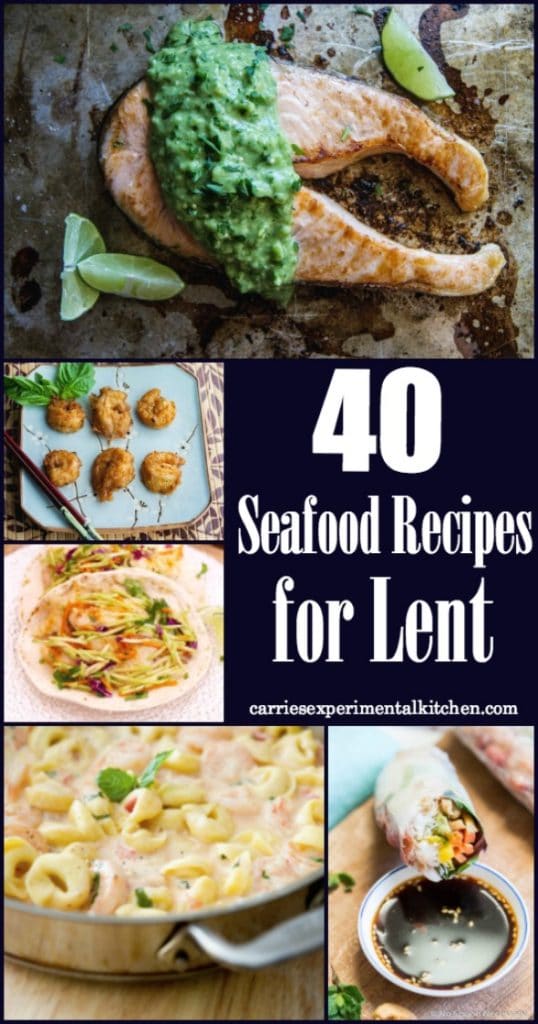 Connect with me on Social Media