How many times do you take chicken out for dinner; then not know what to make with it when you get home? Here are 60 Easy Chicken Recipes to help you out.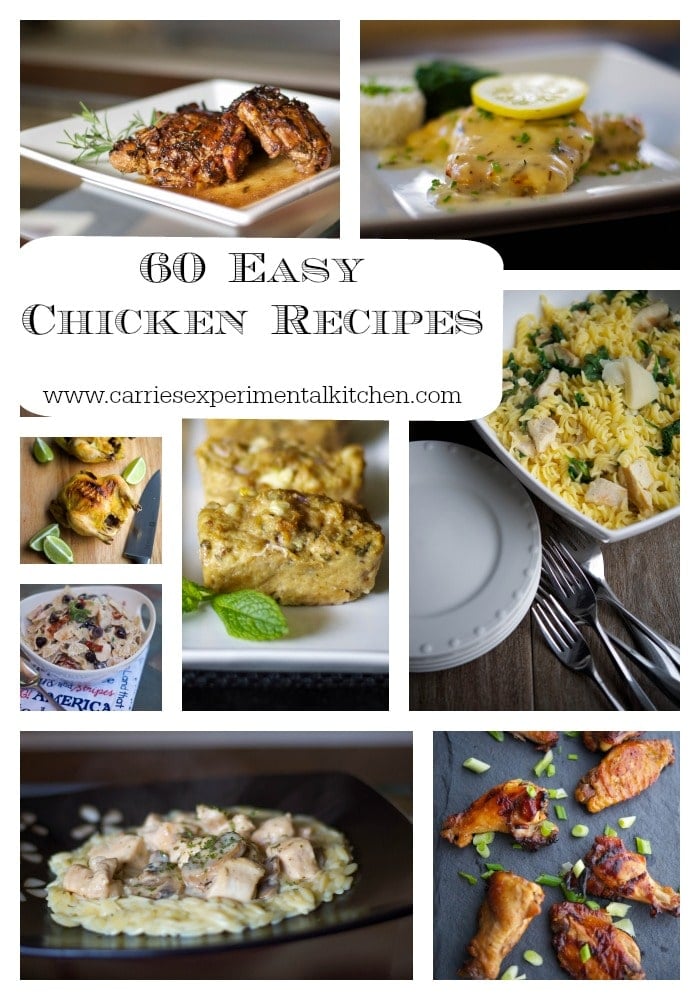 I can't believe summer is almost over and the kids are heading back to school. It flew by didn't it? My youngest starts middle school next week and my oldest just started her first year of college. Boy do I feel old!  Since our daughter is living off campus in an apartment, she has to plan and cook meals for herself.  Her and her roommates have really been utilizing their inside portable grill to make a lot of grilled chicken and salad, but as you all know that can get old REALLY fast!
So since September is National Chicken Month, I've compiled a list of 60 Easy Chicken Recipes that you can make at home. They say variety is the spice of life right?! Hopefully this will give my daughter and her friends a little more inspiration as they're planning their meals; as well as all of you who tend to eat a lot of chicken on a weekly basis like we do.
To make it easier to find the recipes below, I've separated them into the following categories:
Appetizers
Soup, Salads & Sandwiches
Baked, Roasted or Fried
It's All in the Sauce–Chicken dishes that have some sort of sauce
Grillin' It
One Pot Meals
Chicken with Pasta
Here are 60 Easy Chicken Recipes. Click on the title of the recipe to be taken to the original post.
~Enjoy and Happy Labor Day!
Appetizers
Reduced Fat Buffalo Chicken Dip
Hooter's Buffalo Wings (Copycat)
Soup, Salads & Sandwiches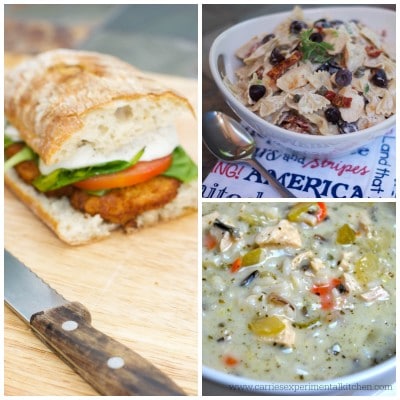 Grilled Chicken Pasta Salad with Kalamata Olives, Capers & Sun Dried Tomatoes
Chicken & Wild Rice Soup (Panera Copycat)
Chicken Cutlet Sandwich with Fresh Spinach, Campari Tomatoes & Buffalo Mozzarella
Grilled Chicken & Pesto Panini
Baked, Roasted or Fried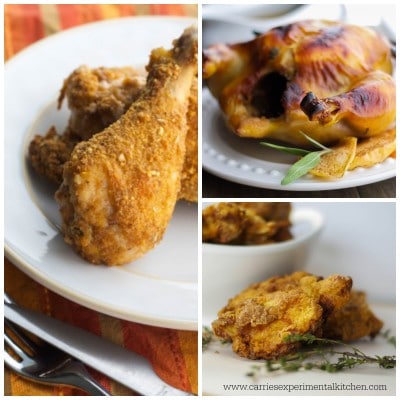 Apple Cider Brined Roasted Chicken
Graham Cracker & Pecan Crusted Baked Chicken
Clemen-Thyme Baked Chicken Cutlets
Feta & Sage Chicken Mini Chicken Meatloaf
Zesty Buttermilk Baked Chicken
Spinach & Artichoke Chicken Meatloaf
Pretzel Coated Chicken Nuggets with Honey Mustard Dipping Sauce
Dijon Balsamic Roasted Chicken
It's All in the Sauce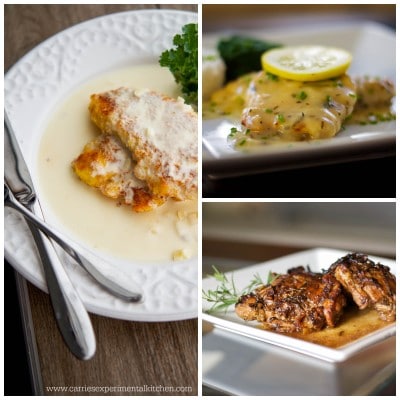 Chicken Costoletta (Cheesecake Factory Copycat)
Chicken Melanzana (Chicken with Eggplant)
Chicken Florentina (Chicken with Spinach & Tomatoes)
Chicken in a Tomato Vodka Sauce
Chicken in a White Wine Sage Sauce
Chicken in a Lemon Butter Sauce
Chicken in a Sun Dried Tomato Cream Sauce
Braised Chicken with Cremini Mushrooms in a Frangelico Cream Sauce
Champagne Chicken with Baby Portobello Mushrooms
Grillin' It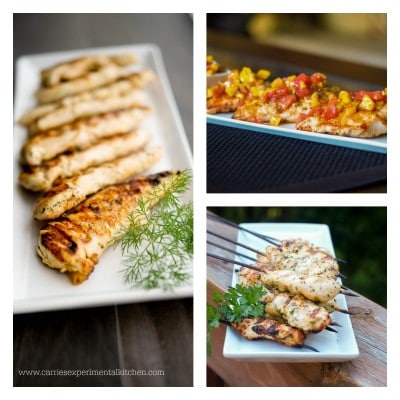 Honey-Lime Grilled Chicken Skewers
Lemon Thyme Brined Grilled Chicken
Grilled Chicken with Summer Fruit Salsa
One Pot Meals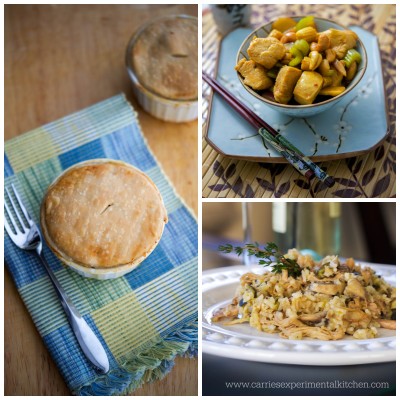 Chorizo, Chicken & Black Beans with Rice
Cashew Chicken with Sesame Garlic Sauce
Champagne Braised Chicken with Grape Tomatoes & Capers
Chicken and Rice with Zucchini
Braised Chicken and Red Potatoes in a White Wine Rosemary Sauce
Chicken, Zucchini & Portobello Mushrooms in a Chianti Wine Sauce
Balsamic Risotto with Grilled Chicken, Fresh Spinach & Sun Dried Tomatoes
Dijon Braised Chicken with Sweet Potatoes
Chicken with Pasta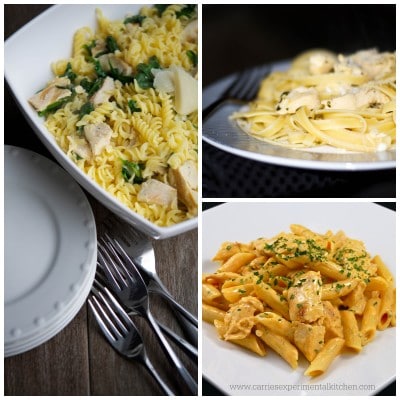 Chicken Scampi over Fettuccine
Gluten Free Lemon Chicken Spinach Pasta
Low Fat Chicken Fettuccine Alfredo
Baked Pasta in a Chicken Meat Sauce