Did you know that nearly 18 million people suffer from a wheat allergy, sensitivity or intolerance? In an early report back in the 1980's, they found that allergies can affect any system of the body, including the central nervous system and can cause a diverse range of symptoms. 

According to an article on Foodforthebrain.org, most food allergies develop in reaction to the protein in food and wheat is on the top of the list because it contains a substance called gliadin; which is a type of gluten and irritates the gut wall. Gliadin is a sticky protein that allows pockets of air to form when risen with yeast, which is how bread is made. Eating a lot of wheat products isn't good for anyone and there have been proven connections between wheat allergy, autism and ADHD in children. In fact, just last week, before writing this post, a friend and I were discussing how her son's ADD(Attention Deficit Disorder) is progressively getting worse. I told her about what I had found out regarding the connection to wheat and told her to get a copy of Lauren's book. Since then I also found this very informative article on Wheat-free.org entitled, "Autism, Attention Deficit Hyperactivity Disorder (ADHD) and other developmental disorders possibly affected by gluten". 

Someone with a wheat intolerance or allergy may experience some of the following symptoms:
Nasal congestion

Asthma, 

Eczema or skin rash

Diarrhea

Fatigue

Chest pains

Heart palpitations

Bloating

Nausea

Vomiting

Abdominal cramps

Throat swelling

Joint pain

Depression

And a state of fogginess

Anaphylaxis 

Decrease in blood pressure

Skin turning flushed, very pale or bluish in color

So when my foodie friend and fellow NJ girl, Lauren from Lauren Kelly Nutrition, first told me she was going to be writing a Wheat-Free Diet cookbook, I was thrilled. Many people I know have experienced one or several of these symptoms, yet when they went to their physician, they only tested for Celiac Disease. Though the two are similar and some of the same symptoms may occur, Celiac is an autoimmune disorder where when the person eats gluten, the immune system attacks normal tissue in the intestines; which causes patients to not get the proper absorption of crucial nutrients. Wheat allergy sufferers do not have the same problems with absorbtion. They are only allergic to the protein found in wheat and must only avoid wheat. 

I have many pages flagged in this book with recipes I can't wait to try and it's such a great resource. There are over 300 wheat-free recipes along with so many helpful tips, answers to common questions and important information. There is also a complete section with foods to avoid. I have also created a category here on my blog for recipes I've created which are Gluten Free;  many of which are also Wheat-Free, but check the ingredients first to make sure.

I wanted to tackle something quick and easy for my first recipe and since I've been on a recent quinoa kick (and I can only seem to get my kids to eat it when it's prepared cold in a salad!), I wanted to try her version of Asiago Quinoa with Portobello Mushrooms as a side dish to go with one of our weeknight meals. Well, I'm happy to report EVERYONE in my family LOVED this, including the kids! How could they not with many of our favorite Mediterranean flavors like garlic, mushrooms, oregano, thyme, basil and Asiago cheese.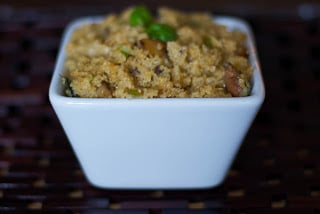 Asiago Quinoa with Portobello Mushrooms
 The Everything Wheat-Free Diet Cookbook
1 tbsp. Extra Virgin Olive Oil
1/4 c. Leeks, white part only, chopped
2 Garlic Cloves, chopped
1 c. Portobello Mushrooms, chopped
2 Sprig Fresh Thyme, removed from stem
1 Sprig Fresh Oregano, removed from stem
1 c. Quinoa, rinsed and drained
2 c. Low-Sodium Chicken Broth
2 tbsp. Fresh Basil, chopped
1/4 c. Asiago Cheese, shredded

Directions:
1. Add the chicken broth to a saucepan and bring to a boil; then add in the quinoa. Bring to a boil then let simmer covered over low heat until the liquid has absorbed. 
2. While the quinoa is cooking, heat the oil in a large nonstick saute pan and add the leeks, garlic, mushrooms, thyme and oregano. Cook until the mushrooms have softened and are lightly browned; approximately 5 minutes. 
3. Add the quinoa to the mushroom mixture and stir in the basil and cheese. Serves 6. 

*Nutritional Information per Serving: Calories 168, Carbs 19.5g, Fat 6.5g, Protein 8.7g, Fiber 2.4g
*Calculations based on ingredients entered into CalorieCount and may not be 100% accurate. 


And now for the Giveaway!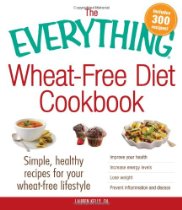 Lauren has graciously offered to give one lucky reader a copy of "The Everything Wheat-Free Diet Cookbook". Click on the Rafflecopter link below to enter and tell me which recipe you would make from Lauren's book next! 


Cauliflower Pizza Crust

Quinoa Pudding

Black Bean Quinoa Chili

Avocado White Bean Hummus

Spicy Olive Chicken

Sweet Potato Gratin with Leeks and Onions

Double Chocolate Quinoa Muffins

Vegetarian Quinoa-Black Bean Cakes

Sicilian Eggplant Rolls