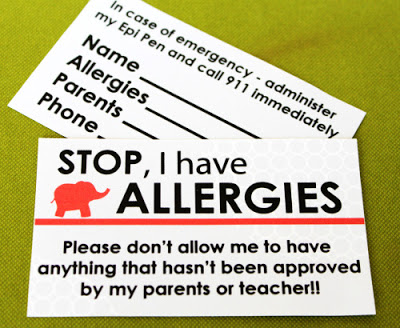 Photo courtesy of Paper & Pigtails.
For Free Printables for Kids with Allergies, click HERE.
For many kids, summer fun is over and children are gradually starting to make their way back to the classroom. For some, being in school can be life threatening; especially if surrounded by foods that can make them sick.
According to a recent article in Family Circle, about 90% of food allergies involve just eight foods. I've heard many parents complain over the years about not being able to bring in cupcakes or a specific treat for their child's birthday. But is it really worth another child getting sick over?
I am one of the fortunate ones who have children without any food allergy issues, but many of my children's friends do. It's important that everyone be aware and to seek alternatives so as not to alienate a child in class. No one wants to feel like they don't belong.
Though not a complete list, here are the most common food allergies…
Peanuts .6%
Fish .6%
Soy .6%
Eggs 1%
Shellfish 1.2%
Wheat 1.3%
Milk 3%
Tree Nuts (almonds, pecans, cashews, walnuts) 4.1%
Helpful Tips
A Little Inspiration
(contains dairy)
(contains wheat)
(contains dairy)
(contains wheat and eggs)
(contains tree nuts)
(contains tree nuts)
And one of our favorites….
Have a great school year!