Well, this is not the healthiest thing to eat, but it's what Gabrielle wanted for her birthday dinner last week. I do try to lighten it up a bit by using part skim ricotta and mozzarella, but if you don't care about the extra calories, by all means, use whole milk products! This is such an easy dish to make, especially if you have some sauce in the freezer or if you prefer jar sauce, that will work too. She loved it and it made enough to have lunch the next few days too. This meal also freezes well (prior to baking it in the oven), if you want to make it ahead of time or make extra so that you can just pull it out of the freezer in the morning and bake it on one of those hectic nights.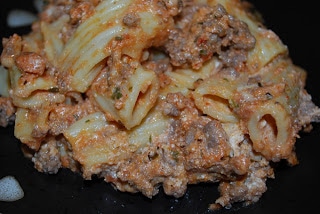 Baked Rigatoni with Meat Sauce
1lb. 90/10 Ground Beef
4 c. Prepared Marinara Sauce
1lb. Rigatoni Pasta (or you could use ziti)
1-15oz. Part Skim Ricotta Cheese
1 Egg
1 tsp. Garlic Powder
1/2 tsp. Kosher Salt
1/4 tsp. Fresh Ground Black Pepper
1 tbsp. Parsley
1 1/2 c. Shredded Part Skim Mozzarella
Boil water in a large pot and prepare the pasta according to package directions, removing while the pasta is still somewhat firm. Drain and add back into the pot (You don't want to cook it all the way because the sauce and cheese mixture will cook the pasta even further). In a large non-stick frying pan, brown the ground beef and remove excess oil. Add the marinara sauce and let simmer 10 minutes. In a separate bowl, mix together the ricotta cheese, egg, garlic powder, salt, pepper, parsley and 1 cup of the mozzarella cheese. Add this mixture along with the meat sauce to the pasta and mix well. Place in an oven safe baking dish, sprinkle with remaining 1/2 cup of mozzarella cheese and bake at 425 degrees for 20-30 minutes until the cheese has melted and it is heated through. Serves 10.
Points+=11pts.
Enjoy!