This past weekend, I was invited to experience The Buick Discovery Tour, an event where consumers are invited to test drive Buick vehicles and can then attend demonstrations and interactive experiences with celebrity chef Michael Psilakis, Food & Wine Best New Chef George Mendes, and pastry chef Ben Roche. The event will be held across the country this year, in cities including Los Angeles, Phoenix, Houston, Denver, Tampa, Atlanta, Boston, New York and in New Jersey (where I attended). Multiple three-hour sessions take place with typically more than 1,200 people registered throughout the weekend events.
Showcasing a fresh, new lineup but still facing antiquated opinions about its products, Buick is using a different strategy to reach luxury buyers – food. And with a buy rate nearly triple that of the industry norm and increases of nearly 100 percent in opinion and consideration for Buick among import owners (and decreases for competitors), the strategy is working.
Culinary, a growing lifestyle interest among luxury buyers, attracts a unique, target-rich audience to Buick who are younger, more affluent and highly educated. One way Buick is connecting with this demographic is through its Buick Discovery Tour, one part of a number of promotional activities that blend the discovery of food trends with Buick's new portfolio.
Here is how our afternoon went!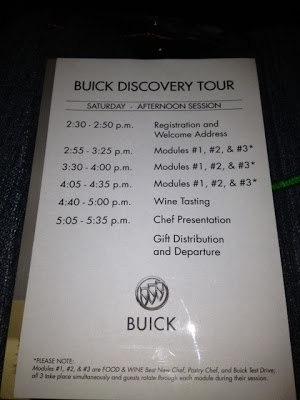 We were welcomed by representatives in the hotel lobby of the Westin Governor Morris in Morristown, NJ where we received badges outlining what our afternoon would consist of. We were then instructed to go upstairs for some light refreshments until all of the guests had arrived and were treated to a lovely Mediterranean display of olives, meat, cheeses, grilled vegetables and salads.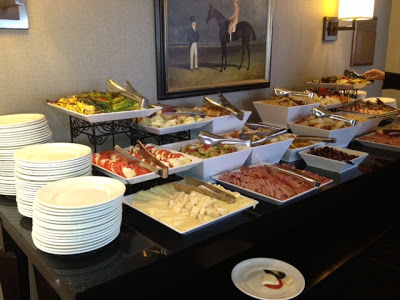 Next, it was time to break out into groups (we were the Green group) and it was off to see Food & Wine's Best New Chef George Mendes, who is the owner and Executive Chef at Aldea in NYC. He is a first generation American born to Portuguese parents and showed us how to make Salted Cod Scrambled with Egg, Crispy Potato and Black Olives.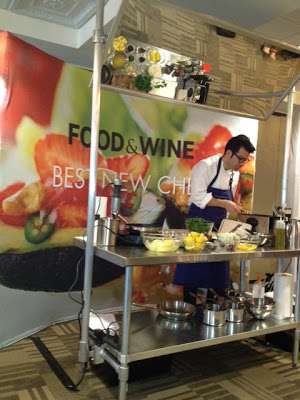 Before preparing the recipe, he also instructed the group on how to make our own salted cod by using 1/4 lb. of Kosher Salt to 1 lb. of cod. Soak the cod in the salt, making sure it's covered top and bottom for 2 days in the refrigerator. Then, remove the salt and cover the fish in water and keep refrigerated for another 2 days. He also explained how to dry Kalamata olives by baking them in a low oven for 6-8 hours as it intensifies the flavor. You all know I'm not a seafood eater, so I didn't try the cod; however, my half-Portuguese husband and another friend of mine did and really enjoyed it. I'm definitely going to try the olive idea though and keep you posted!
Next on the agenda was the Buick Test Drive where we were given the opportunity to test drive the Buick Regal, Buick Encore, Buick LaCrosse or Buick Verano. Check out their full line of new vehicles at Buick.com to see which one is your favorite!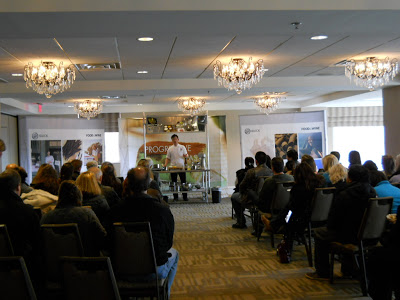 Up next, we were in for a sweet treat from pastry chef Ben Roche; Chef Partner of Baume and Brix in Chicago. Here, he showed us how to make Yuzu Chiboust, Coconut Rice Pudding and Caraway Ice Cream…AMAZING!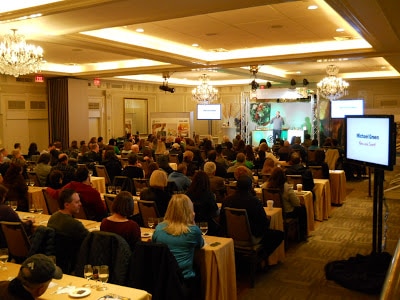 Michael Green was next on the agenda, who is one of America's premier wine and spirits celebrities. He has served as Gourmet Magazine's wine and spirit consultant for 19 years and has made appearances on The Today Show, Food Network, MSNBC and CNN. We sampled two wines: 2011 Rodney Strong Charlotte's Home Sauvignon Blanc Estate Vineyards and Tapena Tempranillo 2011.
I don't generally like white wine and this one was on the dry side; however, Michael showed us that when you drink a wine while eating foods with higher acidity, like citrus or vinegar, the wine takes on a sweeter flavor and for me it was much more enjoyable. The red Tapena from Rioja, Spain was paired with Lindt Dark Chocolate with Sea Salt and was my favorite; though as you all know I'm partial to red wine and was already familiar with the Tempranillo grape. One thing he said, and I agree wholeheartedly, is that if a wine tastes good to you, then it's good and a wine shouldn't be judged by the price or the label.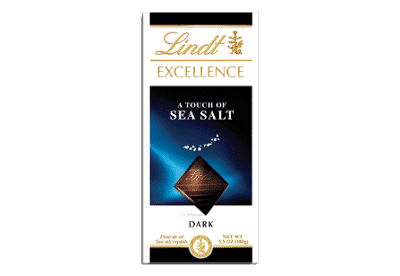 Tip: Place this chocolate on a baguette and melt under a broiler!
Here are a few more tips Michael Green shared with us:
The Fifteen-Minute Rule: No wine storage? No problem! Take your white wines out of the refrigerator fifteen minutes before serving and put your red wines in the refrigerator fifteen minutes before serving
How to order wine in a restaurant: Try to get the wine list ahead of time online or help the sommelier help you by giving them a style, grape and producer that you know you like. An example would be "I like full-bodied red wines like Cabernet Sauvignon from Cakebread."
Latitude & Style: Lighter wines hail from cooler climates and heavier wines hail from warmer climates. Example: Sauvignon Blanc from Malrlborough, New Zealand=Lighter; Tempranillo from Rioja, Spain=Heavier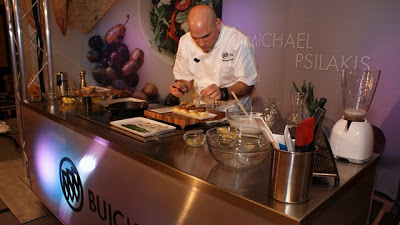 Last, but certainly not least, was celebrity chef Michael Psilakis. Michael Psilakis has acquired many of the food world's highest honors in the short time he has been on the culinary scene. In 2008 alone, Psilakis was awarded Food & Wine's Best New Chef and Bon Appetit's Chef of the Year distinctions; nominated for A-List Chef by Bravo TV; and had his upscale Greek restaurant, Anthos, nominated for a James Beard Award in the category of Best New Restaurant. He was also named "Chef of the Year" by Esquire Magazine and his restaurant Anthos was awarded a Michelin star and named the third of ten best new restaurants by The New York Times restaurant reviewer, Frank Bruni. He currently owns four restaurants: Kefi, FISHTAG—both on the Upper West Side—and MP Taverna in Roslyn and Irvington. An MP Taverna will also open soon in Astoria.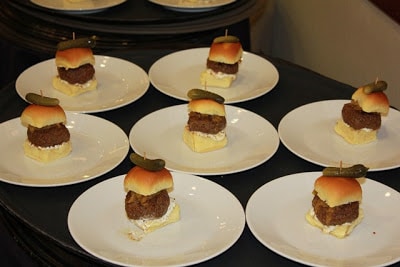 He shared a touching story about how his father shared his knowledge of food with him as a young boy; thus planting a seed for his love of cooking and is now sharing his experiences in Greek cuisine with his own family. He made these phenomenal Gyro Spiced Sliders that we all got to taste, made with his special Gyro slider spice, his own fresh ground meat and Tsatziki Sauce. It had a little kick, but well worth it!
Gyro Slider Spice
12 tbsp. Cumin
2 tbsp. Coriander
8 tbsp. Yellow Mustard Seed
2 1/2 tsp. Cloves
2 tbsp. Black Cardamom
4 tbsp. Fennel
2 tbsp. Cinnamon
Directions: Combine all spices in a mixing bowl; then transfer to an airtight container.
Michael was also generous to give each attendee a signed hardcover copy of his new book,
How to Roast a Lamb: New Greek Classic Cooking
and since the hubby came with me, I have an extra copy I'd like to give away to one lucky reader. The book is a culinary tribute to Psilakis' Greek heritage and has gone on to win countless awards including the Gourmand World Cookbook Award for Best Foreign Cuisine. Enter to win the cookbook by using the Rafflecopter link below. Contest ends 03/24/13 and the winner will be selected and notified by 3/25/13.
Good Luck!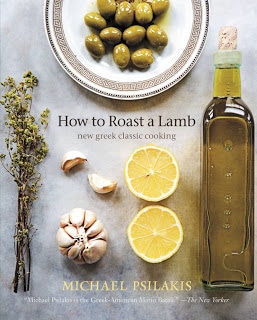 Thank you to Food & Wine Magazine and Buick for inviting me and my guests to this extraordinary event. We truly enjoyed your hospitality and informative presentations. I received four complimentary tickets to attend this event; however, I was not compensated by Buick, Food & Wine Magazine or any of their sponsors to write this post. All opinions are my own.