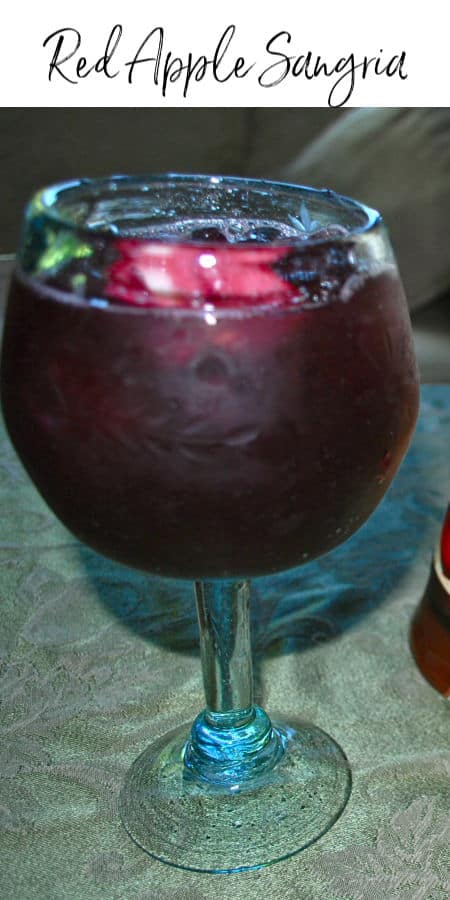 First, let me start off by saying I thought I would never in a MILLION years ever belong to a Bunco group, let alone love it. I knew people over the years that played and they would occasionally ask me to fill in but I never managed to actually attend one of these games.
Earlier this year, a bunch of my friends decided to start our own group. I originally only committed to being a substitute player for when someone couldn't make it but was moved to a regular player a couple of months ago after someone dropped out.
I figured what the hay since it was only once per month and we all take turns hosting the game at our house.
What is Bunco?
bun·co also bun·ko (bung' ko)
pl.bun·cos, also bun·kos
1. A swindle in which an unsuspecting person is cheated; a confidence game.
2. A parlor game played in teams with three dice.
3. A winning throw in the above game; three of a kind of a specified number.
Basically, t's a night where 12 women get together, leaving their significant others, children and troubles behind, and have a fun night out with food, drink and TONS of laughter and oh yeah, roll some dice. (What happens at Bunco, stays at Bunco is our favorite motto!).
So what does all of this have to do with a food blog you ask? It was my turn to host this past Friday night. Yes, I get September. What the heck do you do in September as a theme?
I couldn't get April like my friend Jenn where we all wore bunny ears or Donna where we had a Mardi Gras theme. I started thinking and all I came up with was Football and Back to School themes.
Though I do love football, I'm not an avid watcher (except for the teams my daughters cheer for that is) nor did I feel like hosting a tailgating party with chili and beer.
So, I opted for an Apple theme (get it, back to school, apples for the teacher, apple picking..whatever, it worked for me…lol). Anyway, I started thinking of different food and drinks that I could make using apples and came up with Sausage, Apple and Sage Stuffed Bread, Brie en Croute with Apples, Cinnamon and Pecans and a Red Apple Sangria. Luckily for me, they were a hit and we all had a great night!
This bread was so easy to put together, in fact, I par cooked it the morning of, then just wrapped it in foil to finish it off right before my guests arrived. The sweetness of the apples mixed with the sausage was a unique and tasty twist on an old favorite.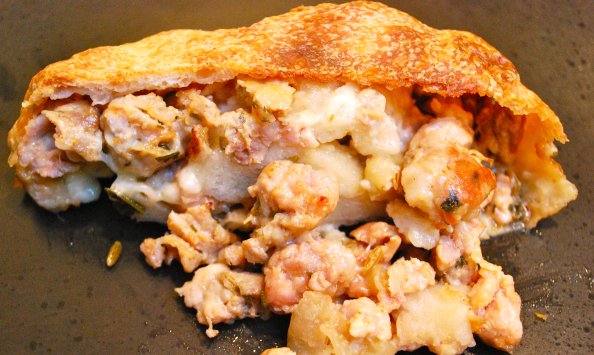 Ingredients
1

lb.

Pizza Dough

4

Links Cheese and Parsley Sausage

casings removed

2

Macintosh Apples

peeled and cored

6

Fresh Sage Leaves

finely chopped

1

Cup

Shredded Part Skim Mozzarella Cheese

1

Tbsp.

Canola Oil
Instructions
In a large frying pan, add the sausage. Break it down to small pieces while browning until it is completely cooked; approximately 8-10  minutes.

While the sausage is browning, slice the apples into 8 wedges, then slice into 1/4" small pieces. Add the apples and sage to the sausage and simmer 2-3 minutes until the apples start to get soft.

Roll out the dough into a rectangle about ¼" thick. Add the sausage mixture to cover entire dough area leaving ¼" border around all sides. Top with shredded cheese. Gently roll from left to right, sealing the ends by pinching the dough together. Place seam side down on lightly greased baking sheet. Brush top of loaf with the oil and bake at 425°F for 15-20 minutes or until golden brown. Slice and serve hot.
SIGN UP FOR MY WEEKLY NEWSLETTER
AND RECEIVE
A FREE EBOOK!
For the next appetizer, I used the same theory as my Baked Brie with Dried Cherries but this time I topped the cheese with apples, cinnamon and pecans. I even threw in some Agave syrup to help bind it together to make a paste. This was incredible if I don't say so myself but how can you go wrong with apples and cinnamon?!
Unfortunately, I don't have a picture of this one. I wasn't paying attention(my guests started to arrive and I was busy greeting them at the front door) and the cheese cooked a little longer than I had wanted and it started oozing out of the side.
One minute fine, the next a slight mess. Didn't matter though and no one seemed to care. My husband was just glad there was some left for him to try after he got home (did I mention when hosting you also kick your family out of the house to fend for themselves for the night? =) ).
Ingredients
1- 19

oz.

Brie

1

Macintosh Apple

cored, peeled and sliced into 1/4" thick slices

1/3

Cup

Pecans

1

tsp.

Butter

2

Tbsp.

Agave Syrup

1/4

tsp.

Ground Cinnamon

1

Pkg. Refrigerated Crescent Roll Dough
Instructions
Preheat oven to 425°F. Place whole pecans on a baking sheet and bake approximately 5 minutes until lightly toasted. Remove from the oven, cool and finely chop. 

While pecans are in the oven, heat a small sauté pan over low heat and melt the butter. Add apples and cinnamon and cook approximately 3-5 minutes until apples start to soften. Add the pecans and Agave syrup and mix well; forming a paste. 

Using a small knife, scrape off the white coating on all sides of the Brie. Add the apple mixture to the top of the Brie. Open the crescent roll dough and using a rolling pin, roll it out so that it will cover the entire Brie. (It's ok if you have to piece it together). Cover Brie with the dough and place on a baking sheet Cover Brie with the dough and place on a baking sheet with the seam side down.

Bake for approximately 15-20 minutes or until crust is lightly browned. Remove from the oven and let cool 5-10 minutes before serving. Serve with crackers. 
VISIT THE

RECIPE INDEX

TO SEARCH FOR MORE RECIPES BY CATEGORY.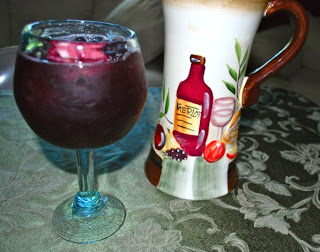 Now, last but certainly not least, was the Red Apple Sangria. Since most of my friends are red wine drinkers, this was a no brainer. Sangria has become our favorite summertime drink and now with the cooler weather approaching, it will be back to regular wine (no other reason for me other than Sangria makes the perfect cool drink on a hot summer day).
The regular Sangria I make is citrus based so this time, I altered the juices, added a little fizz at the end and it was also a hit. Now remember, I was making this for 12 people so feel free to cut this recipe in half.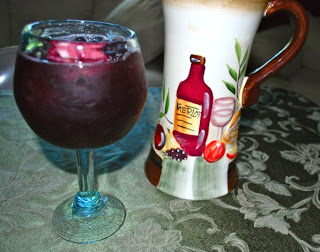 Ingredients
2

Bottles Dry Red Wine

2

c.

Red Apple Schnapps

2

c.

Apple Juice

2

c.

Pineapple Juice

1

c.

Cranberry Juice

Sprite

1

Apple

1

Peach

1

Pear
Instructions
In a large pitcher, add the first 5 ingredients and mix well. Peel, core and slice the fruit into 1/4" thick slices and add to the wine mixture. Refrigerate overnight or for at least 2 hours for better flavor.

Pour Sangria into a glass filled with ice about 3/4 of the way full. Add a splash of soda right before drinking to each glass.
CONNECT WITH ME ON SOCIAL MEDIA