I posted a while ago that I had received a Dutch oven as a gift from my Mom a while back but hadn't used it that often. So this past weekend, I decided to take it out of hibernation and try to make something else in it. We were having my husband's parents over for dinner so that we could watch a video I had put together for them of our trip to Europe last month and didn't want to be slaving away all day in a separate room. I really like cooking in the Dutch oven and I'm surprised I hadn't wanted one earlier; though with my hectic schedule before, I was lucky enough to even get any food on the table! I'm sure you could also make this in a slow cooker (which might be nice to try with the upcoming cooler weather). I also don't know why, but I can't stop cooking with lemons lately. Maybe it's the summer and they're just so light and refreshing… and they certainly didn't disappoint in this dish! The chicken was EXTREMELY tender and was practically falling off the bone. I happened to throw in the lemon peel after extracting the juice but if you're not a huge fan of lemon, it might be a little too much for you.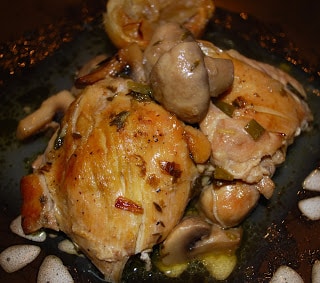 Chicken Thighs in a Lemon Thyme Wine Sauce
12 Chicken Thighs, skin removed
2 Tbsp. Canola Oil
1 Cup White Wine
1 Cup Low Sodium Chicken Broth
1/2 Cup Scallions, chopped
1-10oz. Package White Button Mushrooms, washed and quartered
1 Tbsp. Fresh Thyme
1 Tbsp. Fresh Parsley
1 Lemon, juice and zest
1 tsp. Kosher Salt
1/2 tsp. Fresh Ground Black Pepper
1 Tbsp. Butter
In a large saute pan, heat the oil. Add chicken and sprinkle with salt and pepper. Allow to brown on each side for approximately 5 minutes. Remove the chicken from the pan and place in a Dutch oven. In the same pan, melt the butter and add the mushrooms, scallions, thyme, parsley, lemon zest and juice. Saute until the mushrooms start to get slightly softened. Add the wine and chicken broth and simmer 5 minutes. Add the liquid mixture on top of the chicken. Cover and bake at 300°F for 2 hours. Serves 6.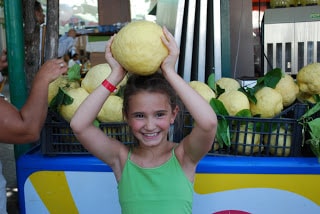 And…speaking of lemons! I thought I'd share a picture with you. This is my youngest daughter, Gabrielle, holding an actual lemon from a cart in Sorrento, Italy. YES, it was that large and you can't really appreciate its massive size until you actually see it up against a person. No wonder why this region makes the best Limoncello!
Enjoy!