Happy Birthday to all of you Leap Year Babies!
I came across what looked like a grapefruit on my recent produce shopping trip and had to pick one up. It was actually a pomelo which is a citrus fruit from Southeast Asia. According to Wikipedia, it is usually pale green to yellow when ripe, with sweet white (or, more rarely, pink or red) flesh and very thick rind. It tastes like a sweet, mild grapefruit (which is a hybrid of the pomelo and the orange), though the typical pomelo is much larger in size than the grapefruit. It has very little, or none, of the common grapefruit's bitterness, but the enveloping membranous material around the segments is bitter, considered inedible, and thus usually is discarded. The peel is sometimes used to make marmalade, or is candied and sometimes dipped in chocolate. The peel of the pomelo is also used in Chinese cooking. In general, citrus peel is often used in southern Chinese cuisine for flavoring, especially in sweet soup desserts. I decided to make a sauce with it and came up with this one. It was very light, not overly citrusy but gave the dish a nice flavor.

It seems like a lot of steps, but I have to say that I made this entire meal in about 45 minutes after getting home late from a sporting event. There will be extra sauce which was perfect to top our side dish of rice. I would start with roasting the vegetables, then prepare the chicken while they're in the oven. Then finally, prepare your sauce.

Chicken with Roasted Vegetable Pomelo Sauce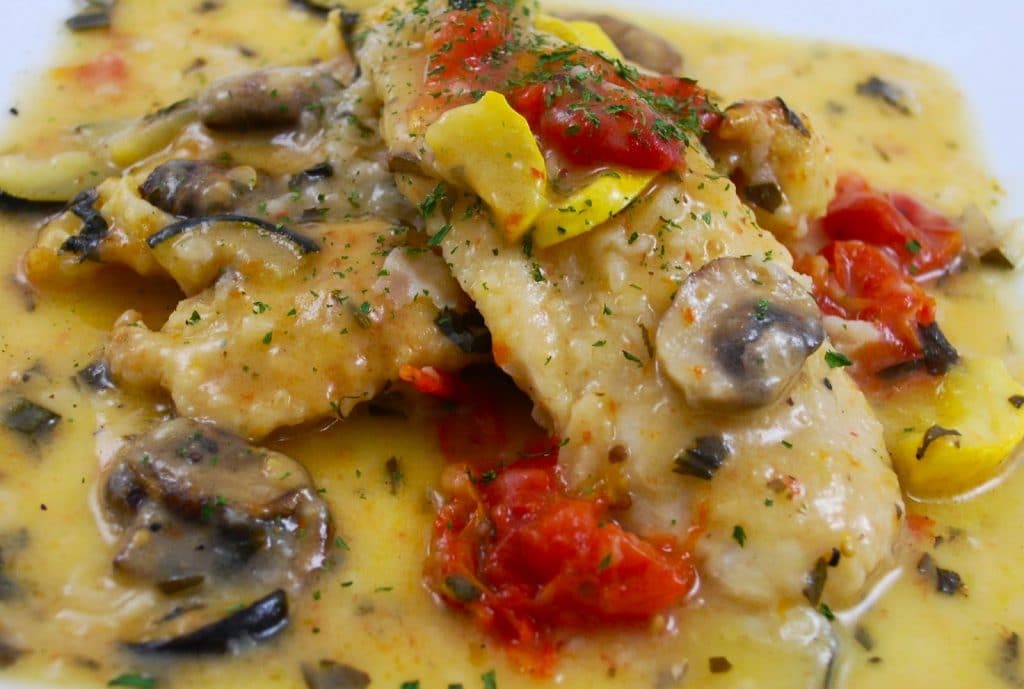 For the Roasted Vegetables
1 pt. Grape Tomatoes
1-10oz. Package White Mushrooms, sliced
1 Small Yellow Squash, thinly sliced
1 Small Zucchini, thinly sliced
2 Cloves Garlic, chopped
2 tbsp. Extra Virgin Olive Oil
For the Chicken
4-6(ounce) Boneless Chicken Breasts, sliced horizontally in thirds and pounded evenly (approx.15 pieces)
1 c. All-Purpose Flour
2 tbsp. Butter
1/4+c. Extra Virgin Olive Oil
For the Sauce
Prepared Roasted Vegetables
1 tbsp. Fresh Tarragon, chopped
2 tbsp. All-Purpose Flour
2 Pomelo's, juice only (approx. 1/2 cup squeezed)
2 c. Fat FreeChicken Broth
Directions
Roasted Vegetables
Add all of the ingredients to a bowl and mix well.
Place on a baking sheet and bake at 425 degrees for 15-20 minutes. Remove from oven and set aside.
For the Chicken
Heat the butter and 1/4 cup of oil in a large nonstick frying pan. You may need to add a little more oil to finish cooking the chicken.
Dip the chicken in the flour; then brown on both sides until cooked through.
Add the chicken to a large, oven safe baking dish. Set aside.
For the Pomelo Sauce
In a large, non-stick frying pan, add your roasted vegetables, tarragon and flour.
Next, add your pomelo juice and chicken broth. Stir until well blended and the sauce has slightly thickened.
Pour mixture over the chicken and bake at 425 for about 15 minutes until the sauce is bubbly. Serves 4.
Enjoy!