I love biscotti in any flavor but I wanted to try to make one that I had never done before. So I looked around my kitchen and out popped (not literally of course) my Cafe Escapes Chai Latte K-Cups! I love their Chai Latte, especially when the weather starts to get a little cooler. And apparently so did many other people because last year, around the holidays, it was VERY difficult to find them in stores (these I purchased at Bed, Bath and Beyond). While I was still working, I would have one cup of this each day in the early afternoon as a pick-me-up and it did just the trick. So back to the biscotti…I had originally set out to make a cappuccino version but I tweaked it slightly and this is what I came up with…a definite keeper!
2 tbsp. Unsweetened Cocoa
1 K-Cup Café Escapes® Chai Latte (2 tbsp.)
In a bowl, mix together the flour, sugar, cocoa, baking powder, baking soda, cinnamon, nutmeg and salt until well blended. In a separate bowl, whisk together the eggs and vanilla. In a small cup, mix together the Chai Latte and the hot water then add to the egg mixture. Add the egg mixture to the flour mixture and mix well until all of the ingredients have been incorporated. Turn the dough onto a lightly floured surface and knead until the dough is no longer sticky, then form into a 12" long log shape and flatten down so that it is no higher than 1". Spray a baking sheet with cooking spray, add the dough and bake at 325° F for 30 minutes.  Remove from oven and let cool, then slice diagonally into ½ " slices and put them back on the baking sheet. Bake an additional 10 minutes per side and remove from oven.Bake an additional 10 minutes per side and remove from oven. Let cool and allow to harden before serving. Makes 2 dz.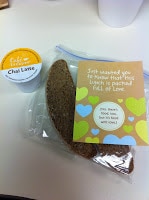 My niece and her friend also are huge fans of the Chai Latte so who better for an opinion on my latest experiment? I sent them to work with a K-cup, 2 Biscotti and a little "love note" for their afternoon snack.  Even though they're over 21, you're never too old for a "goodie bag"!
Enjoy!