These baked Cinnamon Apple Chips are made with a few simple ingredients like McIntosh apples, cinnamon and sugar. They make a tasty, healthy snack your whole family will love!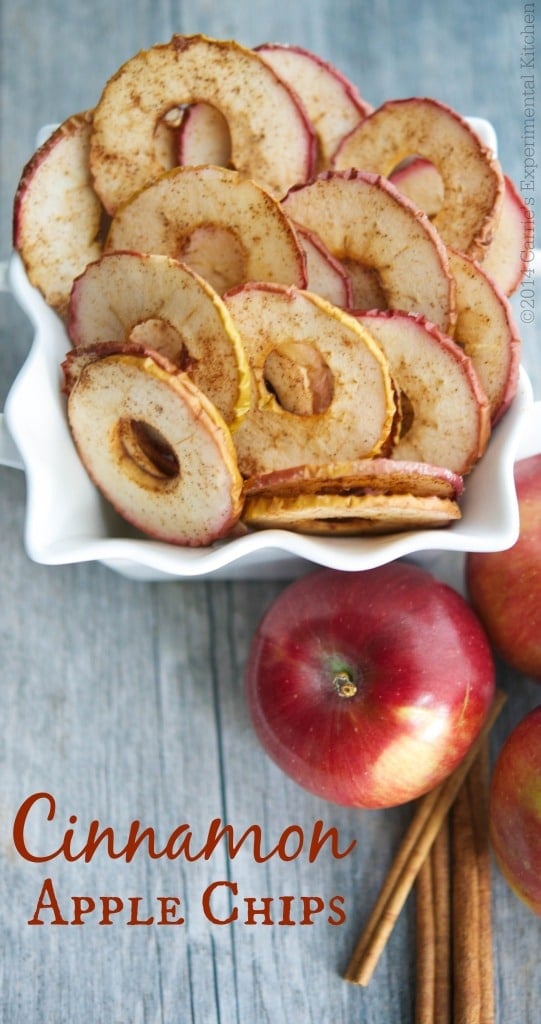 Our family loves to go apple picking at our local orchard in the Fall. It's a fun day out where we pick apples, get mums for the yard, snack on cider doughnuts and kettle corn and seek out the perfect pumpkin to carve later in the month.
I love sampling the different varieties of apples, but I tend to pick McIntosh or Honeycrisp because they are always naturally sweet and great for eating and baking.
Recently, I purchased a bag of McIntosh apples because I wanted to experiment with making homemade apple chips. We don't own a dehydrator, but I figured that I could bake the apple chips in the oven at a low temperature. Thank goodness it worked!
I don't know why it took me this long to make these because this is probably the EASIEST recipe you can make.
The only caveat is that it has to cook for a few hours in order to allow the apples to dehydrate in the oven. Let me tell you, these Cinnamon Apple Chips were totally worth the wait!
Cinnamon Apple Chips are a delicious, healthy snack that are naturally dairy-free, gluten-free and kid approved! ~Enjoy!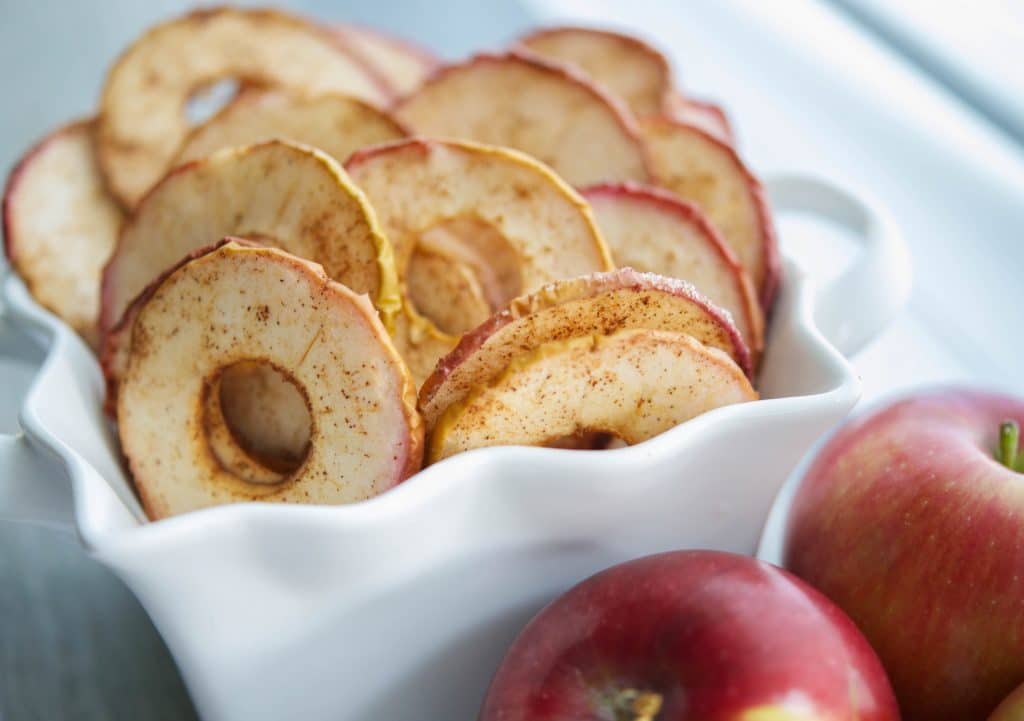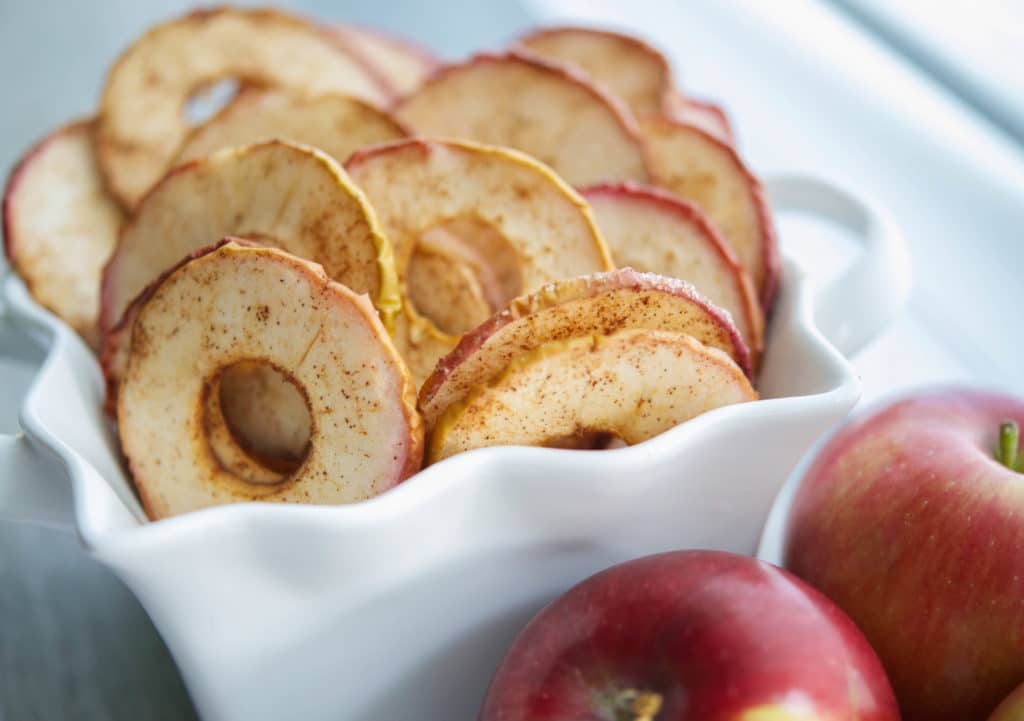 Ingredients Needed
Apples: McIntosh or Honeycrisp
Ground Cinnamon
Granulated Sugar: I added a bit of sugar to enhance the sweetness, but you can use any sugar alternative including honey or even omit it altogether.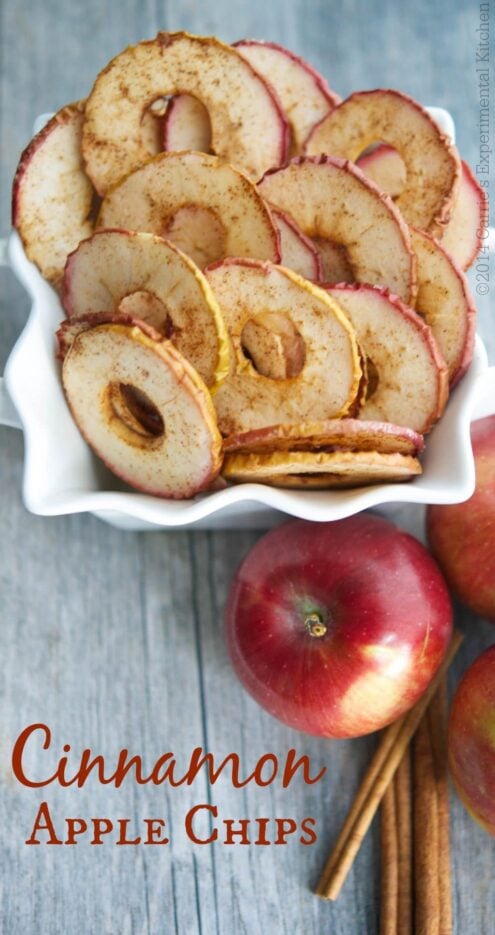 How do you make baked Cinnamon Apple Chips in the oven?
Start by coring the apples, slice them into circles about ⅛-inch to ¼-inch thick, toss with cinnamon and sugar; then bake for 2-3 hours until the apples soften.
Try to get the circles as close to uniform sizes as you can. Thinner chips will burn in sections before the rest of the apple has a chance to dehydrate.
I use a sharp knife to slice mine on a cutting board; however, you can use a mandoline or an electric slicer if that's easier for you. Also, if you want to reduce your sugar intake, you can omit the extra sugar too. They still taste great!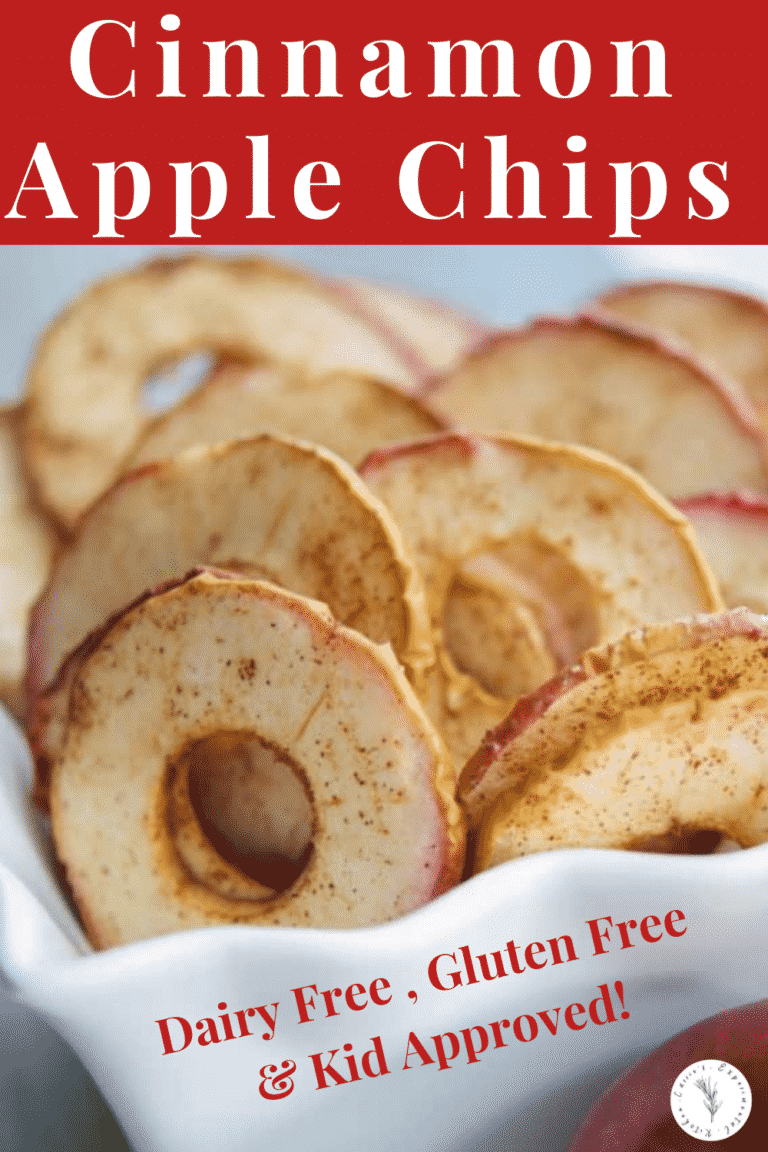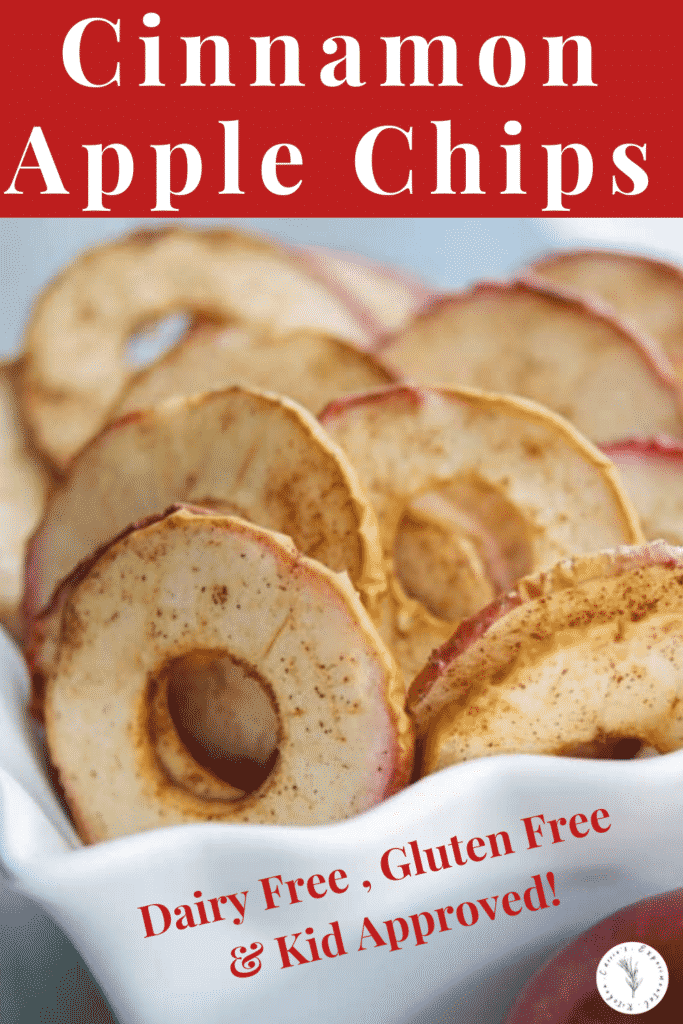 More Apple Recipes
Receive
a FREE eBook when you sign up for our weekly newsletter!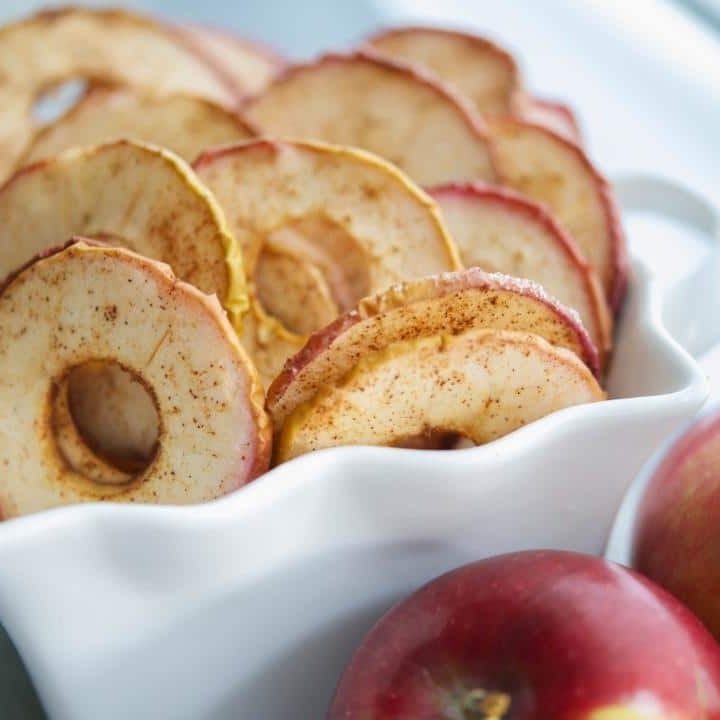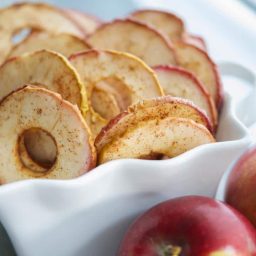 Cinnamon Apple Chips
Cinnamon Apple Chips, made with a few simple ingredients like McIntosh apples, cinnamon and sugar are a healthy snack your whole family will love.
Instructions
Preheat oven to 200 degrees fahrenheit.

Add the sliced apples to a large bowl; then coat the apples with the cinnamon and/or sugar.

Spray a baking sheet with cooking spray or line one with parchment paper; then line the apples flat on the pan. (You may need to use two pans so that they are not overlapping).

Bake 2-3 hours until the chips are dry yet still a bit soft. Allow to cool completely before placing them in an air tight container for up to 4 days (if they last that long!).
Notes
*Depending on the thickness of your slices, these apple chips will be on the softer side.
Nutrition
Calories:
101
kcal
Carbohydrates:
27
g
Protein:
1
g
Fat:
0.3
g
Saturated Fat:
0.1
g
Polyunsaturated Fat:
0.1
g
Monounsaturated Fat:
0.02
g
Sodium:
2
mg
Potassium:
199
mg
Fiber:
5
g
Sugar:
20
g
Vitamin A:
101
IU
Vitamin C:
8
mg
Calcium:
21
mg
Iron:
0.3
mg
Connect with me on Social Media