Already Day 3 in this weeks series of posts and I don't know about you but I'm having so much fun trying out all of these great recipes!
Today's feature comes from Mia's Domain. I had made some mashed potatoes this past Sunday to go along with the Corned Beef I made and had some potatoes left over. I remembered seeing a post last week from Mia about Baked Potato Croquettes.  I had never made croquettes before so I was intrigued as to how I could make them baked instead of fried. I followed Mia's recipe with one change. I omitted the nutmeg and added in fresh rosemary (I had to give it my own little flair and I'm not a huge nutmeg fan). I also only had 2 cups of mashed potatoes left so I reduced her recipe to suit my needs. My original mashed potatoes contained russet potatoes, sour cream, 2% milk, butter, salt and pepper. These croquettes were so flavorful and DELICIOUS! Thanks for a great recipe Mia!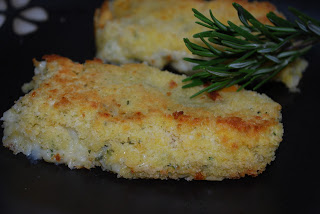 Baked Potato Croquettes
Adapted from Mia's Domain
2 c. Prepared Mashed Potatoes
1/2 c. Shredded Cheddar Cheese
1 Scallion, chopped
1 tbsp. Parsley
1 tsp. Fresh Rosemary, finely chopped
2 tbsp. All Purpose Flour
1 c. Panko Breadcrumbs
1 Egg, beaten
Canola Oil Cooking Spray
Add the potatoes, cheese, scallions, parsley, rosemary and flour to a food processor and pulse until all ingredients have been incorporated.  Separate into six portions. In a separate bowl, whisk the egg. In another bowl, add the breadcrumbs. Shape a portion of potatoes into a flattened log. Then dip the potato mixture into the egg, and then into the breadcrumbs. Place on a lightly greased baking sheet and bake until browned and crispy flipping halfway through cooking process(approx. 20 minutes). Let cool 5 minutes before serving so they have time to firm up again. Makes 6.
*The mashed potatoes should be leftover and refrigerated for at least 24 hours prior to making this recipe. 
Enjoy!