Since I have a few friends waiting patiently for this recipe, I figured I'd better get a move on and post it already! I originally found a recipe in the November 2011 issue of Cooking Light for Dijon Cognac Beef Stew but I had to give it my own little twist. I had never made a pork stew before, that is until I did my copycat version of Bobbi's Kozy Kitchen's Pork Stew (which was amazing!) so I figured I'd use the pork loin I had in my freezer for this one as well. The flavors of the cognac and mustard were delicious but the key is to cook it a low temperature for a longtime (low and slow!) which allows the meat to be extremely tender.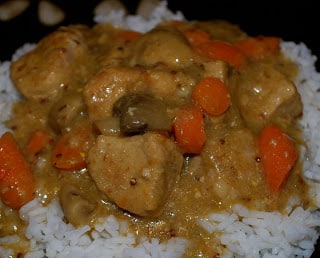 Dijon Cognac Pork Stew
(Adapted from Cooking Light)
3lb. Boneless Pork Loin
1 Small Vidalia Onion, chopped
4 Scallions, chopped
1 Clove Garlic
1 tbsp. Canola Oil
1-10oz. Package Button Mushrooms, rinsed and quartered
2 tbsp. Butter
1/4 c. Flour
1/2 c. Cognac
2 c. Low-Sodium Chicken Broth
1/2 c. Dijon Mustard (I use Grey Poupon)
1/4 c. Whole Grain Mustard (I use Inglehoffer Stone Ground)
1-10oz. Package Baby Carrots, sliced in thirds
1 Sprig Thyme
In a Dutch oven or large pot, heat oil and add onions, scallions, garlic and mushrooms. Saute until onions become translucent, then remove from the pan and set aside. Trim any visible fat from the pork, cut into 1″ cubes and coat with flour. Heat butter in the Dutch oven and add the meat, browning on all sides, then remove from pan and set aside. Add the cognac to deglaze the pan, scraping the bits from the bottom. Add the chicken broth, both mustards, thyme, pork and the mushroom mixture and mix well. Bring to a boil then let simmer for 1 1/2 hour. Add in the carrots and simmer for 1 more hour. Serve over rice or noodles. Serves 8.
Points+=9 (without rice or noodles)
Enjoy!