Well, after four days, I'm finally getting around to downloading all of our pictures from our trip (all 776 of them…yikes!) and what great memories we will have to cherish forever. I will be sharing some of our experiences over the next several posts, so sit down, grab a cup of cappuccino (my new favorite beverage) and I hope you enjoy!
We started off our vacation by flying into Barcelona, Spain. Our flight left at 7:30pm on a Tuesday evening from NY and we made sure to arrive at the airport with plenty of time to spare so that we could eat a decent meal before getting on the plane for our 8 hour flight. There is a 6 hour (ahead) time difference and we landed at 9:30am local time (3:30am est) so we were pretty exhausted upon our arrival. We got to our hotel and even though we had requested an early check-in, they could not give us our room yet so we had to kill some time exploring the hotel property before heading upstairs.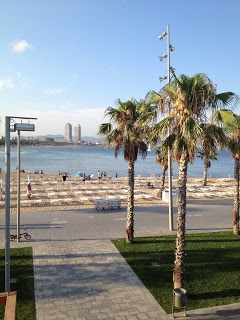 View from the hotel to the adjacent beach.
We rested up a bit then headed out for dinner at one of the local restaurants located by the Olympic Port  where we feasted on Chicken Paella (no seafood for me remember!) and my daughter tried the local fresh shrimp where the waiter was oh so gracious and offered to peel it for her before she ate it (p.s. she was eternally grateful! =} )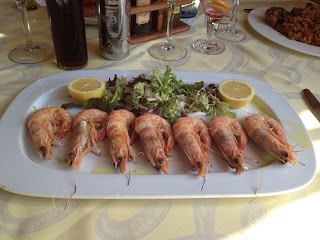 Rachael's Shrimp Dinner in Barcelona
Now for those of you who don't know my kids, they have inherited my warped sense of humor. So the entire time, the girls were singing
"Mr. Lover Lover"
from one of Mr. Bean's (Rowan Atkinson) movies, all the while envisioning this scene from
Mr. Bean's Holiday
. Nope…Never dull in my house!
The next day, we spent the morning soaking up the warm sun on the beach, then headed to La Rambla, which is a street with many other side streets filled with shops, shops and more shops, that are accessible mainly by pedestrians. There is so much to see and so much history is located all throughout the entire area with beautiful architectural buildings, statues and entertainers.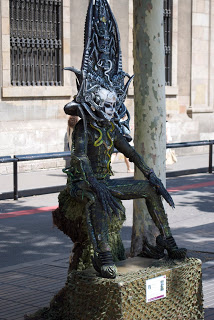 A mime dressed up in costume to entertain
the pedestrians in La Rambla.
We had the privilege of visiting Barcelona last year and did a 2-day tour to see all of the beautiful sites, but I didn't get a chance to go into the La Boqueria market last time because it was so crowded, you couldn't even move through it. According to Wikipedia, the first mention of the Boqueria market in Barcelona dates from 1217, when tables were installed near the old city gate to sell meat. From December 1470 onwards, a pig market was held at this site; at this time it was known as Mercat Bornet. Later, until 1794, it was known simply as Mercat de la Palla, or straw market. Later, the authorities decided to construct a separate market on La Rambla housing mainly fishmongers and butchers. It was not until 1826 that the market was legally recognized, and a convention held in 1835 decided to build an official structure. Construction began on March 19, 1840 and the market officially opened in the same year, but the plans for the building were modified many times. The inauguration of the structure finally took place in 1853. A new fish market opened in 1911, and the metal roof that still exists today was constructed in 1914.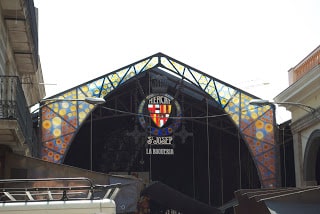 Can I just tell you I WAS IN MY GLORY! They have so many wonderful vendors all under one roof, all selling their freshest produce and meats. Even though I couldn't buy items to take home (as we were going to be leaving to go on the cruise ship and immigration frowns upon bringing produce and meat through customs…darn!), I couldn't help but walk around in awe of all of the beautiful colors from the fresh fruits and vegetables….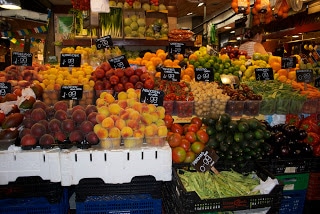 The homemade meats and cheeses….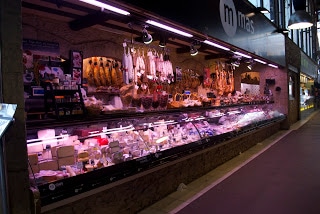 The farm fresh eggs…. (look how gorgeous this display is alone!)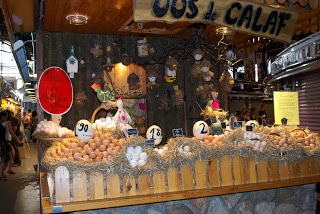 And you can't forget the CANDY… (Yes, that is Gab eyeing up all of that sugar!)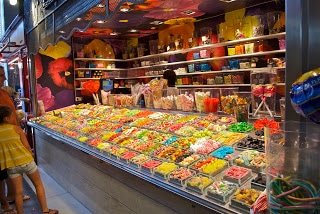 We had a marvelous time just unwinding from the usual hustle and bustle of daily life, reconnecting as a family and getting used to the time difference before heading to the cruise ship.
To Be Continued….