Our next stop was Rome, Italy where we spent the day with our wonderful tour guide Marco from
Miles & Miles
. I highly recommend this company when touring Italy. Our tour guide arrived on time in a clean, Mercedes van, took us to all of the sights WE wanted to see (not the ones that are pre determined by the cruise company) AND, it was far less expensive to go privately too! It worked for us since we had been to Rome once before(we stopped there last year on a cruise also when we went with my in-laws to celebrate an early 50th wedding anniversary) and toured the major sites like Vatican City, the Colosseum and Trevi Fountain (to name a few). We did make one return trip to Trevi Fountain to throw in our coins again (hey, it worked last time!). For those of you not familiar with the legend, it says that if you throw a coin with your right hand over your left shoulder into the fountain, with your back to it, that will ensure a return to trip to Rome. A  newer version also says that not only will it ensure a trip back, throwing in a second coin will result in a new romance and throwing in a third coin will lead to marriage. (P.S…we only let the girls throw in one coin. I'm not ready to lose them yet to love and I wasn't about to take any chances! lol)
We saw a few more sights around Rome…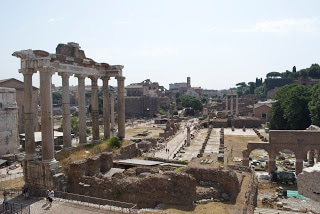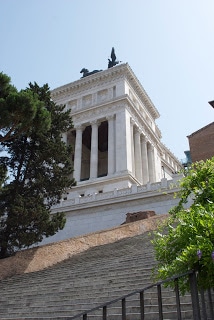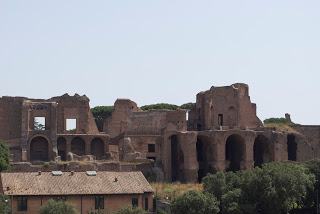 …then decided to drive out to the Roman countryside. Once there, we stopped at a small town called Nemi. It was so quaint with brightly colored buildings, shops and cobblestone streets.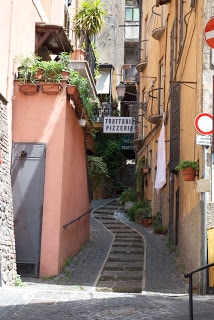 The town overlooks Lake Albano. Isn't it beautiful?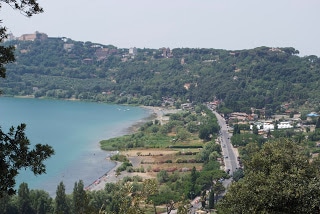 We also sampled some homemade meats like prosciutto and soppressata, and cheeses from a specialty shop called Norcineria Castelli. The Ancient Norcineria Castles was created by a family of butchers for five generations. A place where you can find great local produce, pork and sausages. My husband said it was the best prosciutto he's ever tasted, though the kids were a little turned off by the hanging cured boar legs and other meat.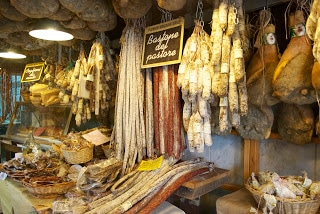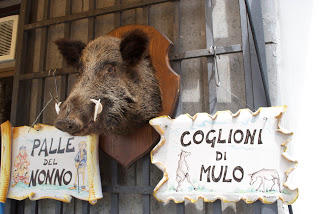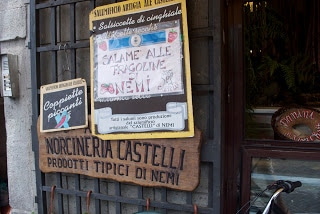 We then ventured around the lake and stopped at this wonderful restaurant on the top of a hill called Antico Ristorante Pagnanelli, where we toured their wine cellar and had a leisurely, early afternoon wine tasting luncheon. The restaurant has been family owned since 1882 and is in it's 4th generation. It is located next door to the Pope's summer villa at Castel Gondolfo. We sampled a white wine made with red grapes and it was superb! It has all of the flavors of a red wine but they remove the skin before pressing so the wine is actually white. We ordered a few bottles to be shipped home and I'm anxiously awaiting their arrival! 🙂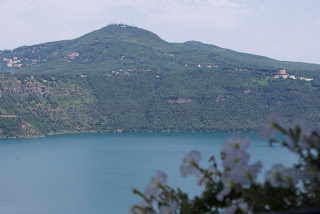 The view from our table outside on the terrace overlooking the lake.
My husband had Ravioli stuffed with Blackberries and Goat Cheese, Gabrielle had Gnocchi with Tomato Sauce; while Rachael and I had this amazingly simple, yet wonderfully presented Fettuccine with Lemon and Mint served in a lemon. It was absolutely delicious with just the right amount of lemon and mint and the perfect portion size.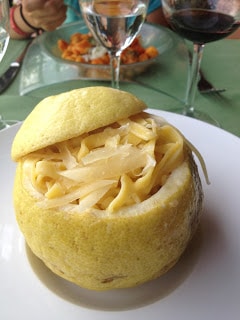 Yes, this is a real, hollowed out lemon.
Now, for those of you not familiar with Italian lemons, they are HUGE. Here is a picture of Gabrielle in Sorrento, Italy holding one up over her head so that you can see how big they actually are.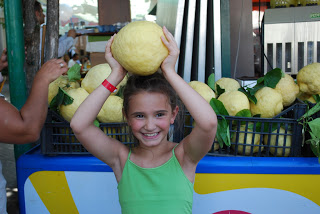 I am definitely going to try to recreate a similar meal once my kitchen is completed, but will probably use a grapefruit since our lemons are so small, so stay tuned…
After lunch, we went next door to visit the Pope's summer residence. We couldn't go inside; however, we almost got to see the Pope in Nemi as the shop owners were all bustling while we were visiting speaking in excited tones as they got wind that he was going to visit there that afternoon.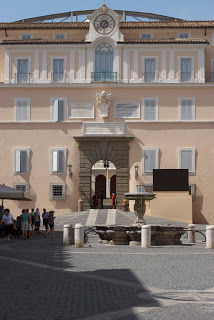 We took in a few more sights on the way back to the ship…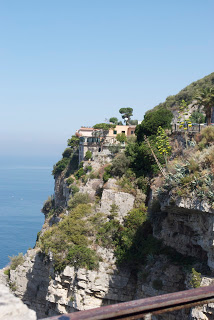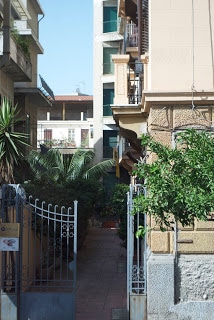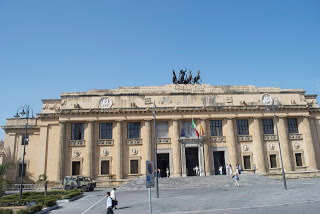 …then called it a day. A fun, exciting, but very long day.
To Be Continued…