The next part of our trip brings us to Messina, Sicily. I have to say that though it was beautiful, it didn't "thrill me" like other parts of Italy had. I was a little disappointed; especially since my ancestors came from this region. We spent most of the day on the tour bus driving around what seemed like in circles.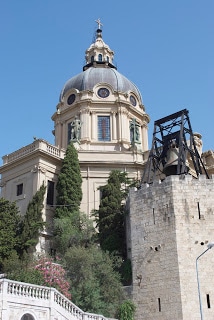 The highlight of our day, besides finally getting pizza and a good canoli, was the clock tower; which was in walking distance from our ship so we spent money on the tour unnecessarily.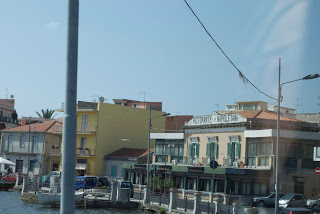 It was beautiful to watch. When the clock strikes 12pm, church bells are struck by two 10′ bronze statues. After the chimes, a lion, which represents the strength of the city, waves his flag, wags his tail and turns his head to face the piazza and roars three times.
Next, Ave Maria is played while an angel appears bearing a letter for the Madonna, who is greeted by Saint Paul. The story continues as bronze statues are "brought to life" during a 10 minute show.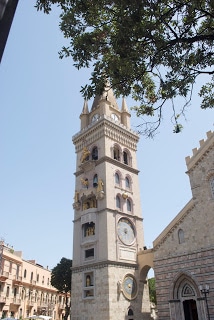 After Sicily, we headed for Nafplion, Greece where we saw an ancient theatre that is still used today. The acoustics were amazing and really traveled to the top of the structure.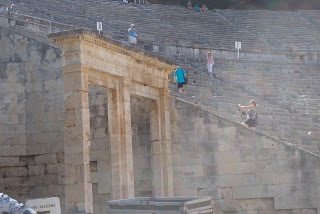 We visited Palamidi Castle which was a fortress built in the early 19th century with 8 self-contained bastions. This was at the entrance of the castle and was believed to have lion heads.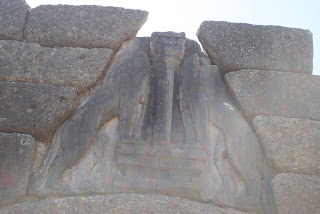 We also visited underground tombs. It's so hard to imagine all of these being built so long ago without the equipment we have today. This was the entrance to the fortress where it was then entirely covered with dirt. Here is a picture of our oldest daughter and I so you can see how tall it was.
After touring the sites, we went to a local restaurant for Greek fare; which they served lamb (and I don't eat lamb), so it was Greek Salad for me which was PERFECT! It was 105 degrees this day and we all weren't very hungry and couldn't wait to go back to the ship to go swimming!
To Be Continued…