Venice is a city in northeast Italy and consists of 118 small islands separated by canals that are linked by bridges. The only way to get around the city is by boat in which they have three means of transportation: water bus, water taxi or gondola. It is a gorgeous city and I was surprised that people had said it was dirty because we didn't find that at all. The city is lined with cobblestone streets, shops, and restaurants and they rely mainly on tourism. Here is a view from our ship as we were arriving into the port.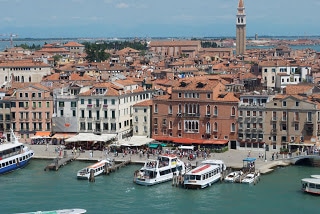 Once we docked, we had to take a people mover to the inner part of the city, but it was more like a tram  as it was like a bus on a rail system vs. a mover that you stand on. It was fairly easy to navigate but once on the streets themselves, we were glad we had a personal tour guide to get us through the city streets. There are so many alleys I'm sure we would have gotten lost for hours!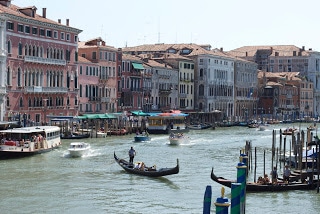 Just one of the many canals
We saw many buildings and churches with amazing architecture such as The Basilica di Santa Maria Gloriosa dei Frari, or usually just called the Frari. This is one of the greatest churches in Venice and stands on the Campo dei Frari at the heart of the San Polo district and is dedicated to theAssumption.
S Maria Gloriosa Dei Frari Church
Numerous canals with pedestrian bridges to get from one side to the other…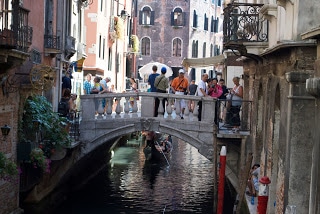 A canal in Venice
And of course Piazza San Marco a.k.a St. Marks Square, home of St. Marks Basilica. It was first commissioned to be built in 1071 by Domenico Contarini. It has been nicknamed the "Church of Gold" because of its opulence and has been the seat of the Patriarch of Venice, archbishop of the Roman Catholic Archdiocese of Venice, since 1807. They wouldn't allow any pictures inside but trust me when I tell you it was absolutely beautiful with it's ornate carvings and paintings and rich history.
My girls in St. Marks Square in front of the Basilica
The Ponte de Sospiri a.k.a The Bridge of Sighs is a bridge made of white limestone and has windows with stone bars. It passes over the Rio di Palazzo and connects the New Prison to the interrogation rooms in the Doge's Palace and was designed by Antoni Contino and built in 1602.
The view from the Bridge of Sighs was the last view of Venice that convicts saw before their imprisonment. The bridge name, given by Lord Byron in the 19th century, comes from the suggestion that prisoners would sigh at their final view of beautiful Venice through the window before being taken down to their cells. In reality, the days of inquisitions and summary executions were over by the time the bridge was built and the cells under the palace roof were occupied mostly by small-time criminals. In addition, little could be seen from inside the Bridge due to the stone grills covering the windows.
A local legend also says that lovers will be granted eternal love and bliss if they kiss on a gondola at sunset under the Bridge Of Sighs.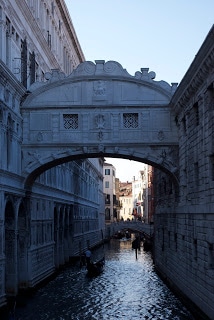 The Bridge of Sighs
After a long 7 hours of continuous walking around the city, we found this quaint family owned restaurant called Osteria Oliva Nera where we had a lovely bottle of Chianti and started out with some Zucchini Flowers. I had never eaten them before and they were delightful!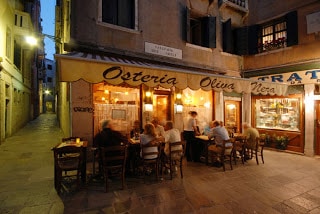 Then for my main meal I had their Homemade Gnocchi with Duck Ragout.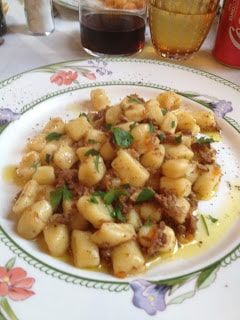 It was out of this world and the rest of my family enjoyed their meals as well. It was especially nice when the owner came over to personally thank us for coming and gave us a bottle of olive oil to take home.
After dinner it was time to head back to the ship and at this time it was around 10pm. We went to buy tickets to take the water bus, which were $10 each, but when we got there, the woman behind the counter closed her window and told us to use the machine to purchase the tickets. We walked over and tried to buy our tickets but the English feature wasn't working on the machine. The couple behind us were Italian and helped us get tickets by using the Italian language feature on the machine; however when we tried to go through the turn style with out tickets, they didn't work. (For anyone who was purchasing them that way). While this was happening, we missed the bus and would have to wait for another 45 minutes for the next one. So we decided to take a water taxi instead as it was a speedboat and we would arrive back at the people mover much sooner anyway. The only drawback was that it was $60 euros one way. We decided earlier in the day not to take a gondola ride as the grand canal was very choppy that day (and I don't do well on boats in choppy water if you get my drift!) and they wanted $100 euro per person. $400 euro to ride in a boat?!! I think I'll pass. So now we had some extra money to take this speedboat. My girls were in their glory, loving every minute speeding through the canals with the cool night air whipping their hair. Well it was either that or the young man (very handsome young man too) steering the boat and as Gab put it "He had nice soft hands!" (he helped us on and off the boat). We finally made it back to the ship around 11pm and were EXHAUSTED!
To Be Continued…