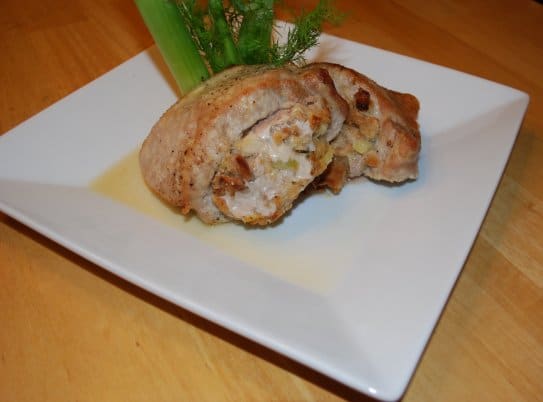 I decided for dinner one night that I was going to make some pork chops but wasn't quite  sure what I was going to do with them. I had some leftover homemade whole wheat pita chips from NYE and decided that I'd make a stuffing. I sauteed the fennel with some apples, garlic and thyme then threw in some Asiago cheese last minute too. I decided that since I was using bread as a stuffing, I didn't want to bread these so I just used some of our leftover champagne to help baste the pork while it was cooking. These were fantastic and there was even enough stuffing after filling the pork chops so that I could use it as a side dish also.
Fennel & Apple Stuffed Pork Chops
4- 6oz. Center Cut Boneless Pork Chops
1 c. Fennel & Apple Whole Wheat Stuffing
1 c. Champagne (You can also use wine, chicken broth or water)
Garlic Powder
Kosher Salt, to taste
Fresh Ground Pepper, to taste
Trim any fat from your chop then make a pocket by slicing the meat horizontally, but not all of the way through. Stuff each chop with 1/4c. stuffing and place in an oven safe baking dish. Add the champagne (or other liquid) to the bottom of the pan to avoid sticking and to help baste the pork chops while cooking. Sprinkle with garlic powder, salt and pepper. Bake at 425 degrees for approximately 20-30 minutes or until desired temperature is reached (depends on the thickness or your pork chops). Serves 4.
Fennel & Apple Whole Wheat Stuffing
4 Small Whole Wheat Pitas
1/2 Fennel, white part only, chopped
2 Cloves Garlic
2 Apples, peeled, cored and small dice (I used Paula Red)
1 tsp. Fresh Thyme
1 tbsp. Extra Virgin Olive Oil
1 c. Low-Sodium Chicken Broth
1/2 c. Shredded Asiago Cheese
Kosher Salt, to taste
Fresh Ground Black Pepper, to taste
Add the pita to your food processor or chop in fine pieces and add them to a bowl. In a large frying pan, heat oil and add your fennel, apples and thyme. Saute until the fennel and apples start to turn translucent, then add to your pita crumbs. Add in the chicken broth and the cheese and mix well. Season with salt and pepper. Add any remaining stuffing to an oven safe dish and bake at 425 degrees for 15 minutes. Makes approx. 3 cups.