Today is National Sausage Day so I thought I'd share one of my favorite meals with you. Both of our daughters cheer during the fall season for football which means a lot of last minute, quick dinners are needed. By the time they get home from school, do their homework then head out to practices, it doesn't leave much time for dinner preparation. And no, I still haven't figured out how to cook meals while in transport but I'm working on it! This one is packed with wonderful flavors and only takes about 20 minutes from start to finish. As much as I love fresh vegetables, I like to keep things like frozen spinach and broccoli on hand for quick, last minute toss in's for pasta dishes like this one. Just add a tossed salad and dinner is served!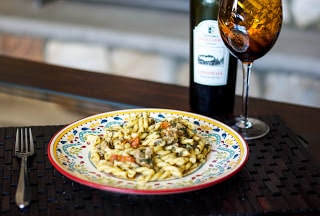 Gemelli with Italian Sausage, Sun Dried Tomatoes and Creamed Spinach
1 lb. Gemelli Pasta
1 tbsp. Extra Virgin Olive Oil
6 Links Italian Sweet Sausage, casings removed
1/2 c. Sun Dried Tomatoes, chopped
1 Garlic Clove, minced
1/4 c. Red Onion, chopped
1 c. Creamed Spinach (I used Seabrook Farms)
1/2 c. Low-Sodium Chicken Broth
1/4 c. White Wine
Directions:
1. Cook pasta according to package instructions; set aside.
2. While the pasta is cooking, heat the oil in a large saute pan, then add in the sausage. Break it apart and cook throughout until there is no pink left.
3. Add in the onions, garlic, and sun dried tomatoes and saute until the onions start to become soft; then add in the creamed spinach.
4. Mix well, then add in the chicken broth and white wine; then let simmer 5 minutes.
5. Add in the cooked pasta and mix well. Serves 6.
Enjoy!
*Tip: For a healthier option, substitute turkey sausage and whole wheat or whole grain pasta.