Good morning everyone! I won't be able to create any new posts for the next few days as my daughter is competing in a National Cheering Competition. So, instead of me, I've enlisted the help of some of my foodie friends to share some of their recipes with you.
Thursday-Bia Rich from Rich and Sweet
Friday-Week 7: Seafood Frenzy Friday
Saturday-Mia Reiter from Mia's Domain
Sunday-No new post today
Monday-Lauren Kelly from Lauren Kelly Nutrition
So let's get started…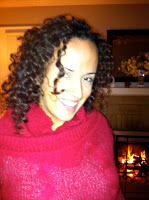 Today I'm honored to have Bia Rich from Rich and Sweet here to share one of her recipes with us today. Bia was one of my first foodie friends on Facebook after she found me and invited me to take part in her Tour of Italy blog hop. She was born and raised in Brazil, lived and worked in NYC for many years in the food service industry and now resides in NC with her hubby and son. Oh and she loves red wine as much as I do! 🙂
So please join me in welcoming Bia today as our Guest Blogger!
My name is Bia Rich and food is my passion!!! Our bodies need food to survive… good food that is… food that is cooked from scratch with love! That's who i am and how i cook! I love to entertain. I love wine. But more than anything, I love food!
It was valentine's day and my valentine was on a business trip. My girlfriend called and informed me that her hubby was also on a business trip and we should get together and have some wine and watch romantic comedies. But of course, we had to add a meal to the package. I ran to the butcher shop right before they closed and picked up 2 fillets, and got home searching for a good side to go with. Had fennel in my crisper and thought it would go together perfectly, and it did! Who doesn't love fennel? We had this meal with toast points and spinach which was wilted by sitting under the hot steak and wine reduction, and ate on my coffee table while watching a movie and siting in front of the fire.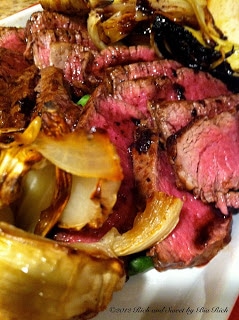 Pan Seared Fillet, Red Wine Reduction, Roasted Fennel and Shallots served on a bed of Spinach: For two
2 8oz-1 inch thick fillet mignon
salt and pepper to taste
1 tablespoon olive oil
1 large bulb of fennel, cut into wedges
2 large shallots, peeled and quartered
2 tablespoons olive oil
1 tablespoon white balsamic vinegar
2 cups dry red wine
2 tablespoons butter
1 tablespoon chopped thyme
2 cups spinach
Toast points to serve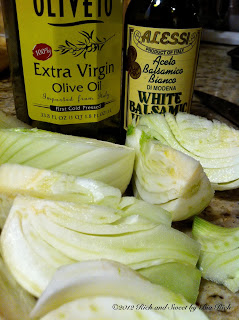 Preheat oven to 400F. Remove fillets from fridge to bring to room temperature. Whisk  2 tablespoons olive oil and balsamic vinegar in a small bowl. Place fennel and shallots in a baking sheet. Brush veggies with oil mixture and roast for 20 minutes. With a large spatula, flip the veggies and roast another 20 minutes until caramelized. Remove from oven and let it rest. Rub fillets with a little salt and pepper. Heat 1 tablespoon of olive oil in a cast iron skillet. When very hot, add fillets. It's a little messy, so use a grease splatter screen if you have one. For medium rare, cook on medium high for 3 minutes. Flip and cook for another 3 minutes. With a pair of metal thongs, remove grease splatter screen and fry steak on all sides, wearing kitchen mittens is a good idea, so the grease doesn't burn you. Remove steaks from pan, and let them rest for a few minutes on a cutting board. Keep cast iron skillet over medium high heat and add wine, whisk in all the burn and fat bits. Reduce wine by half. Add butter and fresh thyme and whisk until absorbed.Slice steaks into somewhat thin slices. I used a large square platter. Lay spinach on bottom of platter and place toast points all around it. Next lay roasted fennel and shallots and place steak in the middle. Pour hot wine reduction all over it and serve immediately.