Good morning! Today we get to spend the full day in Barcelona and don't really have many plans since we were here last year and toured this wonderful city already. I do regret not buying anything in La Boqueria Market in Las Ramblas last time though so maybe I can shop around and get them to ship some things home for me?! :)Today I'm excited to have another foodie friend here to share her delicious looking recipe with all of you and whose name also happens to be Carrie….there are quite a few of us believe it or not, must be something with the name! Please join me in welcoming Carrie from Bakeaholic Mama!Hi guys!
My name is Carrie… and I am a Bakeaholic… and a Mama… hence the name of my blog Bakeaholic Mama!
This is me!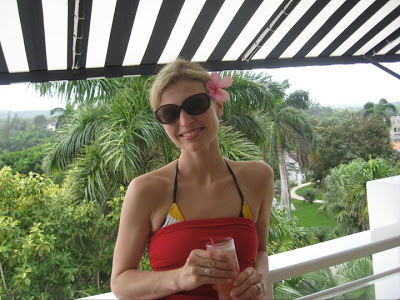 There are 4 things that I love most in life… 1, my kids, 2, my husband, 3 my dog, 4 FOOD!
If you have never checked out my blog Bakeaholic Mama, it's collection of my favorite family recipes. I use my 3 kids, husband… and my black lab Ollie as taste testers. If they all give the thumbs up.. (or paw) I share the recipe with my readers. You'll find a large collection of the not so healthy recipes…. things filled with butter, sugar… all things to make Miss Paula Deen proud… then you'll find a collection of lighter healthier snacks, and meals. I am a firm believe that yes you can have that calorie ridden brownie… just eat a salad for lunch to make up for it!
Today I've decided a dish that my husband grew up on. His mom used to make something similar. My mother in law Dixie (or Dickbizle as we all call her) seriously…. Dickbizle…. Anyways, Dixie would boil 1 lb of boneless skinless chicken breast, chop it up, mix it with a bag of frozen broccoli, rice, 1 can of cream of chicken soup,  top with shredded mozzarella cheese, and then top with French's Fried Onions.
I never liked broccoli, until I had Dixie's casserole.  Now guess what! It's my FAVE.
Now Dixie was a very busy single mom so she needed meals that were quick, as much as I like her simpler version… I like to add things… more is more right?!
So to put a spin on her casserole… this is what I do.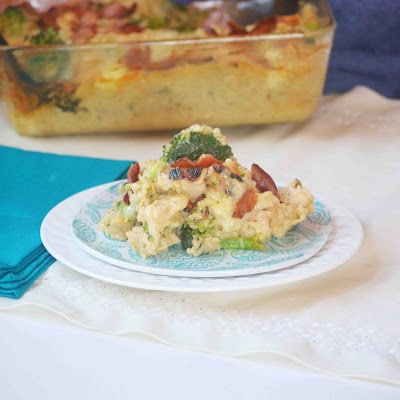 Chicken Broccoli Casserole
Ingredients:
1 lb cooked shredded chicken (I like to use left over roasted chicken or a rotisserie chicken)
2 cups of fresh broccoli florets
2 cups 5 minute instant  brown rice
2 cups chicken stock
1 12 oz can of reduced fat cream of chicken soup
1/2 cup of light sour cream
1 1/2 cups of shredded extra sharp cheddar cheese ( I use 2% cheese)
1/4 cup freshly grated Parmesan cheese
1 tbs of roasted garlic
1/4 tsp salt
1/4 tsp ground black pepper
4 slices of cooked bacon crumbled
Directions:
In a medium sauce pan bring chicken stock to a boil. Add in rice. Cover, remove from heat, and allow to sit for 5 minutes.

In a separate sauce pan bring water to a boil, add broccoli and boil for 2 minutes. remove from pan and set aside. 
Mix your canned soup, sour cream, half of your cheddar cheese garlic salt and pepper together. Toss with broccoli and chicken.
Spread mixture into a 9×9 baking dish, top with bacon, remaining cheddar cheese and Parmesan cheese.
Bake on 350 for 20 minutes or until casserole is golden and bubbly.
~~~ Thanks Carrie for inviting me to post on your blog today. It was fun and I hope everyone enjoys my easy weeknight meal!