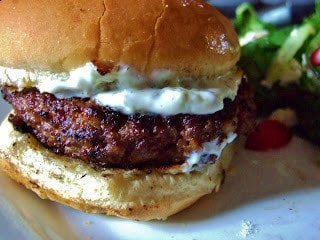 How's everyone doing so far? Even though I'm having a fabulous time, I REALLY do miss all of you! Today we dock in Venice, Italy in the afternoon and I can't wait to walk the cobblestone streets and take a night time gondola ride.I'm so excited to have our next Guest Blogger here with us today. This is her first time doing this sort of thing and I'm THRILLED and HONORED that she decided to share herself and her wonderful recipe with us. Please join me in welcoming Katrin!
Katrin, or Betty Martha as her close friends like to call her is the lady behind Running with the Deviled Eggs blog. A recent newleywed and mother of 1 fabulous teenager (Little Ugh), Katrin spends her time in her kitchen dancing around to music from all genres while trying to prepare healthy and tasty dishes for her family.  She tries to keep her ingredients as fresh and as local as possible, keeping frozen or pre packaged foods out of her cupboards. When she is not in her own kitchen she spends her time at work, in another kitchen, baking cakes, cupcakes, and other various desserts. Her mantra – Food for your mouth, Fuel for your soul!
Running With the Deviled Eggs is a food diary with everyday recipes for the novice to advanced cooks with a little tune to keep you dancing in the kitchen. When Carrie put our a call for some help guest posting I was so excited to be asked I said yes immediately! I never get asked, I'm like the kid who's picked last to play basketball (white girls can't jump).  So of course I feel honored to help her out while her kitchen is being revamped but more than that, I love Carrie's blog!  Her creativeness makes me drool ALL the time.  I only hope my recipe will make you drool like hers do for me! (Awe, thanks Katrin and my daughter and I were drooling over these burgers too!)Last week there was a sale on lean ground beef $1.88/lb! We don't eat beef all that often but how could I resist that price? It meant meatballs and burgers were comin'. Burgers are meant to be juicy, flavorful yet simple. There's no need to load it up with fillers or toppers. Sometimes subtlety works. This is just the case here.
Now, I can't say for sure but I believe the fact that I froze the patties and cooked from frozen may have had an extra helping hand in the moistness factor. I plan on trying it out again soon (with a different recipe) just to test the theory but at least you know you can freeze them well and cook from frozen.
I've said it before, when cooking I don't necessarily measure ingredients, I eyeball consistencies, taste (where I can) and use the "little of this" mantra and this recipe is no exception. The amounts are generalizations of my recollections so feel free to add, omit or change flavors up a little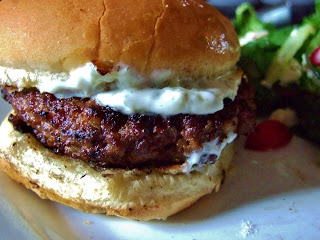 Enough to make 4 1/4lb burgers
1 lb lean ground beef
1 egg
1/3 c. whole wheat bread crumbs
1/2 red onion grated
1 clove garlic grated
4 tbsp. chopped feta
1 tbsp. oregano
1 tsp. Worcestershire sauceMix all ingredients together in one bowl. If a little wet add in a bit more bread crumbs. Form into 4 patties making the inner part thinner for a more even cooked burger. I placed them between layers of parchment and tossed them into a freezer bag and into the freezer for a few days before we grilled them (about 5-7 minutes per side from frozen!) Top with
homemade tzatziki
, cucumbers, feta, tomatoes or olives. Mine just had tzatziki! YUM!
You can aldo find Katrin on
Facebook
and
Twitter
Click
HERE
for the original post.