Good Morning, I hope you had a wonderful weekend! We're in Rome today taking in the sites and eating great food. Too bad it's only for the day, but we'll make the most of it I'm sure! Today, I'm excited to have my dear friend Bia from Rich and Sweet here to share her recipe with you. She never disappoints and this cake looks phenomenal doesn't it?! Please join me in welcoming Bia to CEK!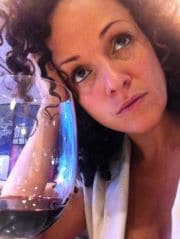 My name is Bia Rich and food is my passion!!! Our bodies need food to survive… good food that is… food that is cooked from scratch with love! That's who i am and how i cook! I love to entertain. I love wine. But more than anything, I love food!
Lemon, Blueberry and Passion Fruit Cake
3 + 2 tablespoons lemon juice
2 1/2 cups all purpose flour
2 6oz passion fruit chobani yogurt(use plain if you can't find passion fruit or use the blueberry flavor)
16 ounces blueberries (fresh or frozen)
Preheat oven to 325F. Butter and flour a bundt pan.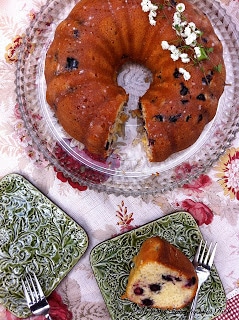 In a medium bowl sift together flour, baking soda and salt. Add lemon zest and stir together. In the bowl of a electric mixer, cream butter and sugar until softened. Add eggs, one at a time and 3 tablespoons lemon juice and mix it until combined, running a spatula thru the sides of the bowl after each addition.
Add half the flour mixture and half the yogurt and mix until combined. Add the other half and mix it in.
Gently fold in blueberries and pour into prepared pan. It is a little thick batter so you will need to help smoothing it with a spatula.
Bake in preheated oven for 1 hour 10 minutes or until a toothpick inserted in the center of the cake comes out clean. Cool 5 minutes on rack. Remove from pan and let it cool completely.
In a small pan heat 2 tablespoons lemon juice. Add powdered sugar and whisk until dissolved. With a fork, lightly poke a few holes on top of cake and drizzle lemon glaze all over.