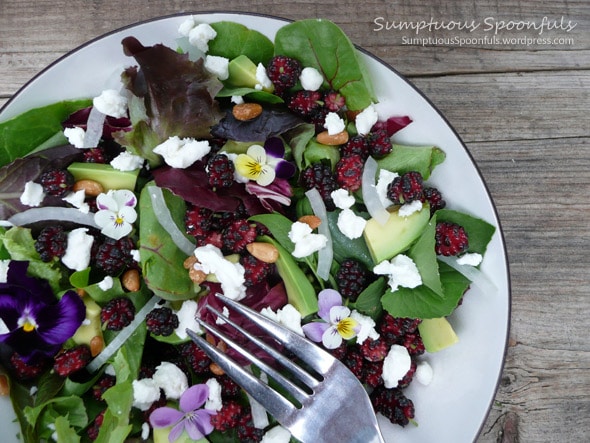 Welcome to Day 2 of my Guest Blogger series!  I can't wait for you to meet Ann and try this beautiful looking salad she has to share with all of us today. She has so many wonderful recipes and I look forward to her posts each day…Welcome Ann!
Hello! I'm Ann from
Sumptuous Spoonfuls
and I'm so pleased and honored to be guest posting here at Carrie's Experimental Kitchen today. Carrie and I have a lot in common in the kitchen: we both like to use fresh ingredients,  keep it healthy and always delicious. I believe life is too short to eat bad tasting food and you should never have to sacrifice taste to eat healthy. I started my food blog almost a year ago really as a way to keep track of my recipes and I cannot believe the wonderful places it has taken me. I've met thousands of amazing people from all over the world, discovered new tastes I had never dreamed of before, and made some wonderful friends along the way … like Carrie. It's been a fantastic journey.
One of my very favorite things to eat in the summertime is salads, so I thought I'd share a beautiful, tasty salad with you today that I made with berries I picked from the mulberry tree in my back yard. (If you don't have mulberries, just substitute another berry. Raspberries,  blackberries or blueberries would be lovely in this salad too.)  The dressing on this salad I actually created for a grapefruit salad I made a while ago, but it went really nicely with the berries, cheese and nuts on this salad. I always make my own salad dressings; they are so simple to make and so much tastier than the store-bought kind. I also like that you know exactly what went into your dressing (with ingredients you can pronounce), and it's so much more cost-effective, too!
Mulberry, Goat Cheese & Avocado Salad on Mixed Greens With Ginger Grapefruit Vinaigrette Dressing
Mixed Greens
Thinly sliced sweet onion (like Vidalia)
Fresh Mulberries (or other fresh berries)
Avocado slices, cut into pieces
Goat cheese crumbles
Toasted pinon (pine nuts)
Garnish (optional): fresh organic violets and/or violas.(Skip these if you are not sure whether your violets or violas are free of pesticides.)
 Directions:
Fill your bowl ¾ full with mixed greens, then tuck in (or toss) the rest of the ingredients in and around the salad.
Garnish with fresh violets or violas (if you like) and serve immediately with the ginger grapefruit dressing to drizzle on top.
This makes a small amount, but you really don't need much on the salad because it has a lot of flavor (but then, I'm a "light on the dressing" kind of person). If you want extra for future salads, double the recipe!
Ginger Grapefruit Vinaigrette
1/4 cup freshly squeezed grapefruit juice
1 Tablespoon balsamic vinegar
1/4 teaspoon granulated garlic
1 teaspoon Italian seasoning
 1/2 Tablespoon ginger sugar (the sugar that falls from making candied ginger … or 1 teaspoon freshly grated ginger)
1 Tablespoon jam (I used mixed berry jam, but I think you could use whatever jam suits you)
1/2 Tablespoon fancy prepared mustard (I used garlic peppercorn mustard, but Dijon would also be fine.)
1 Tablespoon olive oil
Directions
In a bowl, mix all the ingredients except the oil until everything is well blended.
In a thin stream, add the olive oil, whisking the dressing till the oil is incorporated into the dressing.
Store any extra salad dressing in a covered container in the fridge … before using, let it warm slightly for just a few minutes at room temperature to warm the olive oil and shake well.