Thanksgiving holds many fond memories for me. I can still remember as a child spending the day with my mom, grandparents, aunts, uncles and cousins from my mother's side of the family. There were 20 of us and sometimes more when my uncles side of the family came as well….the more the merrier!
The day would start out with my sister and I watching the Macy's Thanksgiving Day Parade while my Mom made whatever side dishes she would be bringing to my aunts house. Then we would drive the hour long drive to my aunt and uncles home in NY where my Aunt Kay always hosted Thanksgiving. Everyone would always help out by bringing something whether it was an appetizer, side dish, or dessert, so that the burden wasn't all on her.
Her kitchen was a small, galley style kitchen with few countertop spaces to work on,  so I was always amazed at how many of us we could fit in there. You never heard "Can I help?". It was always just assumed. As soon as you saw my aunt head towards the kitchen, all of the women and girls would follow and it would be like the perfect symphony. One mashing potatoes. Another making gravy. Another washing the pots. And yet another starting to get all of the food on the table all while chatting and laughing…sometimes hysterically! Each  one knowing what it was that had to get done so that the meal could get to the table at the same time. It was here that I learned the value of  respect and working together as a team and to my family, I'm eternally grateful.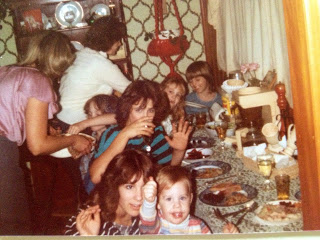 Me (in the front with the black and white shirt) by the
"kid" table with some of my cousins including my little
cousin Richie and my sister, Jill who are no longer with us.
Because there were so many of us, we had the "adult" table and the "kid" table and I couldn't WAIT to get to go to the adult table. But once there, though it was also fun (and I learned how to play a mean game of penny poker!), I think in retrospect I enjoyed the kid table better! What wasn't to love with having 8 other cousins, half of them around the same age, to share it with! We were nutty, like most families I guess and it wasn't uncommon for my uncle or grandfather to throw a roll if someone asked for them to be passed. And my uncle ALWAYS pretended to trip while carrying the turkey to the table…every year. And you know what? Even though we knew it was coming, we'd all laugh anyway.
As with most families, children grow up, marry and have families of their own and it makes it hard for everyone to get together like we all used to. I treasure the time and memories made with all of my family members and Thanksgiving is the perfect time to let them all know how much they mean to me. Families aren't perfect. They come in all shapes, sizes and personalities and don't necessarily have to even be bound by blood, but they shape who you are as a person and make lasting memories…good or bad. 🙂
This year, I'm thankful for a roof over my head, food on my table, mine and my families health (especially this week when we wound up at the ER getting a CAT Scan for Rachael who is now suffering from a concussion….yes, it's never a dull moment here folks!), all of my family, friends and for all of you. From those I see everyday to those I wish I could see more. Know I think of you often even though life seems to keep us apart. I've been blessed in life to go through some hard times and have been rewarded by good and for that I'm grateful. Tomorrow, I plan on preparing all I can ahead of time so that I can spend the morning watching the Macy's Thanksgiving Parade with my husband and two girls. Then enjoy a relaxing, fun filled eating-fest with my family and friends creating new memories for my children that will hopefully last a lifetime.
From my family to yours….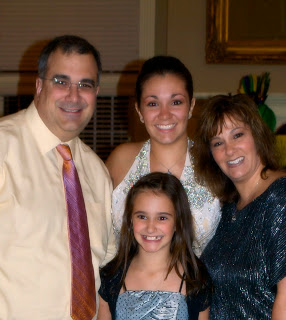 Wishing you all a wonderful Thanksgiving! 
There are still so many people in our area that have been displaced from their homes and lost everything from Hurricane Sandy in the tri-state area. If you would like to help, please consider donating to the American Red Cross.