Tomato Week continues with this fabulous recipe I whipped up last week for this Italian Turkey Sausage & Roasted Tomato White Bean Stew. You all should know by now how much I love roasting things and these tomatoes added to this stew was no exception. This dish was packed with wonderful flavors and was the perfect all in one meal. It especially came in handy for us during the week as my oldest daughter has to go right from her sports practice to her SAT prep tutoring class without stopping home, so dinner is usually in the car served in a thermos. This tasted even better reheated after all of the flavors had a chance to meld together, so I wish I had doubled this recipe to keep some extra in the freezer! 🙂
I'm also sharing this recipe with the Share our Strength's No Kid Hungry Campaign. Can you believe that 1 in every 5 children go hungry in America each YEAR! As a mother and a human being that to me is astounding! From this post, Macaroni Grill will donate $50 to connect a child to up to 500 meals and I'm happy to do my part to help raise awareness to this wonderful cause. If you would like to help, you can also contribute by going online to 1 Million Meals or by visiting your local Macaroni Grill  restaurant. By donating $2, you will receive $5 off of your next meal.  We hope you'll join us on this million meals mission that ends THIS Sunday, September 30!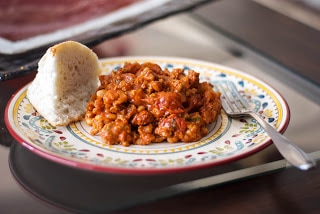 Italian Turkey Sausage & Roasted Tomato White Bean Stew
2 c. Cherry Tomatoes
2 Garlic Clove, chopped
1 tbsp. Balsamic Vinegar
1 tbsp. Extra Virgin Olive Oil
Kosher Salt
Fresh Ground Black Pepper
6 Links Sweet Italian Turkey Sausage
1 tbsp. Extra Virgin Olive Oil
1/2 c. Onion, chopped
1 tbsp. Fresh Basil, chopped
1 tsp. Dried Oregano
1/2 c. Tomato Paste
1/4 c. Pecorino Romano Cheese, grated
1-15oz. Can Cannellini Beans, rinsed
Directions:
1. Add tomatoes, 1 clove of chopped garlic, vinegar, and oil to bowl and season with salt and pepper.
2. Mix well then add to a baking sheet and bake at 425 degrees for approximately 5-10 minutes or until tomatoes start to burst open.
3. While the tomatoes are roasting, heat 1 tbsp. oil in your Dutch oven or pot, remove the casings from your sausage and add to your pot. Cook the meat thoroughly so there is no pink, then add in your onions and garlic.
4. Saute until the onions start to soften, then add in your cooked tomatoes, basil, oregano, tomato paste and cheese.
5. Mix well then simmer for 30 minutes. Add in the beans and simmer for an additional 15 minutes. Serves 4.
*Nutritional Information: Calories 292, Carbs 25.7g, Fat 8.1g, Protein 33.3g, Fiber 8.8g
*Calculations based on ingredients entered into CalorieCount and may not be 100% accurate.
*Tip: If you like your food on the spicier side, opt for the Hot Italian Turkey Sausage. You can also prepare this in a slow cooker on warm or low as long as the sausage is cooked prior to adding it to the mixture. I would also wait to add the beans in until right before you are ready to serve. 
Enjoy!