Once again, during my weekly produce run, I came across these purple sweet potatoes they had labeled as Yama. I had to research them as I had never heard of them before. Most types of Japanese sweet potatoes are much less watery than the Western ones and their taste is often compared to that of chestnuts. They also vary in colour D yellow, orange, pink and even purple.The ones I purchased were purple on the outside and white on the inside. I decided to try to experiment with these over one weekend and decided to make home fries with them. My hubby instantly knew they weren't regular russet potatoes but loved the flavor that these potatoes had. In fact, we both preferred the home fries made with these potatoes better. They had a slightly sweet and nutty flavor and were absolutely incredible!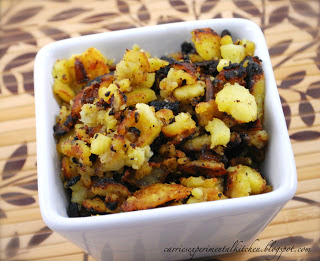 Japanese Sweet Potato Home Fries
(Satsuma-imo)
4 Small/Medium Yama Potatoes
1/4 c. Red Onion, chopped
1-2 tbsp. Canola oil, for frying
Peel potatoes, rinse then slice into 1/4″ rounds. Place in a pot, cover with water then allow to soften; approximately 15-20 minutes. Heat oil in a large frying pan then add onions. Drain potatoes, pat dry then add to the pan. Allow to brown on each side. (We like ours well done so it took about 20 minutes to get a nice color on them).
Serves 2.
Enjoy!
Pin It
Shared at Newlyweds Blog 2/22/12