Start you day off right with these healthy, light and fluffy Lemon Ricotta Blueberry Pancakes. They're bursting with flavor!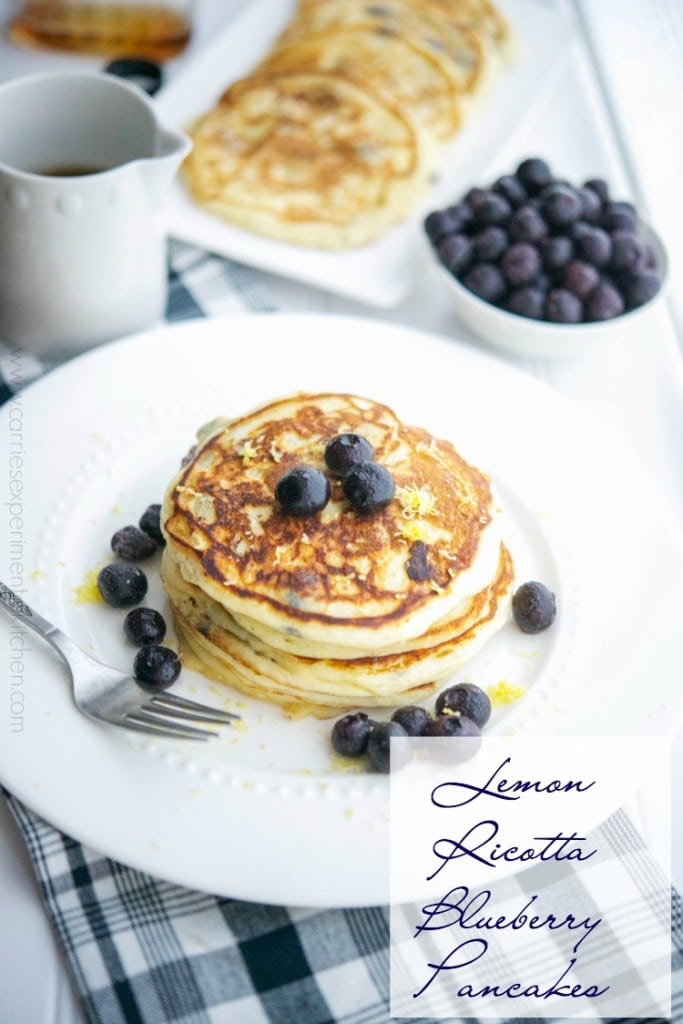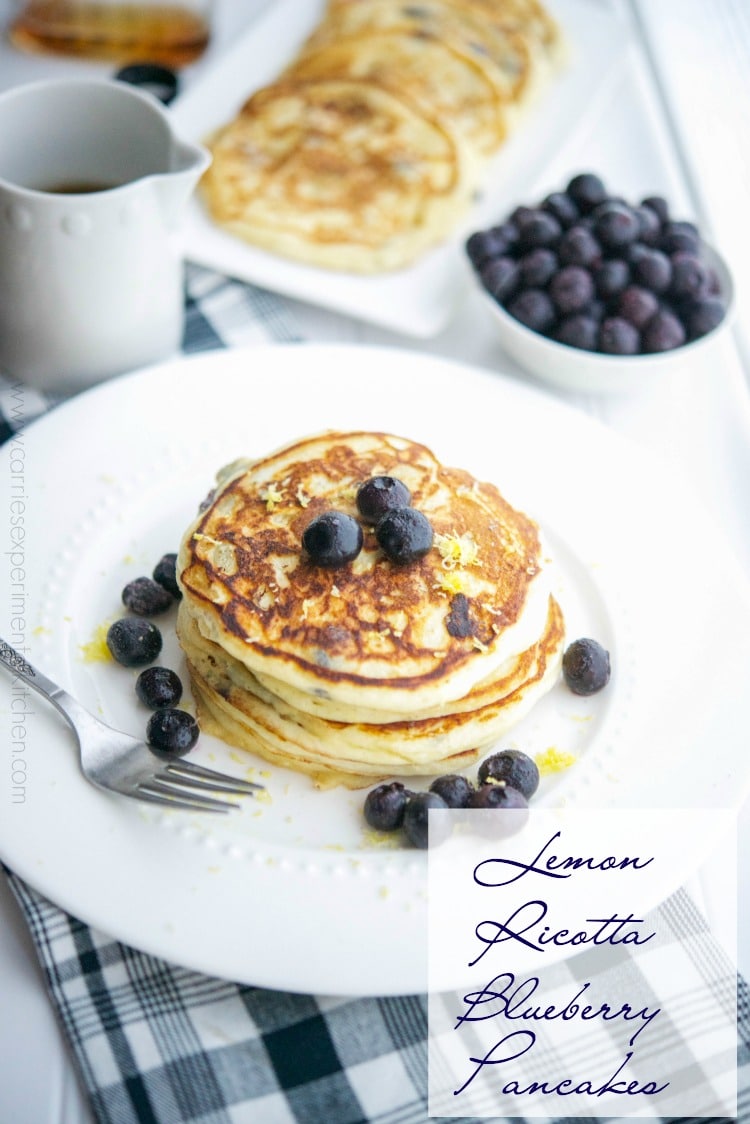 Today I'm excited to review Dr. Sonali Ruder's latest book, The Natural Pregnancy Cookbook; The Complete Guide to Eating Healthy During Pregnancy — Naturally. No, I'm not expecting. I have two beautiful teen age daughters and several grown nieces and nephews to dote over (not to mention a great nephew and another great niece or nephew on the way!).
However, eating healthy is not just for those that are pregnant. In fact, I've been trying to eat a bit healthier myself so when Sonali asked if she could include two of my recipes in the book, I was more than happy to oblige and couldn't wait to see the recipes she included.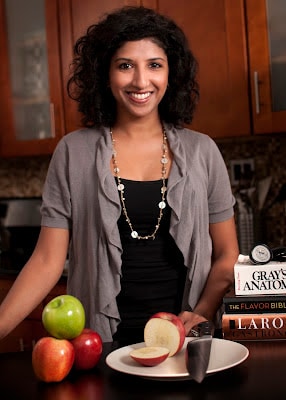 Since breakfast is the most important meal of the day and sets the tone for how you eat the rest of the day, I decided to make the Lemon Ricotta Blueberry Pancakes to share with you today.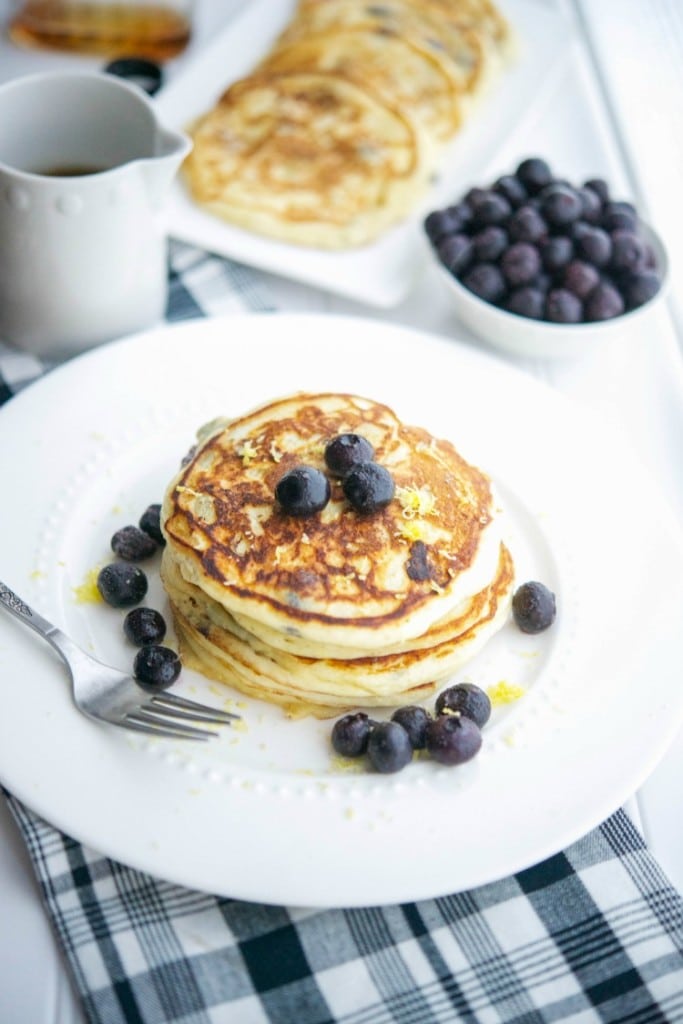 Before I share the recipe for these FANTASTIC pancakes, let me tell you a little bit about the book. First, you may know Dr. Sonali Ruder instead as The Foodie Physician; a board certified ER physician and culinary school graduate. She shares healthy recipes with her readers and believes in eating in moderation and staying active.
[click_to_tweet tweet="Start you day off right with these healthy, light and fluffy Lemon Ricotta Blueberry Pancakes. They're bursting with flavor! #breakfast #pancakes #blueberries" quote="Start you day off right with these healthy, light and fluffy Lemon Ricotta Blueberry Pancakes. They're bursting with flavor!"]
The Natural Pregnancy Cookbook ensures that both you and your baby get the nutrition you need, while still enjoying everything you eat. Physician, chef, and mother Dr. Sonali Ruder takes the guesswork out of planning a healthy diet and presents over 125 delicious, nutritious recipes to suit any taste or palate. It is the perfect resource for expectant mothers.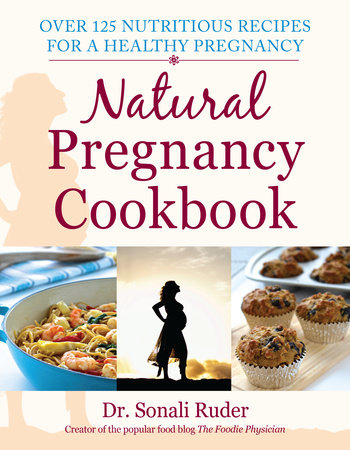 The book helps to make certain that your body has everything it needs during the many changes that accompany pregnancy and also includes a wealth of information on eating while pregnant—from managing morning sickness and mid-day cravings, to knowing how much food is enough for you and your baby.
For any expectant mother looking to manage their cravings, keep control of their diet and have fun doing it, The Natural Pregnancy Cookbook is your reliable resource each step of the way. Making informed, educated decisions about what you eat during your pregnancy is essential to ensuring your baby is born happy and healthy.
The Natural Pregnancy Cookbook features a variety of tasty, healthy recipes including:
Cauliflower Cheesy Bread
Baby Bump Banana Flax Bread
Spaghetti Squash Lasagna
Refrigerator Dill Pickles
Summer Zucchini and Corn Frittata
Banana Nut Health Shake
Mediterranean Shrimp Pasta
Grilled Skirt Steak with Chimichurri Sauce
And now, let's get to these scrumptious Lemon Ricotta Blueberry Pancakes!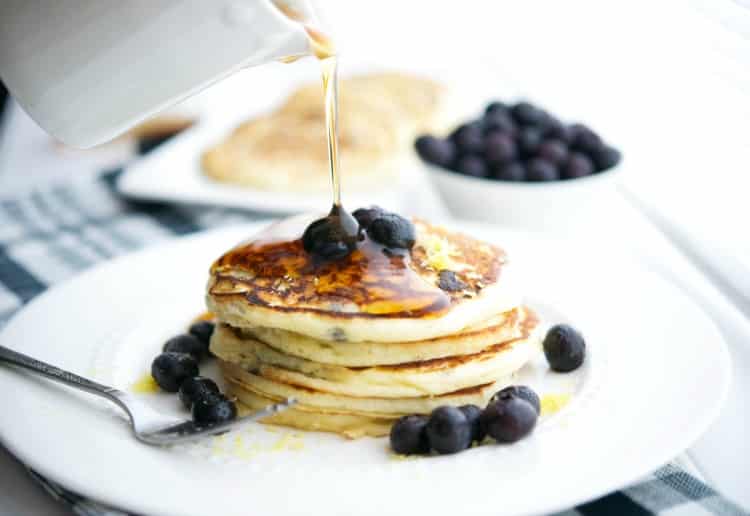 These pancakes are bursting with light, lemony flavor and supply you with whole grains, calcium, folate and fiber; which helps fill you up and keep you going. I was able to make them from start to finish in about 30 minutes so if you're looking for a quick breakfast meal throughout the week, plan ahead and make these pancakes on the weekend; then wrap tightly into individual servings and freeze until you're ready to eat.
This recipe makes 6 servings and they are delicious! Trust me, you'll want to eat them every day. I ate mine with maple syrup, but there is also a recipe in the book for Blueberry Maple Compote which would make these pancakes even better. ~Enjoy!
Sign up for my weekly newsletter to get
 the latest recipes and receive
 a FREE eBook! 
Lemon Ricotta Blueberry Pancakes
Start you day off right with these healthy, light and fluffy Lemon Ricotta Blueberry Pancakes. They're bursting with flavor!
Instructions
Combine the two flours, baking soda and salt in a small bowl.

In a separate larger bowl, whisk the egg yolks, buttermilk, sugar, lemon juice, lemon zest and ricotta cheese together until smooth.

Beat the egg whites in a separate bowl with an electric mixer until soft peaks form.

Stir the dry ingredients into the wet ingredients until combined; then fold in the egg whites.

Heat a large nonstick pan or griddle over medium heat and coat with cooking spray.

Spoon the batter onto the pan using a 1/4 cup measure and scatter some blueberries on top. Cook 2-3 minutes on each side; turning when they start to bubble around the edges.
Notes
To keep the pancakes warm, place them on a baking sheet in a 200 degree F oven until all of the pancakes are cooked.
Nutrition
Serving:
2
g
|
Calories:
229
kcal
|
Carbohydrates:
35
g
|
Protein:
10.3
g
|
Fat:
5.4
g
|
Sodium:
488
mg
|
Fiber:
2.8
g
Visit the 

recipe index

 to search for more recipes by category.

Connect with me on Social Media
Related Recipes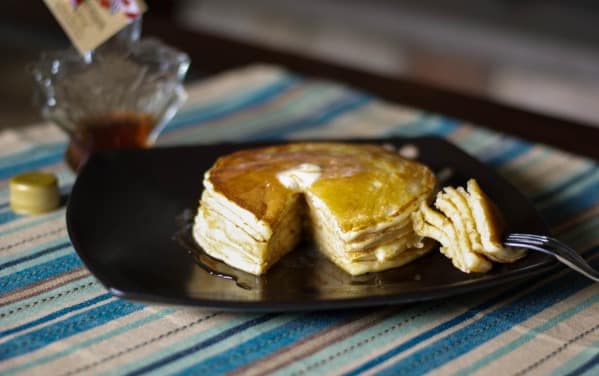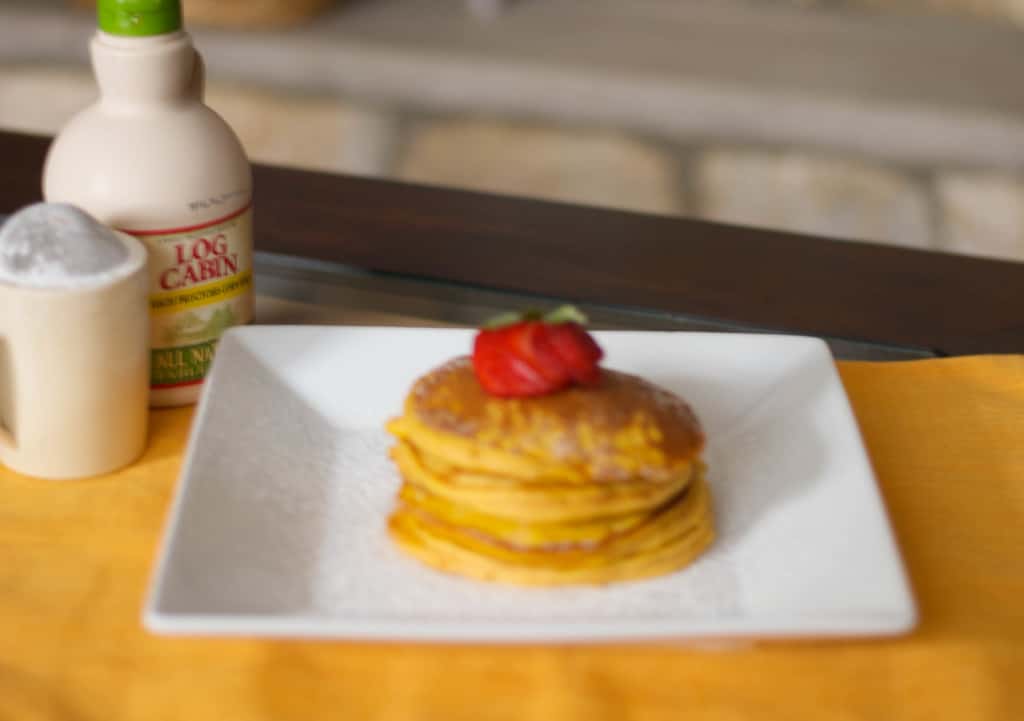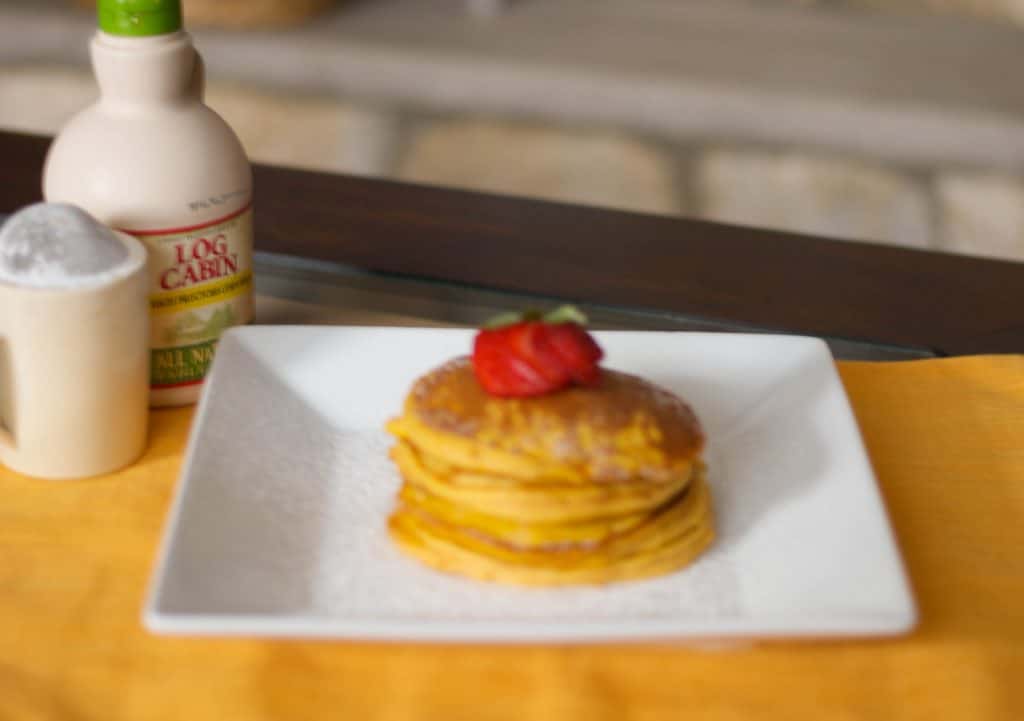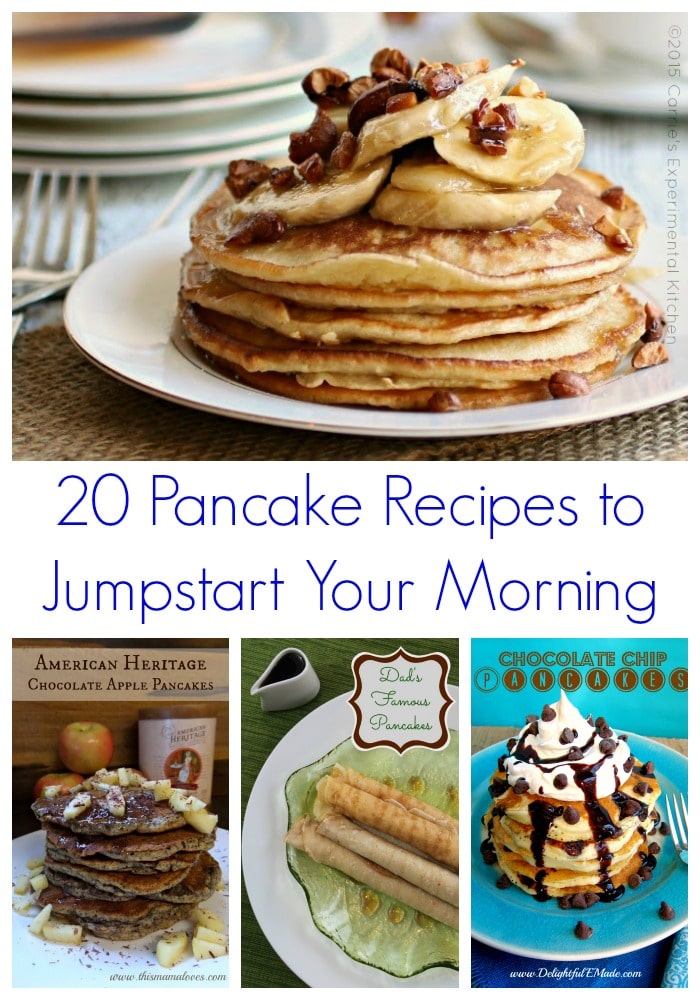 20 Pancake Recipes to Jumpstart Your Morning
This post includes links to my affiliate account at Amazon.com where Carrie's Experimental Kitchen earns a few cents on the dollar when readers like yourself purchase the items I recommend. Thank you for supporting Carrie's Experimental Kitchen when you shop at Amazon!