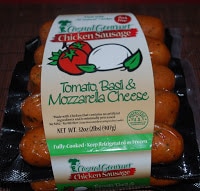 Ok so here's one of those items I just happened to find at my local store when I wasn't even looking for it, Casual Gourmet Chicken Sausage. They only had two types for me to choose from and I opted for the Tomato, Basil and Mozzarella version. But after looking online, I found several more varieties including Spicy Mango and  Jalapeño, Roasted Red Pepper and Spinach and Roasted Garlic and Gruyere Cheese.  What I like about them is that they are already fully cooked. So your prep/cooking time is next to nothing.  Just heat and eat! I also liked that there are no artificial ingredients, they are high in protein, they're gluten-free AND they contain no MSG or Nitrites (which I can't have or else I will get a severe migraine!).
Since sports season is starting to pick back up again and my oldest daughter had cheering practice after a long day at camp watching a bunch of 9 year olds in the hot, humid weather, I wanted to make something that was quick and easy to give her a little carb boost for some extra energy. So I just sliced up some of these sausages and briefly sauteed them, mixed them with some Barilla Plus Farfalle Pasta and made a tossed salad. They were good, and surprisingly a little spicy. Everyone liked it, so I guess it's a keeper.
Pasta with Tomato, Basil and Mozzarella Cheese Chicken Sausage
5 Links of Casual Gourmet Tomato, Basil & Mozzarella Chicken Sausage, sliced
1 Lb. Pasta
1/2 Cup White Wine
1 tsp. Lemon Juice
1 Cup Low Sodium Chicken Broth
1/2 Cup Pecorino Romano Grated Cheese
Cook pasta according to package directions. In a large non-stick saute pan, add the sausage and heat through approximately 5-8 minutes. Add the wine, lemon juice and chicken broth and let simmer 2-3 minutes. Add the cooked pasta directly to the pan and add the cheese. Mix together well. Serves 4-6.
Enjoy!