This month we're giving away a big prize pack of goodies* that will help with taking better pictures from your phone in the June Phoneography Giveaway.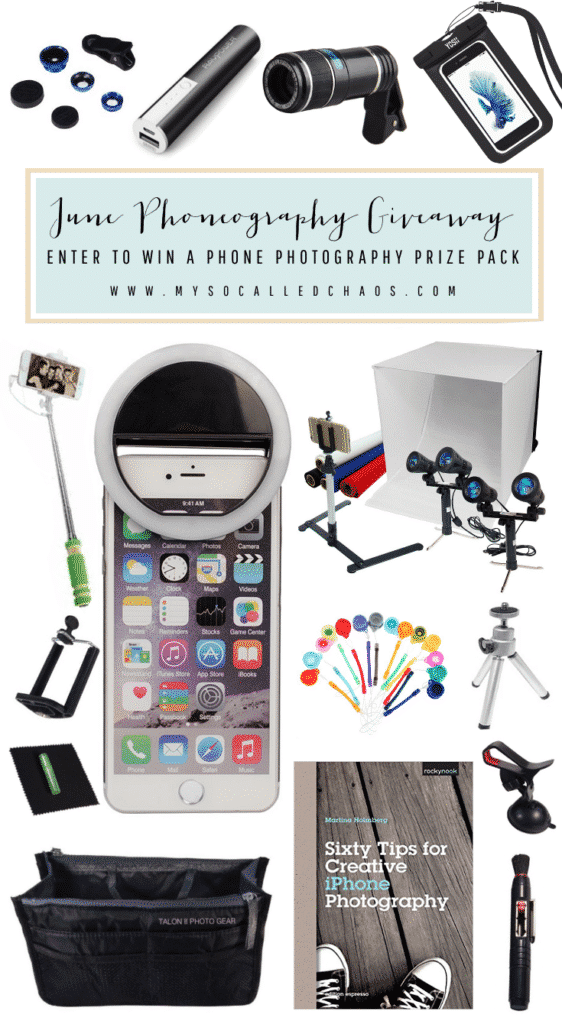 Hi everyone! I'm so excited to be offering another giveaway and this one is AH-MAZ-ING!!! It's HUGE!!! Are you ready? This time it's all about Phoneography! What's phoneography? Well it's photography you take with your phone! Get it? Phone + photography = phoneography. I don't know who coined the term, but it makes sense and there are even some great Instagram hashtags related to it.
While I always recommend investing in a DSLR, I know what it's like to not be able to afford one, and your photography doesn't have to suffer just because you can't afford a huge investment right now. If you are a blogger, shop owner, Instagrammer, or just someone who wants to take better photos with your phone-there are things you can use to improve-and I (along with some other fabulous bloggers and creatives) joined Angie from My So-Called Chaos to bring one lucky winner a big pack of them!
This is my first time participating in one of Angie's big group giveaways, and she likes to ask each of the sponsors to answer a question.  This helps you get to know the sponsors a bit better and see if you want to follow them as well.
Angie frequently shares her favorite Instagram accounts on her blog, and so far she's shared her favorite lifestyle bloggers, travelers, and beauty experts on Instagram.
Our Favorite Instagram Accounts
"I love following @aspiringkennedy-she has amazing travel photos and adorable kids!" – Olya from The Siberian American
"I love following @Nailstorming because I love painting my nails and enjoy her fun nail polish art tutorials." – Kimi from Kimi Who
"We LOVE following Elsie & Emma from A Beautiful Mess. All of their posts are so colorful and inspiring; plus they feature a lot of community members. @abeautifulmess." – Hannah & Sara from The Perfect Storm
"@themoderntulip – I love that she's a fellow momma and how her instagram and blog showcase gorgeous images and snapshots of her life as a wife and mom!" – Libby from Health Love and Fire
"I absolutely adore Daryl and Mindi Hirsch of @2foodtrippers. Not only do the take amazing food photos, but they are eating the food I want to eat!" – Andi of Misadventures with Andi
"There is so many people that I love. My favorites are Taylor Wolfe , Abby Smith & Helene Sula." – Tabitha of A Hundred Tiny Wishes
"@TheProperBlog – Love the projects Lexi does and how she styles the photos for Instagram." – Annie from Rocky Mountain Bliss
"@dailydoseofdesign I love the stark white backgrounds with the pops of color coming from the clothing/accessories! – Dana from Pellerini
"I just recently fell deep into the planner hole and following @meandmybigideas gives me great ideas and inspiration for my planner. They also love to share other's planners so I can find more people to follow that way!" – Jen from Injenious Life
"I love following @loveyoumoretoo because she's a local Dallas friend who shares her love of fitness and healthy living!"Happily the Hicks
"@marvelousinthemidwest, Her feed is bright & colorful and her outfits are the bomb!" – Roxy from Royalty in Reality
"I'm currently loving lots of BBQ folks on Instagram. One of my favorites is @grillinfools. He does a lot of reposts, but they're always accompanied by great captions and drool-worthy BBQ images." – Mary from Vindulge
"I love following those that post travel photos, especially those that introduce me to new and different parts of the world and potentially inspire our next vacation destination." – Mar from T.O. and Fro
"I love following @iambaker – Amanda is such a talented baker. I just love to see her latest dessert creations and am in awe of her decorating ability." – Carrie from Carrie's Experimental Kitchen
"@afreespiritlife" – Andrea from Waldorf Salad and Cottage Fries
"I love following @xantheb because of her beautiful photos and fun short films!" – LaShawn from Everyday Eyecandy
"@funforlouis he is always an inspiration and his photographs are great." – Kate of Kate/idoscope
"@hereyeswereolivegreen Her feed is so beautiful, filled with neutral colors and she is such a down to earth person." – Amanda from Green Tea and Cotton
"Dallas Clayton – every picture he posts makes me smile!"> – Candace from Luxe… With Kids
"I love following Cara (@thechampagnediet) because her posts are always so empowering and my girl Amanda (@meetatthebarre). Amanda has a very similar sense of humor and always has great style. Both of them have very colorful and fun photos." – Kara from Fit Chick Nextdoor
"@elabau – I love her beautifully displayed desserts." – Howard from Thyme to Save
"Apart from hair, my other obsession is artsy stuff. I love to follow Laura over @mynewestaddiction since she posts all these cute planner stuff on top of her beauty finds. She also loves Starbucks like me!" – Tiff from Straight Hair Club
Enter the June Phoneography Giveaway
This month we're giving away a big prize pack of goodies* that will help with taking better pictures from your phone. Giveaway is open worldwide** and ends at 12AM MDT on 07/12/16. Entering below agrees to all terms and conditions within the Rafflecopter widget.
*Prize inclusions depend on availability, may not be entirely as depicted in the photo (but will be similar).
**International Winners will receive a cash prize of $150 due to shipping matters.