Pizza Margherita reflects the colors of Italy, red, green and white; and is commonly made with fresh tomatoes, basil & mozzarella cheese.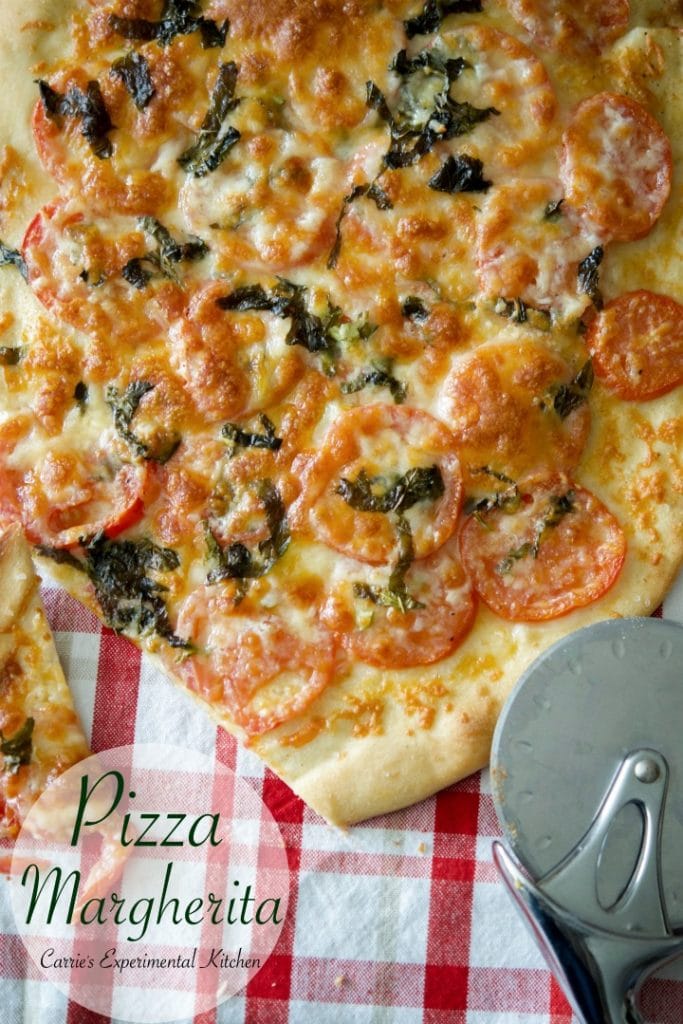 Pizza Margherita is my FAVORITE type of pizza...ever! We make pizza (or order out) a couple of times per month and no matter what other varieties we may have, this simple pizza is always one of the selections.
What is Margherita Pizza?
They say that Pizza Margherita was named after Queen Margherita (19th century) when an Italian pizza maker created this tomato, basil and mozzarella version to reflect the colors of Italy: red, green and white.
The Queen enjoyed it so much that she wrote a letter to the pizza maker, complimenting him on his creation so he so named his culinary creation after her.
I had shared this recipe way back in 2011 when I first started blogging and like many of my older posts, I had it mixed in with several other recipes at once.
Over the years I've bee trying to bring them back to life and FINALLY got around to taking another photo to update one of my favorite recipes.
Yes, I do make this often; but you try prying this baby out of my family's hands to take apicture when it's hot out of the oven...I dare you!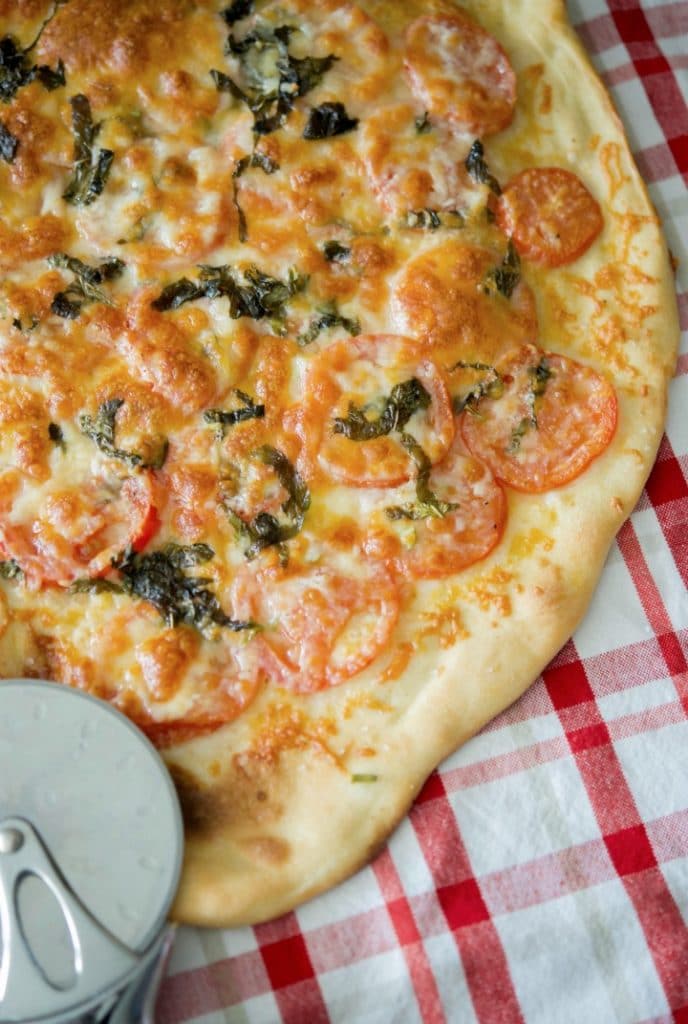 Ingredients
For this recipe you'll need the following ingredients:
prepared pizza dough
fresh tomatoes
fresh basil
garlic
Mozzarella cheese (shredded, sliced or fresh)
I use either frozen pizza dough that's been defrosted or I'll purchase one from my local pizzeria. If you look on my pizza Pinterest board, I'm sure you can find some wonderful homemade versions there if you would prefer to make this completely from scratch.
Some recipes call for tomato sauce instead of tomatoes, but my family prefers fresh instead as it's less acidic.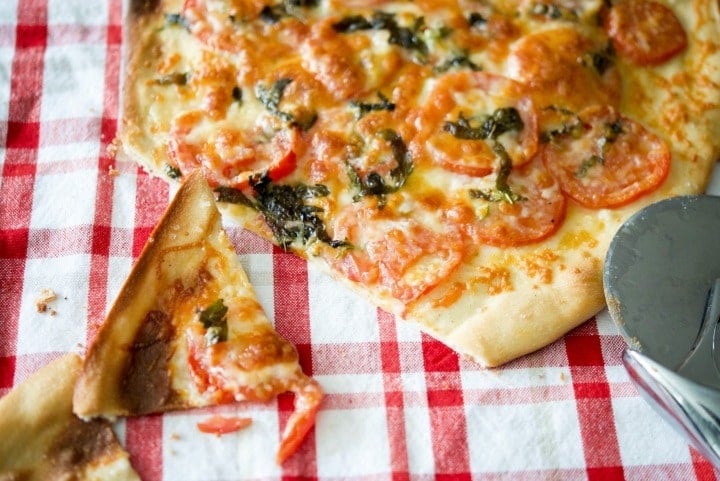 How do you make Margherita Pizza?
First, bring the dough to room temperature. I find it's easier to stretch out this way.
Next, add a bit of olive oil to your hands to help stretch the dough and place on a seasoned stone or old baking sheet. I have this old sheet pan that is so seasoned, it makes the crust extra crispy. Non stick pans will work too, but the crust may not get as crisp.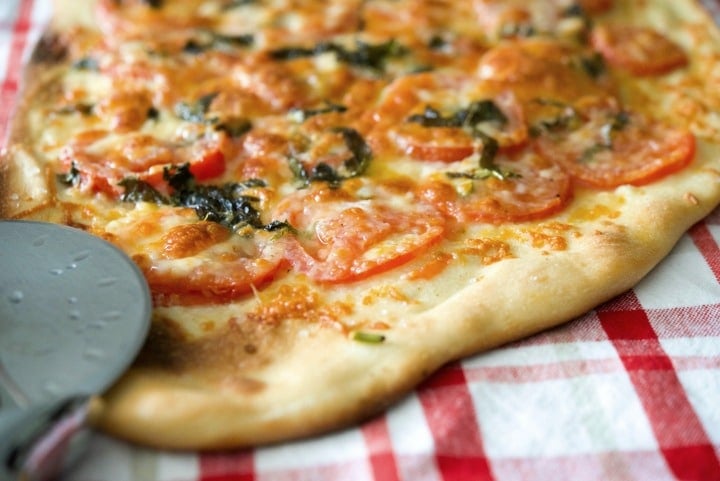 Once you have stretched out the dough, add the cheese. You can use shredded cheese or sliced fresh mozzarella.
Make sure to leave a 1-inch border around the sides to form the crust. Next, sprinkle some minced garlic, sliced tomatoes and chopped basil.
Bake in a preheated 425° F oven for 15-20 minutes or until the edges of the crust have browned and the cheese is hot and bubbling.
Like I said earlier, Pizza Margherita my favorite and good thing tomorrow is Friday...I know what I'll be making for dinner!
This pizza makes eight slices, but you could also cut them smaller and serve as an appetizer as well.
Trust me, your family will LOVE this recipe. I mean really, who can resist the flavor of tomatoes, basil and mozzarella? ~Enjoy!
Visit the

recipe index

to search for more recipes by category.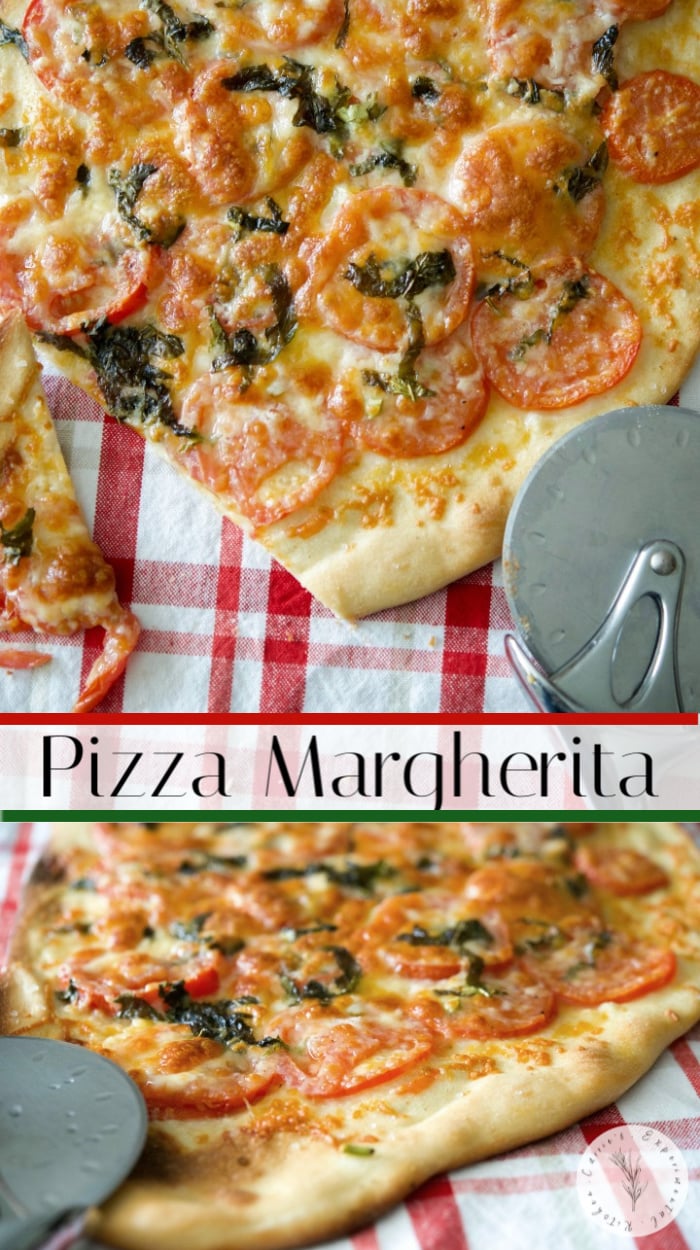 More Pizza Recipes
Sigh up for our
weekly newsletter
and receive
a FREE eBook!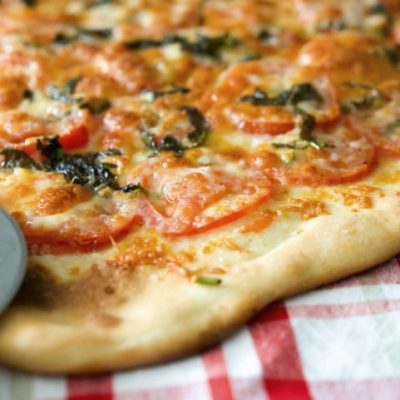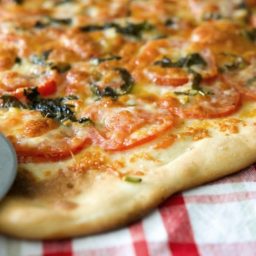 Pizza Margherita
Pizza Margherita reflects the colors of Italy, red, green and white; and is mostly made with fresh tomatoes, basil & mozzarella cheese.
Ingredients
1

lb.

Pizza Dough, room temperature

1

tbsp.

Extra Virgin Olive Oil

8

oz.

Mozzarella Cheese, shredded or sliced fresh

3

Cloves Garlic, minced

3

Plum Tomatoes, sliced

¼

c.

Fresh Basil, chopped
Instructions
Preheat oven to 425 degrees F.

Coat your hands with the oil; then stretch the dough until it's ½" thick on a well seasoned baking sheet or pizza stone.

Top the dough with the cheese, leaving a 1-inch border; then add the garlic, tomatoes and basil.

Bake for 15-20 minutes until the crust is light brown and the cheese is hot and bubbling.
Notes
*For this recipe I used part skim shredded mozzarella and Italian frozen pizza dough. Cooking times and flavor may vary if using refrigerated pizza crust. 
Nutrition Facts
Pizza Margherita
Amount Per Serving
Calories 233
Calories from Fat 63
% Daily Value*
Fat 7g11%
Cholesterol 18mg6%
Sodium 316mg14%
Carbohydrates 29g10%
Protein 11g22%
Vitamin A 400IU8%
Vitamin C 4.1mg5%
Calcium 230mg23%
Iron 2mg11%
* Percent Daily Values are based on a 2000 calorie diet.
Nutrition
Calories:
233
kcal
Carbohydrates:
29
g
Protein:
11
g
Fat:
7
g
Cholesterol:
18
mg
Sodium:
316
mg
Fiber:
1
g
Sugar:
2
g
Vitamin A:
400
IU
Vitamin C:
4.1
mg
Calcium:
230
mg
Iron:
2
mg
Connect with me on Social Media