Alice Phillips certainly knows her way around the globe and the kitchen in her inspiring new cookbook, Ally's Kitchen: A Passport to Adventurous Palates.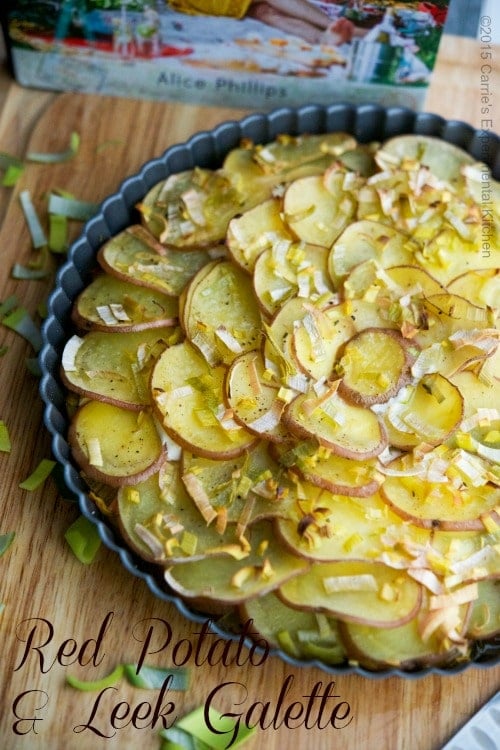 Follow along on my own 'magic carpet' ride and taste the adventure as I review her beautiful new cookbook and share her recipe for Rosemary Red Potato & Leek Galette.
Let me start off by saying how excited I am for one of my dear foodie friends Alice Phillips (a.k.a. Ally) from Ally's Kitchen on the release of her first cookbook, Ally's Kitchen: A Passport for Adventurous Palates.
And adventurous it is! She takes us on a culinary journey to lands far and wide to explore fabulous dishes around the world.
About Ally's Kitchen
Ally's Kitchen is chock full of heart and soul that starts off with a poignant letter of thanks to those who have helped support her along the way, along with a beautiful forward and introduction.
From there she starts her culinary exploration first with Boholicious sauces and spices; which consist of exotic flavor combinations like Ethiopian Berbere, Harissa, Caribbean Seasoning Mix, Grüne Soße (a German-style green sauce), Tsire, and Dukkah to name a few.
Next, it's onto Charming European Flavors, The Stunning Mediterranean, Middle Eastern Allure, An African Excursion, Exploring Exotic Asia, Caribbean Island Eats and Side Trip Escapades.
Each recipe (a total of 120 of them!) is beautifully laid out with a brief story of her travels to these far away places, a complete list of ingredients, simple to follow instructions, beautiful photography and some tips at the bottom to help create not just the recipe, but a dining experience.
In this hardcover bound masterpiece I found so many wonderful recipes I didn't know which one to make, so I decided on the recipe for Rosemary Red Potato & Leek Galette.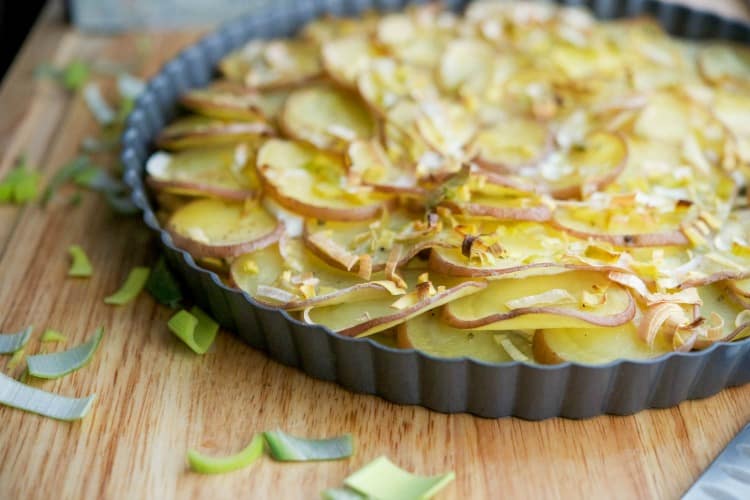 What recipe did I choose to make?
I found this recipe for Red Potato Galette on Page 47 under Charming European Flavors and couldn't resist. You all know how much I love the flavor of rosemary! Ally's list of ingredients and instructions are simple to follow.
She used a heavy nonstick skillet to make hers, but also suggested in the "Mood Maker" section at the bottom that it could be made in a shallow tart pan so I opted to use that for this recipe.
This recipe for Red Potato & Leek Galette was delicious and my family devoured them.
Tips
One note to make is that if you do use a tart pan, make sure you place it on a baking sheet before putting it in the oven as the melted butter will ooze from the pan, dripping in your oven. Yeah. That happened.
Thankfully I caught it in time so it didn't ruin the flavor of the galette, and it pays to have a self cleaning oven. There are SO many recipes I can't wait to try in Ally's book like
Rustic Lemon Cheese Cupcakes
Tagine of Beef & Tomatoes, White Tuscan Beans with Eggplant
Baked Croatian Cottage Cheese Struklji
Turkish Style Chicken with Potatoes, Shiitake Mushrooms & Mint
Vietnamese Bok Choy Salad with Honey Ginger Sauce
and Korean Short Ribs...just to name a few!
VISIT THE

RECIPE INDEX

TO SEARCH FOR MORE RECIPES BY CATEGORY.

More Potato Recipes
SIGN UP FOR MY WEEKLY NEWSLETTER
AND RECEIVE
A FREE EBOOK!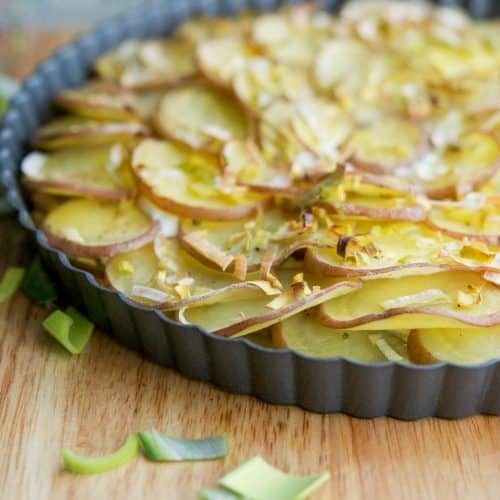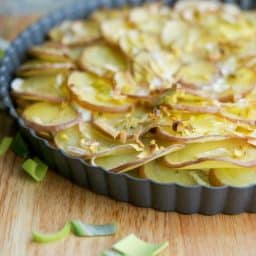 Rosemary Red Potato and Leek Galette
Rosemary Red Potato and Leek Galette plus my review of Ally's Kitchen new cookbook entitled "A Passport for Adventurous Palates".
Ingredients
8

c.

Red Potatoes,

skin on, thinly sliced

2

Leeks,

washed, thinly sliced

8

tbsp.

Butter,

melted

¼

c.

Fresh Rosemary,

chopped

½

c.

Sour Cream

1

tsp.

Kosher Salt

1

tsp.

Ground Pepper
Instructions
Preheat oven to 350 degrees F. Spray a heavy nonstick skillet or tart pan with cooking spray.

Layer half of the potatoes in the bottom of the pan, overlapping the slices.

Drizzle half of the butter and sprinkle with half of the leeks, rosemary, salt and pepper; then dollop the sour cream on top.

Put the remaining potato slices in an overlapping layer on top like you did before and add the remaining leeks and drizzle with the remaining butter.

Bake 30-45 minutes (depending on the potato thickness), remove from oven and allow to cool for about 5 minutes.

Serve right from the skillet or pan.
CONNECT WITH ME ON SOCIAL MEDIA