Soft and chewy Pumpkin Spice M&M Cookies go perfectly with a tall glass of milk for an afternoon snack or special Fall treat.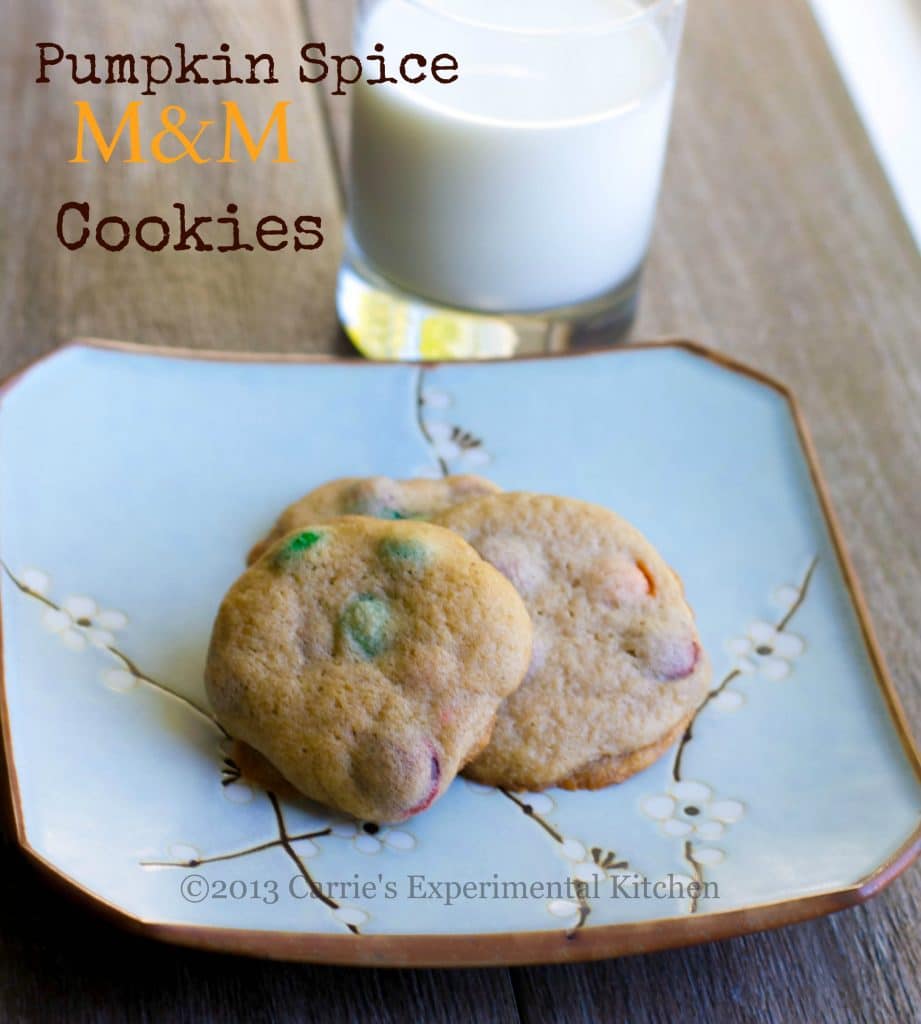 Today is National Homemade Cookie Day and to celebrate Fall (and all things pumpkin!), I've created a new cookie recipe for you: Pumpkin Spice M&M Cookies. I love finding new products when I go shopping and this time it was Pumpkin Spice M&M's. They also had a candy corn flavor, but I'm not a huge fan of candy corn. I try not to bake cookies often because they don't last long in this house. Seriously…just because I have girls doesn't mean they don't eat me out of house and home like those teenaged boys I hear about! These…gone in under 24 hours. I guess they liked them. 🙂
Pumpkin Spice M&M Cookies
Adapted from Nestles Toll House Cookies
Total Time: 30 minutes          Yield: 2 1/2 dozen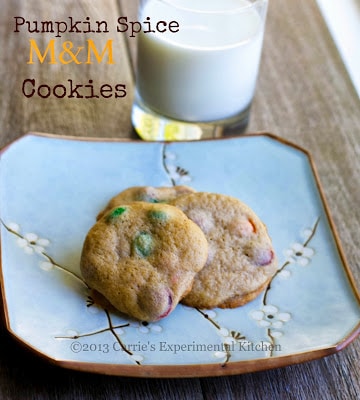 Ingredients
2 1/4 c. All-Purpose Flour
1 tsp. Baking Soda
1 tsp. Salt
1 tsp. Pumpkin Pie Spice
1 c. Butter, softened
3/4 c. Granulated Sugar
3/4 c. Light Brown Sugar
1 tsp. Vanilla Extract
2 Large Eggs
1- 9.9oz. Bag Pumpkin Spice M&M Candy
Directions
Preheat oven to 350 degrees.
Combine the flour, baking soda, salt and pumpkin spice in a small bowl. Set aside.
In a large bowl, combine the butter, both sugars, vanilla and eggs. Mix well.
Gradually add in the flour mixture until the dough forms; then stir in the candy.
Drop a kitchen teaspoon full of dough onto a nonstick baking sheet (or lined with parchment paper) and repeat keeping 2″ apart.
Bake for 9-11 minutes, remove from oven and allow to cool.
Enjoy!
Nutrition Facts per Cookie
Calories 165, Carbs 22.6g, Fat 7.7g, Protein 1.5g, Fiber .5g, Sugar 15.5g