Do you remember me talking about my recent trip to Disney and how I found a store with wonderful herbs, spices and teas from The Spice and Tea Exchange? Well, while I was there, I also picked up some of their Raspberry Sugar. My first thought was to use it in baking, maybe in my Raspberry Linzer Tarts, but then decided I'd use it in a marinade instead. When I started this blog last April (yes, my 1 Year Blogiversary is right around the corner!), my first recipe was for Grilled Pork Chops with Lime and Cilantro and I didn't even have a picture of it (I guess I'll have to make it again because they were incredible!). Now that the weather has taken a turn for the better, it's time to start firing up the grill again so I thought I'd experiment with this sugar in another type of brine and it paid off. Though, they were a little pink prior to cooking, they did turn to their normal color once grilled and the flavor was AMAZING!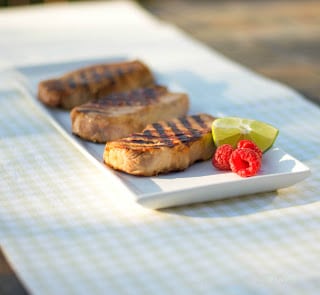 Raspberry-Lime Grilled Pork Chops
4-6oz. Center Cut Boneless Pork Chops, trimmed
Prepared Raspberry-Lime Brine Marinade
Add the pork chops and marinade to a resealable plastic bag. Refrigerate for 1-2 hours, then remove 15 minutes prior to grilling to allow meat to come to room temperature. Grill meat until the proper internal temperature is reached. Serves 4.
Raspberry-Lime Brine Marinade
3/4 c. Water
1.5oz. pkg. Raspberry Sugar by The Spice & Tea Exchange
1 tbsp. Raspberry Preserves, seedless
2 tbsp. Sea Salt
1 Lime, zest and juice
Whisk together all ingredients until the sugar and salt have dissolved.
Enjoy!

*I was not compensated in any way by this product. The opinions shared are my own.