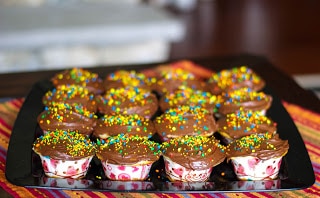 Well, where do I begin! Some of you have heard me talking about these liners on my Facebookpage recently, but I figured since I recently purchased my first official set of them for my own personal use, I'd share my experience with all of you; especially those that only receive my blog updates via email. Now I say "officially try" because as you'll read in her bio below, Debra Lee comes from suburban NJ. Technically, she lives about 5 minutes from my home and our kids have been friends for about 10 years now, and I know how hard she has worked to get this wonderful product to the market and am so proud of her for overcoming so many obstacles along the way.
Here's a little insight into Bake Huggers…
Debra Lee is the creator of Bake Huggers edible liners and CEO of Signed Originals, Inc., the distributor of Bake Huggers. As a professional artist and a busy mother of 3 school-age girls in suburban New Jersey, she was looking for a way to effortlessly decorate the cupcakes her kids loved so dearly, and to minimize the mess and waste involved with plain paper liners.
Visualizing the liner as a blank canvas, Debra Lee began to illustrate Santa's face from his eyebrows down to his jolly chin. As the cupcake is rotated, Santa's sides and back of head would create an "in-the-round" look. Decorating the hat, would be all that is needed of the baker! A sweep of frosting, dusted with red sprinkles, and topped with a mini marshmallow completed the look! NOW THAT'S SIMPLE! TRAYS of Santa masterpieces in a matter of minutes! Debra Lee decided NOT to peel the liner off (which would have been Santa's smiling face!) but to keep it intact. What she came up with is the revolutionary idea of eating the whole cupcake…liner and all! CREATIVE EASE, NO MESS, AND NO WASTE MAKES FOR A BETTER CUPCAKE…CUPCAKE RE-INVENTED!
By using liners made of a special mix of potatoes and vegetable oil and decorating them with edible inks, she had more time to enjoy her kids' birthday parties and not spend her time decorating each individual cupcake or cleaning up the mess they left behind. And the kids loved eating the liner with the cupcakes because the liners take on the flavor, as well as the texture of the cupcakes while baking.
After perfecting her liners and filing for a patent Debra Lee decided to share her creations so others could enjoy them. An opportunity arose, as a contestant on a Discovery Channel show for female inventors. Debra's cupcake liners received rave reviews from the judges! Emeril Lagasse, marveled "Why didn't I think of that?" after biting into a delicious cupcake wrapped with one of Bake Huggers™ whimsical designs.
Next up for Debra Lee was an appearance on HSN (Home Shopping Network), where her liners sold out in less than 5 minutes! HSN's producers were shocked and wished they had ordered more of the amazing liners! The movement away from messy, wasteful paper liners was fully underway and now the challenge was to keep up with the demand for the product and more designs. Bake Huggers is READY for that challenge and has created new YEAR ROUND designs!
So like I mentioned up above, I purchased my first set as they just recently went to full production for the marketplace (but I was lucky enough to try some of the beginning prototypes too!). I figured they would give that extra something special to the cupcakes I was making for my daughters end of year class party. Now, if you all follow me regularly, I don't profess to be a baker. Desserts here and there but I don't usually fare well with homemade cakes and pies. Since Gab wanted Funfetti cupcakes with chocolate icing anyway, I was in the clear!
I opened the package and found explicit instructions on how to use the liners. Now, as you can see, there are no bottoms, just the sides. They were SIMPLE to put together using a small tab system and went together in no time. Just make sure your hands are dry before assembling!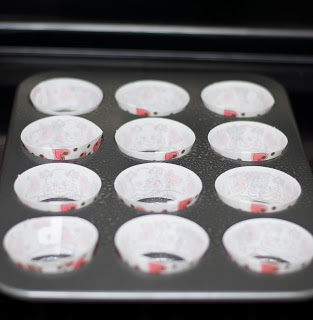 Next, mix your cupcake batter and fill the liners about 2/3 full. This is where I ALWAYS goof by filling it too high.
See, a little too high, but I'm sure the kids didn't mind. Notice how the liners just melded into the cupcake…adorable aren't they?!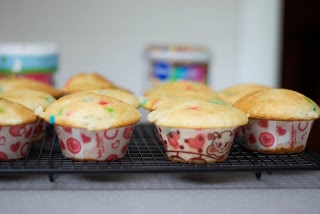 And here is the finished product!
The liners take on the flavor of the cupcake and you just eat right through it..AMAZING! Imagine what all of you talented bakers can create with these if my boxed cupcakes look this good!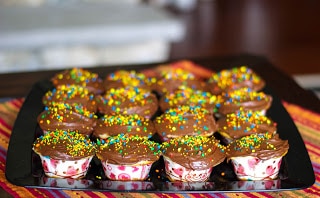 They have several prints available, including solid colors that you can write whatever you'd like on them yourself (using edible pens of course!), and many more on the way.
I also like that a portion of the profits goes towards Autism research and treatment. Check out their website and you can see some beautiful artwork that has been created in Debra Lee's art therapy classes with autistic people.
Click HERE to order your Bake Huggers Edible Liners Today!
*Note June 2018: As of this date, Bake Huggers are currently not in production. I'm sorry for any inconvenience.