Remember when I said I had an experiment go awry with the
Sweet Potato Gnocchi
? Well, this was Plan B. I had a package of sausage in the freezer so I took that out to make dinner with instead. This is such a quick and easy meal to put together and if you wanted to, you could even put this over pasta but we ate it 'as is'. The flavor combination of sweet italian sausage with the roasted fennel, zucchini and spinach was incredible. I'm just a huge fan of roasting any vegetable. I think it turned out pretty well and the family loved it.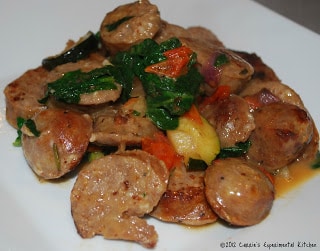 Sausage with Roasted Fennel & Zucchini
14 Links Sausage
1c. Fennel, chopped
1 Zucchini, sliced
1/2 Red Onion, chopped
1 tbsp. Fresh Rosemary
1 pt. Grape Tomatoes
1 Clove Garlic
2 tbsp. Extra Virgin Olive Oil
Kosher Salt, to taste
Fresh Ground Black Pepper, to taste
2 c. Fresh Spinach
1/2 c. Pecorino Romano Cheese, grated
1 c. White Wine
Place sausage on a baking sheet and bake at 425 degrees for 20 minutes, turning once. Remove from oven and slice diagonally into 1/4″ thick slices. Set aside. In a bowl, mix together the fennel, zucchini, onion, rosemary, tomatoes, garlic and olive oil. Season with salt and pepper. Place on a baking sheet and roast at 425 degrees for 20 minutes. Add the sausage to a large, non-stick frying pan and saute until the pieces turn slightly brown. Add the wine, then the roasted vegetables and spinach. Saute until spinach starts to wilt and add in the cheese. Mix well. Serves 6-8.
Enjoy!