Edamame tossed with soy sauce, fresh ginger, sesame oil and Kosher salt; then roasted makes a healthy flavorful snack.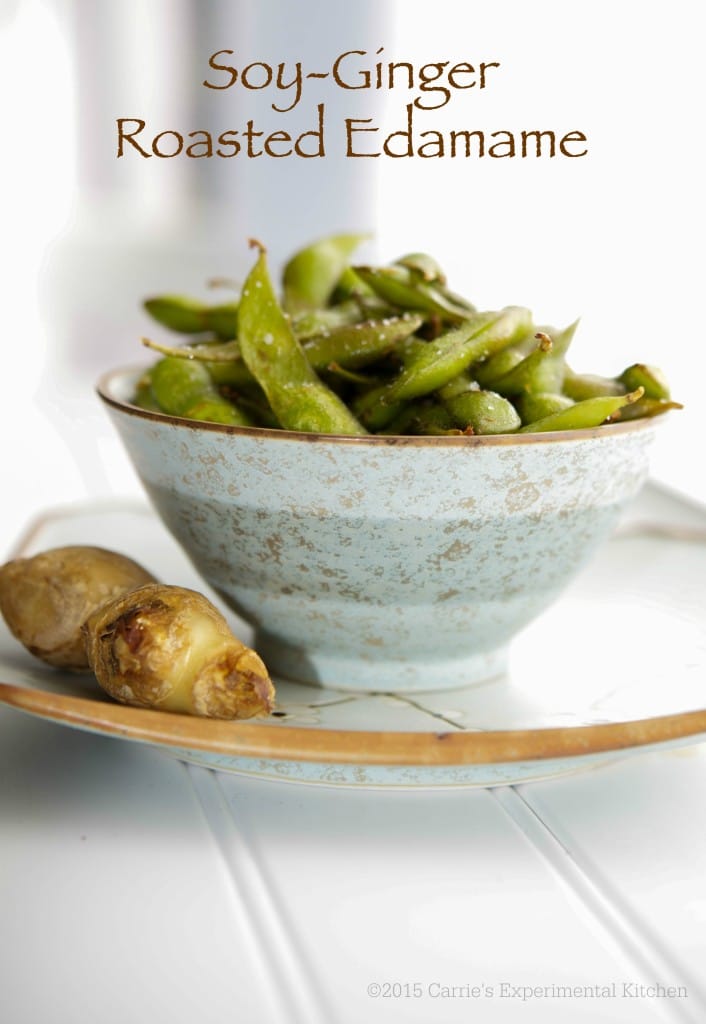 Edamame is consumed as a snack, a vegetable dish, used in soups or processed into sweets and is naturally gluten free and perfect for those that follow a vegetarian or vegan diet as it's loaded with protein.
I don't remember the exact first time that I tried edamame, but it was within the last few years. It's on just about every menu nowadays as an appetizer or starter to your main meal; like this Soy-Ginger Roasted Edamame I saw on The Cheesecake Factory menu recently.
I didn't order it that way; though we did order the regular steamed version, but figured how hard could it be to improvise. So I set out to experiment once again with my own version and boy were these good!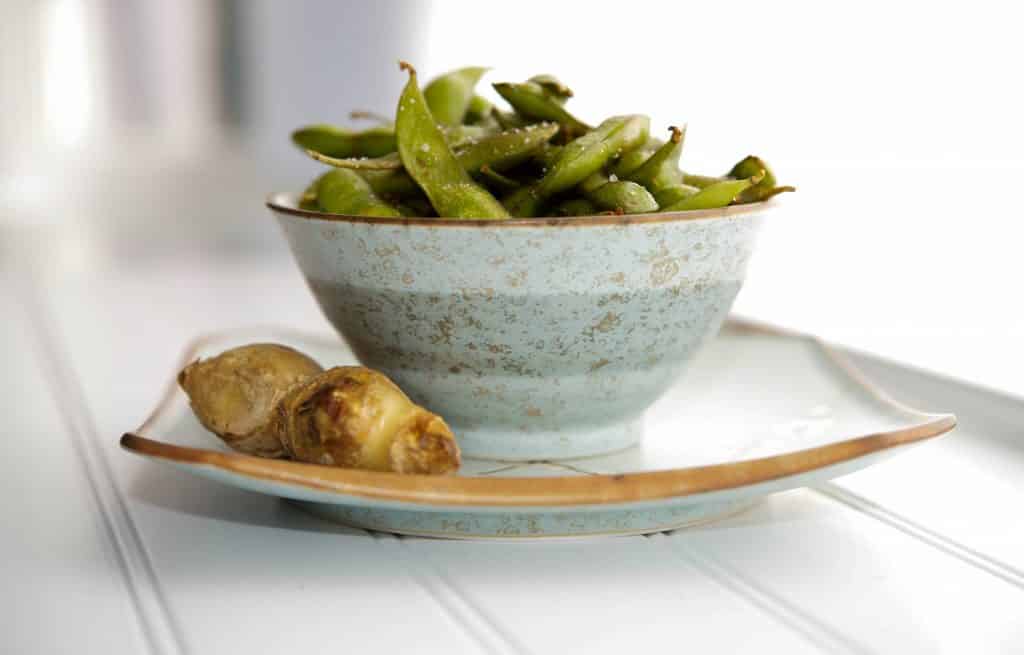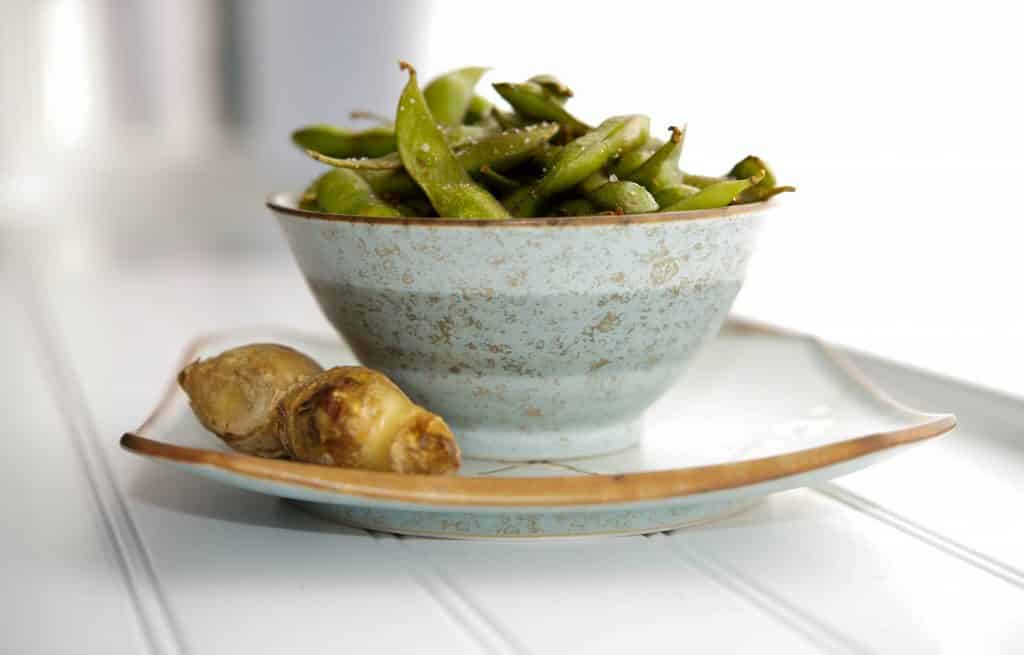 What is Edamame?
Edamame is a green vegetable (a.k.a soybean) picked at the peak of ripening and means "Beans on Branches". It grows in clusters on bushy branches and to keep its freshness and natural flavor, edamame is parboiled; then quick-frozen.
In East Asia, the soybean has been used for over two thousand years as a major source of protein.
To eat as a snack, which is generally the way we eat them, the pods are lightly boiled in salted water, and then the seeds are squeezed directly from the pods into the mouth with the fingers.
I've seen them in the refrigerator section of my grocery store; however, the ones I generally purchase come in individually frozen packages. They steam up nicely in the microwave in about 1-2 minutes; then you just add your own salt. You can also purchase them without the pod, but for this recipe I recommend the whole pods.
How do I make Edamame?
For these Soy-Ginger Roasted Edamame, I used frozen edamame, tossed them with some soy sauce (I used gluten free), fresh grated ginger and a little sesame oil; then baked them for about 15 minutes.
You don't have to, but if you like your edamame a little saltier, then sprinkle with a little salt after they're done. These were delicious and we snacked on these for days. ~Enjoy!
Sign up for my weekly newsletter
and receive
a FREE eBook!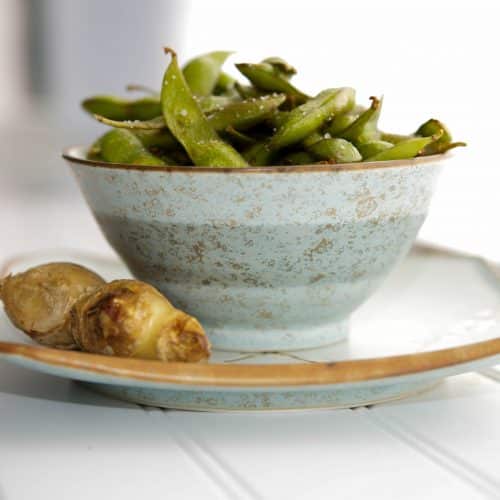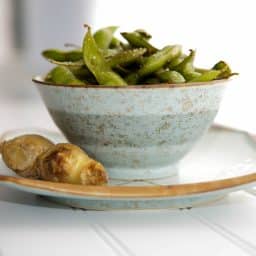 Soy-Ginger Roasted Edamame
Edamame tossed with soy sauce, fresh ginger, sesame oil and Kosher salt; then roasted makes a healthy flavorful snack. 
Instructions
Preheat oven to 425 degrees F; then line a baking sheet with aluminum foil.

Combine the edamame, soy sauce, ginger, and oil in a bowl and toss to coat; then place on the baking sheet.

Bake for 15 minutes; turning halfway. Remove from oven and sprinkle with salt if desired.
Nutrition
Calories:
165
kcal
Carbohydrates:
11.8
g
Protein:
13
g
Fat:
7.4
g
Sodium:
300
mg
Fiber:
3.8
g
Sugar:
2.5
g
Visit the

recipe index

to search for more recipes by category.
Connect with me on Social Media