Baby spinach mixed with fresh beets and ripe avocado; then tossed in a light and tangy cilantro lime vinaigrette dressing.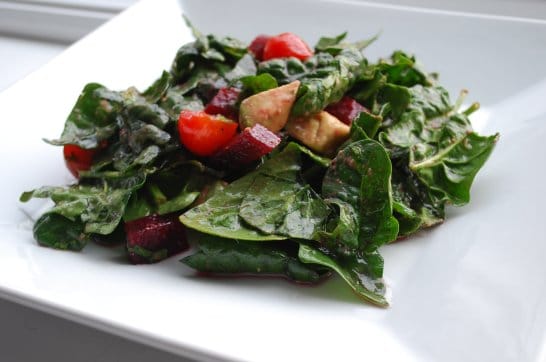 I always try to buy at least one new item that I've never purchased or made before each week while shopping and this week it was beets. Don't get me wrong. I've eaten them while dining at restaurants and had the childhood family favorite of pickled beets, but I've never once made them myself fresh. You know with the root still on them and all.
So during this week's trip to the vegetable market, I picked one up. I wasn't quite sure what to do with it until I got to the grocery store and they had some avocado on sale because it was fully ripened. I decided to make this spinach salad with both ingredients and being that I had already purchased some cilantro this week, I also needed to use that up as well…hence, the Cilantro Lime Vinaigrette. I thought it was delicious and the beets took on the flavors of the combined ingredients and made this salad a terrific and filling lunch.
Spinach Salad with Fresh Beets & Avocado in a Cilantro Lime Vinaigrette
4c. Fresh Spinach, rinsed and stems removed
1 Fresh Beet, cooked (see below) and chopped
1/2 Avocado, chopped
1/2 c. Grape Tomatoes, halved
In a bowl, gently tear spinach leaves into bite sized pieces. Next, add the beets, avocado and tomatoes. Add the dressing right before serving. Serves 2.
Cilantro Lime Vinaigrette
1 Lime, juice only
3 tbsp. Canola Oil
1 tsp. Fresh Cilantro, chopped
1/2 tsp. Kosher Salt
1/4 tsp. Fresh Ground Black Pepper
1/4 tsp. Garlic Powder
1/2 tsp. Sugar
In a small bowl, whisk all ingredients until well blended. Add to prepared spinach salad when ready to serve.
How to Cook a Fresh Beet
Place beet(s) in a saucepan and cover with water. Bring to a boil and let simmer until fork tender; approximately 30-45 minutes depending on the size/quantity. Let cool and peel skin then slice or chop.