Jalepeno peppers. I only eat them when chopped fine, mainly in salsas. However, when I went to the produce market last week, I only need two peppers, but they only sold them in a package of 16. Being that they were only $1.15 for the entire thing, I just picked them up and figured I'd use them for something. Since I was hosting Bunco this month, I decided that I was going to make Jalepeno Poppers as one of our appetizers. I've never made them before so of course, I had to give them a little Mediterranean flare with the sun dried tomatoes and basil. Now, I can only go based on the reviews of 11 other women, but they all LOVED them. They were so easy and quick to make too…BONUS!
Sorry for the picture by the way. They were half gone when my friend Cindy asked me if I had taken a picture of it yet. (See, they know me too well! lol) Remember  on my Blogiversary post when I mentioned  about the pitfalls of being a food blogger and parties…doesn't mix well  or at least the pictures aren't as good. I guess I'll have to make these again when I have some more time to photograph them better. Anyone want them when I'm done?! 😉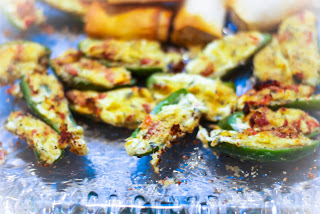 Sun Dried Tomato & Asiago Cheese Jalepeno Poppers
10 Jalepeno Peppers
4 oz. Low Fat Cream Cheese, softened
1/2 c. Asiago Cheese, shredded
2 tbsp. Sun Dried Tomatoes, chopped
1 tbsp. Fresh Basil, chopped
1/4 c. Italian Seasoned Breadcrumbs
Cut the jalepeno peppers in half lengthwise, scoop out the seeds, rinse under cool water and place on a baking sheet. In a small bowl, add the cream cheese, Asiago, tomatoes and basil and blend together until all ingredients are smooth. Using a small spoon, fill each jalepeno half with the cheese mixture. Sprinkle the tops with the breadcrumbs and spray with cooking spray. Bake at 425 for 10-15 minutes until the tops have lightly browned. Makes 20 poppers.
Nutritional Information per 1/2 Pepper: Calories 42, Carbs 2g, Fat 3g, Protein 2g
Enjoy!
P.S. It's also Day 1 of the 3-5 Day Jump Start I posted this past Saturday. Good luck for all of you who are taking the challenge with me!