I recently read the April 2013 edition of Family Circle Magazine and in it was an interesting article on teen health and fitness. Being a mother of 16 and 11 year old girls, who are very actively involved in sports, I found the article very informative; which sparked me to dig in a little further when it comes to the food they should be eating.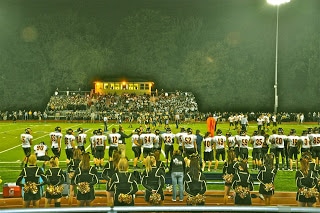 Photo: Clara Hargraves
Growing up, I didn't play organized sports. Being a single mother raising two girls virtually alone, my mom just couldn't afford the extra cost associated with doing so. I did manage to participate in gymnastics for a short stint as part of an after school program when I was around 12 or 13, but most of my activity came from playing outside with the neighborhood kids.
Today, both of my girls love cheerleading and I have to tell you, it is a sport no matter what preconceived notions there may be and it certainly isn't the same sport as when I was in high school in the mid-1980's. Our cheerleaders still wore saddle shoes and only one or two members even knew how to do any sort of tumbling and that was because they were also on the gymnastics team.  Today's cheerleaders incorporate tumbling, stunts and dance into their routines as well. Here's a peek at a National Competition to see what's involved:
A typical day for my daughter starts at 5:45am and ends with her getting home between 8-9pm at night 2-4 nights per week (not including weekends); depending on the season which runs from August-February.  As you can see, it leaves little time for her to focus on what her body needs to fuel itself;  which is where we as parents have to step in to make sure they're getting the right balance of nutrition and rest (researchers recommend a minimum of 8 hours per night); which helps maintain coordination.
According to KidsHealth.org, eating while doing sports, is more than just consuming large amounts of carbs or drinking sports drinks. It's all about consuming the right foods in the right amounts and incorporating them into your daily diet. They also stated "If an athlete doesn't eat enough, their bodies are less likely to achieve peak performance and may even break down rather than build up muscles."
According to PowerBar.com, playing sports boosts your need for extra calories.A typical teenage boy requires a base level of about 2,100–2,400 calories daily, while a typical girl needs around 1700 calories. Adding sports into the mix, girls need an extra 750 calories per day, while boys need an extra 900 calories per day to meet the energy demands of training and competing.  It's not always easy, but not eating enough calories while you're training is asking for trouble. Too few calories will cause your performance to suffer, you'll get sick more frequently, and for girls, it can negatively impact their hormone balance, leading to devastating long-term consequences on bone health.
The following foods are the foundation of healthy eating, and healthy eating is what all athletes need to do in order to perform at their best:
Fruits, Vegetables and Grains
Should make up 3/4 of your meal
Provides carbohydrates
Contain essential vitamins, minerals and fiber
Consume at least 5 servings of fruits and vegetables per day such as apples, bananas, oranges, carrots, celery, broccoli
 Choose whole grain or multi grain breads when available, oatmeal and brown rice
Protein
Should make up 1/4 of your meal
Lean meats, chicken, turkey, fish, nuts, beans and tofu
Provides amino acids which helps build muscle tissue, iron which maintains energy levels
Time your protein intake throughout the day with foods such as peanut butter and jam, chicken, tuna, nuts or dried fruit
Dairy
3-4 servings per day
Choose lower fat versions of milk, yogurt, cheese, cottage cheese
Provides protein, some carbs and great source of calcium and vitamin D
Fat
Consume healthy fats (monounsaturated and polyunsaturated fats) like salmon, nuts, avocado and extra virgin olive oil
Water
According to Leslie Bonci, R.D. , a sports dietician for the University of Pittsburgh Athletics Department, high school athletes need to drink about 12 cups of liquid per day.
One hour before the game, hydrate with 20 ounces of fluid
Once they begin exercising, drink 4-8 ounces of water every 20 minutes
Drink 16ounces of a sports drink after every 60 minutes, which helps replenish carbohydrates, potassium and sodium
After the game, drink 16 to 20 ounces of water
When possible, consume a meal 2-4 hours before training or competing and select high carb foods and beverages as well as a small amount of lean protein. Also avoid foods that are slow to digest or fatty foods, and unhealthy foods such as unprocessed foods, caffeine drinks, and foods fried in oil.
Here is what a sample diet might look like for a teenage girl:
Snack: 1 Banana (172) and a cup of 2% milk (120)
Calories=2131
*Disclaimer: Information found in this article was based on research and personal experience. I am not a medical professional or licensed athletic trainer.  Please consult your doctor before making any changes to your diet or exercise regimen.