I don't even know why I buy bananas. Half of the time I buy them, and I wind up with 3-4 rotten ones a week. I even tried buying a smaller bunch. But then when I don't buy them guess what happens? Murphy's Law of course..the family complains that "Yes, we have no bananas!" Sorry, little joke there, but in all honesty, as much as they love my banana bread, how many times can I make it? So with this weeks rotten bananas, I wanted to make some cookies and my husband's favorite is oatmeal. I figured I'd just throw in some mashed bananas, but when I started making them, I realized I didn't have any vanilla extract left (what a surprise, I have to go to the store…again!) so I used almond extract instead. I didn't have any almonds so I chopped up some white chocolate pieces I had left from when I made the football chocolate lollipops last month but you could use the white chocolate chips instead. I also use salted butter in my baking for several reasons. 1. I don't bake cookies often, really just around the holidays. 2. I can't tell the difference in a baked product one way or the other. And 3. If you're going to add salt to the mixture after using non-salted butter, it just doesn't make sense to me. Ok, all of you bakers can comment…NOW!! 🙂 These cookies were so tasty and "puffy" more like a cake than a cookie. The kids devoured them, well at least the ones I left out for them to eat. (Shh…I hid some in my freezer downstairs for the holidays!).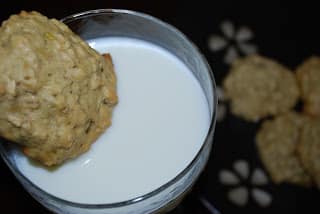 White Chocolate Oatmeal Banana Cookies
1/2 c. Salted Butter, softened
3/4 c. Light Brown Sugar
1/4 c. Granulated Sugar
2 Eggs
1 tsp. Almond Extract
4 Overripe Bananas, mashed
2 1/4 c. All-Purpose Flour
1 tsp. Baking Soda
3 c. Old Fashioned Oats (I use Quaker®)
1/2 c. White Chocolate, chopped
In a bowl, cream together the butter and sugar with an electric mixer. Add the eggs, almond extract and bananas and mix together. Add in the flour, baking soda and oats and mix together using a spoon. Then, fold in the chocolate. Using a kitchen teaspoon, drop cookie dough onto a greased baking sheet about 1″ apart. Bake at 350 degrees for 13-15 minutes. Remove from oven, let cool on a rack. Makes 4 dz.
Points+=3 per cookie
Enjoy!