Dogs are part of the family too, so why not treat them to these special homemade Chicken & Wild Rice Dog Biscuits.
Today is Take Your Dog to Work Day and since I've never experimented with making my own dog biscuits before, today seemed like as good a day as any to try my hand at these Chicken & Wild Rice Biscuits; especially since my two dogs come to work with me every day.
We have two Shih Tzu's, Tebow (age 3 1/2) and Koda (8 months). Tebow loves when I experiment with new recipes during the week and follows me everywhere. The kitchen; where all of the cooking takes place, the living room; where I photograph my food in the large bay window as it has the best natural light in the house and he likes to just sit and watch and then into the dining room; where I have my sudo-office. He likes to hop up on the chair next to me to keep me company while I'm editing photos and writing posts like these.
Koda is still too little yet, so he just follows Tebow around everywhere he goes and is still trying to learn the ropes. I almost trip over him 10 times a day as he likes to be in the middle of all of the action. Growing up I only had one dog when I was about 4 or 5 years old; then my next dog wasn't until we had Casey; a Llaso Apso who passed away last Fall at the age of 12.
One thing I've learned since then is that dogs are truly part of your family and since I like to create family friendly meals, I thought it was about time I made something special for our four legged "children".  I decided to go with these Chicken & Wild Rice Biscuits since the food they eat is also chicken and wild rice. I didn't want to give them ingredients they were unfamiliar with; especially the puppy.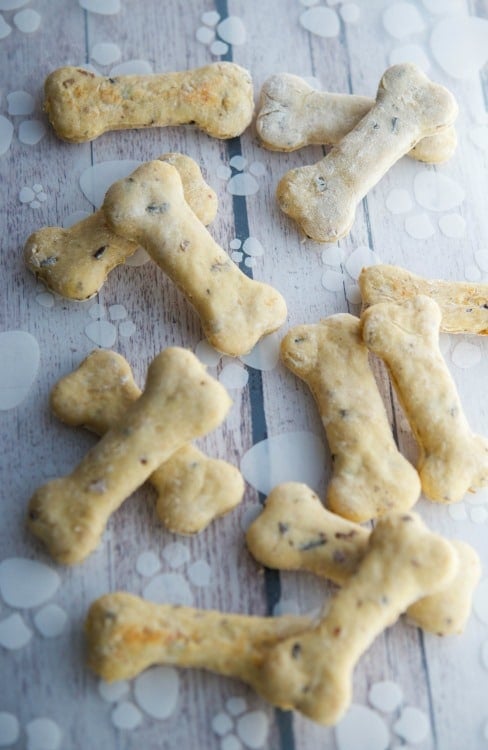 These Chicken & Wild Rice Dog Biscuits were so easy to make and are prepared with natural ingredients like chicken, wild rice, flour, salt, chicken broth and eggs.
Here is what you have to do:
Start off by boiling a piece of boneless chicken breast and making wild rice; then allowed them to cool. You can do this a day ahead and keep refrigerated until ready to use.
Puree the chicken and rice with some chicken stock in a mini food processor or blender
Add flour, salt, egg and pureed chicken and rice to a bowl and mix well; then roll out the dough on a lightly floured board until 1/2-inch thick.
I purchased these dog bone cookie cutters from Amazon for about $5 (set of 3), but you can use any cookie cutter or glass to cut out the biscuits.
Once you cut out the shapes, bake for about 30 minutes; then allow to harden. You can store these in an airtight container in the freezer for up to 6 months (allow 10-20 minutes for them to defrost before serving).
My dogs L.O.V.E.D. these dog biscuits and I like how easy they were to make at home; not to mention they contain ingredients that you can pronounce. This batch made 32 bones and I used the 3.5″ bone cutter, but will probably use a smaller size next time as they were a little big for my two little "boys". I hope your furry friends like these Chicken & Wild Rice Dog Biscuits as much as ours did. ~Enjoy!
Sign up for my weekly newsletter to get
 the latest recipes and receive
 a FREE eBook! 
Chicken & Wild Rice Dog Biscuits
Dogs are part of the family too, so why not treat them to these special homemade Chicken & Wild Rice Dog Biscuits.
Ingredients
6

oz

. Boneless Chicken Breast,

boiled or grilled; cooled

1/2

c

. Cooked Wild Rice; cooled

1/2

c

. Chicken Stock

2 1/2

c

. All Purpose Flour,

you can substitute wheat flour

1/4

tsp

. Salt

1

Egg
Instructions
Preheat oven to 350 degrees F.

Combine chicken, rice and chicken stock in a mini food processor or blender and pulse until a paste forms.

Add the flour, salt, egg and chicken paste into a bowl and mix well.

Sprinkle a little flour on a flat surface and knead dough until it's no longer sticky; then roll it out with a rolling pin about 1/2-inch thick.

Cut out shapes and place them on a parchment paper lined baking sheet. Mine yielded 32 biscuits using a 3.5" cookie cutter.

Bake for 25-30 minutes until light brown. Remove from oven and allow to cool completely before serving.
Recipe Notes
These biscuits can be stored in an airtight container in the freezer for up to 6 months. Allow to defrost completely (10-20 minutes) before serving.
Visit the 

recipe index

 to search for more recipes by category.
As we all know, our pets like to get into anything and everything we could possibly drop on the floor.
Protect your pets from these 8 Foods Toxic to Pets:
Grapes, Raisins, Currants-Can cause kidney failure
Caffeine (coffee, tea, soda)-Can cause death in small dogs
Chocolate and Cocoa-The darker the chocolate, the more dangerous.
Xylitol (sugar free gum, sugar substitutes)-Can cause liver damage and drop in blood pressure.
Onions, Garlic, Chives, Leeks-Can cause red blood cell destruction
Yeast Bread Dough-Unbaked dough as in rolls, bread can cause illness in dogs
Alcohol-Can cause life threatening toxicity
Corn Cobs-Can cause an obstruction
There are many foods that are acceptable for dogs to consume. Here are some healthy foods to feed your pets. Tebow is a popcorn fiend. I usually pop mine on top of the stove and as soon as he hears the jar of kernels, he comes running!
Apples
Peas
Green beans
Popcorn (Hold the butter and salt!)
Carrots
Sweet potatoes
Zucchini and summer squash
Winter squash
Ice chips (Freeze cubes of diluted beef or chicken broth for a real frozen treat!)
Lettuces
Blueberries
For more details, visit PetMedicine.com.
Connect with me on Social Media
*This post includes links to my affiliate account at Amazon.com where Carrie's Experimental Kitchen earns a few cents on the dollar when readers like yourself purchase the items I recommend. Thank you for supporting Carrie's Experimental Kitchen when you shop at Amazon!