Carrie's Experimental Kitchen recipes have been featured in the following publications.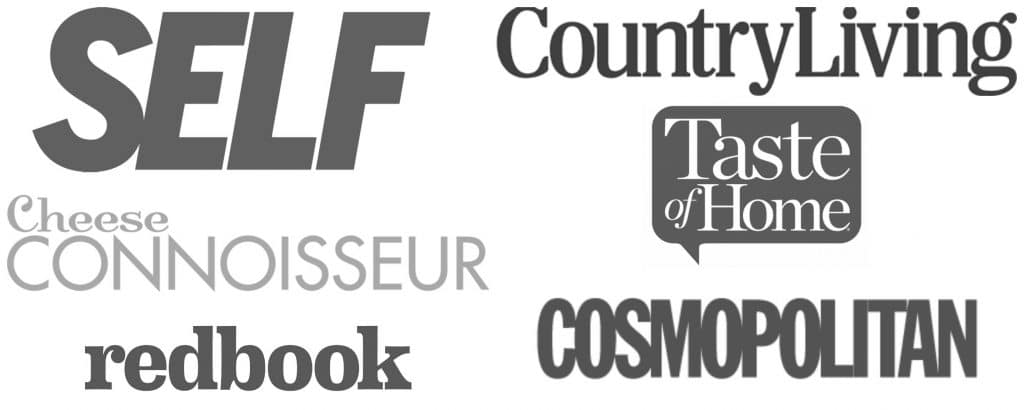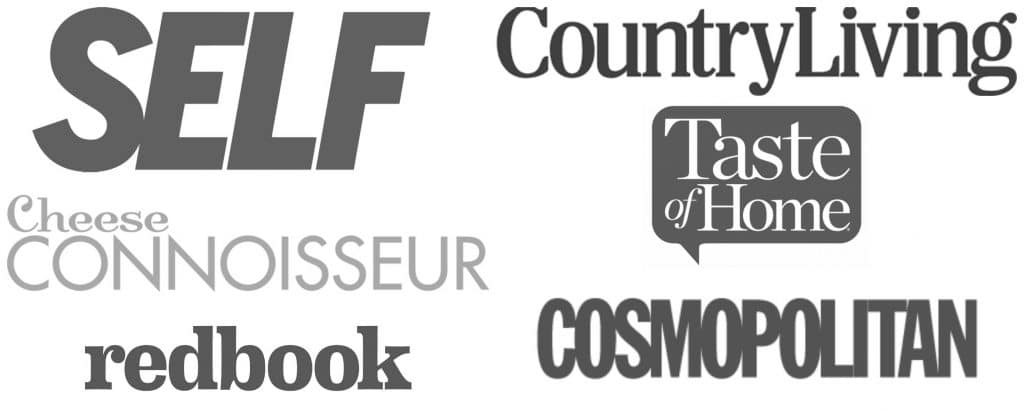 Don't take my word for it, see what others had to say.
Reader Testimonials
"I made it on Sunday and it was AMAZING on Oven Roasted Chicken. It was a Huge hit with my family. Have some left and I can't wait to try it on more meats! Love it!!!" ~Douglas on Tomato Garlic BBQ Sauce
"These are SO delicious! My picky eater child wolfed down 4 of them for dinner and I was so happy! I've shared this recipe with lots of other moms " ~ Jamie on Cheddar Ranch Meatballs
"We basically go to Olive Garden specifically for this soup so when I saw this recipe I rushed to make it. I made this for the kids Monday and it was so good they begged me to make it again. I made a double batch tonight and it's just as good. It tastes exactly like Olive Garden's! I just sautéed some boneless chicken breast, seasoned only with salt & pepper (I'm Puerto Rican, so seasoning without adobo & Sazon is almost unheard of in my family lol) and it was perfect. Thanks for the amazing recipe! I'll be making this for a VERY long time." ~ Jen on Olive Garden Copycat Chicken Gnocchi Soup
"Made this for dinner tonight. It was delicious! I did add some chopped garlic when sautéing the mushrooms. Will definitely make this again." ~ Lisa on Jagerschnitzel Pork Cutlets
"Thank you for your quick response via e-mail! Just to let your followers know: The minute I sent a question, you responded within minutes on Christmas Eve! I thought that was so nice of you to take out the time to respond so quickly on a holiday! I have to say your recipe for the Chicken Francaise came out perfect! Tender and delicious! Thank you! Christmas without Turkey for the first time ever. Thank you again! Wishing you a Happy New Year!" ~ Marguerite on Chicken Francaise
"The dough was so easy to work with so I will make these cookies often since I started making homemade dog food for my border collie and aussiedor. I gave dozens to my son and daughter for their pups plus made more for my own and they loved them!! I did use closer to 8 oz. of chicken but I don't think it hurt anything. Thank you for posting this recipe!! " ~ Carolyn on Chicken and Wild Rice Dog Biscuits
"I made this dish in a mad rush as my husband and son had limited time before heading out the door. I love that the ingredients aren't complicated and neither is the technique. Because of it's simplicity and my haste, I really didn't have high hopes that I'd be wowed. I ended up having seconds. I never have seconds. And I had the left overs for lunch the next day. I'll be making this again soon for sure. Thank you for sharing such a tasty, easy recipe" ~Kristin D. on Chicken in a Lemon Butter Sauce
"This was more than delicious, excellent for Valentine's Day dessert for 2 added a mint leaf for decoration and used maraschino cherries instead of raspberries as I do not like raspberries. Husband was wowed over!" ~ Sonia K. on Coffee & Rum Dark Chocolate Mousse
"I made this tonite because I had a lot of frozen shrimp in the freezer, and I also had Tortellini, and Basil in my garden. I used grape tomatoes, cut in half, and I had a jar of Aldi's Alfredo sauce. It turned out really delicious, and so quick and easy." ~Marita K on Cheesy Skillet Shrimp & Tortellini
"Wow ! I must compliment you on this it's SO WONDERFUL! We loved it , I like to keep the family interested in dinner together and this was a definite show stopper now it's a favorite ! Thank you very much for posting , they were so surprised and happy ! NO LEFTOVERS ♥️" ~Kim on Tuscan Style Grilled Rib Eye Steak
"This is IT! It tastes exactly like Paneras but I enjoy it even more bc I didn't have to pay $6 for half a sandwich! Thanks!" ~ Katie C. on Napa Almond Chicken Salad (Panera Bread Copycat)
"I tried this recipe and it was a hit! My parents and I loved it." ~ Brittany on Asian Chili Garlic Chicken
"I've tried this and you're right it's spot on. We love this salad and when I go to Applebee's 99% of the time I get the Oriental salad. We all love it. My Mom had even got my Daddy eating it and he didn't even like Applebee's." ~ Stephanie W. on Oriental Dressing (Applebee's Copycat)
"I just loved it, I'm not only going to give it 5 stars. But, I'm going to share it with all my website's followers on the social media. Thank you for giving me something useful to share it today!" ~Edward B. on Cheddar Ranch Meatballs
"I had a pork chop thawed and usually just toss on the Grilling Machine but wanted something different tonight and found your recipe on Pinterest. Made my own modifications with what I had available: Brown mushrooms, Rotel diced habanero tomatoes and ¼ cup of Sour Cream. Prepared as per your recipe and was absolutely delicious. Thank you so much for sharing your recipe. I also printed out your Black Bean Burger recipe and will try that tomorrow night." ~ Dom C. on Braised Pork Chops with Tomatoes & Portobello Mushrooms
"This has been my go to coleslaw recipe for a couple of years now, so creamy and delicious!!!! Making to bring to a graduation party can't wait to have some!!!!"~Barbara A. on Homemade Coleslaw
"The Napa Almond Sandwich is one of my favorites from Panera!! I used left over drumsticks and just ate it out of the bowl…LOL It was so good. Took like 5 minutes to whip up and I love how easy it is! I'll definitely be making it again! Thank you for the recipe!!"~Mindy K. on Napa Almond Chicken Salad(Panera Copycat)
"This same sauce I make it for Spaghetti when I'm being lazy and don't wanna fix much for myself. I add mushrooms sometimes shrimp or chicken, broccoli or spinach whatever I got it's amazing and a full meal for me! Tonight I'm using it as sauce to go over left over Rotisserie Chicken." ~Jeanette on Chicken with Lemon Butter Sauce
"I have made this a few times now…rarely do I comment on recipes (even the really good ones), but this recipe is fabulous! Super simple, a person doesn't need to go buy a tons of ingredients as a lot of the items can be found in a typical kitchen, and it is amazingly delicious. Thanks for food blogging for the benefit of the rest of us ;)." ~Adam N. on Chicken in a Lemon Butter Sauce
"I tried making this ice cream and was absolutely stunned with the results! It was so creamy, not to mention easy to make, I'm a 14 year old so I made it for my family. One of my family members said it was really rich, but the rest of us couldn't stop eating it! I let it freeze for about five hours, and there was some left over that I froze overnight and it was great the next day! Thanks for the recipe!!"~Hannah. R on No Churn Chocolate Chip Ice Cream
"Love it! This is part of my dinner tonight. Anyone who likes the hot & sour combo should try this. Delish…" ~Chessie on Sriracha Lime Roasted Cauliflower
"Found this recipe while googling the random ingredients left in my kitchen before moving out. Thanks for providing a delicious and easy recipe for them!" ~Daniel on Chorizo, Chicken & Black Beans with Rice
"This is the best version of the Olive Garden soup yet! We make this at least one or twice a month and then when we go to Olive Garden my husband says their soup doesn't taste right! Thank you so much for sharing this recipe! I would dare say this soup is better than the one at Olive Garden."~Yelena on Chicken Gnocchi Soup (Olive Garden Copycat)
"I made this and poached an egg to put on top of it to make it a main course. It was amazing!! This is definitely something I will make again. Thank you!"~Jamie on Creamy Farro with Spinach, Garlic & Asiago
"I made two quadrupled batches of this for a BBQ – this recipe is a winner. Thank you."~Otto on Tuscan Style Grilled Rib Eye Steak
"The Sriracha red cabbage slaw….amazing!!!!! Making this again for my daughters end of the school year party!"~Teresa J. on Sriracha Red Cabbage Slaw
"This is delicious! Perfect for Lent. I had never tried made this kind of soup before or even tried it so this was a big deal for me! I used mild salsa for my own taste buds and put hot sauce on the table for everyone else to 'doctor' their own. Even my 2-year-old who pretty much only likes noodles asked for more! Shared the leftovers with co-workers and it was a big hit too!"~Jaime A. on Mexican Black Bean Soup
"Absolute perfection!! Thank you for the wonderful recipe. These turned out better than I even anticipated. My dinner guests loved them. I'll be making them again and again! Thanks!"~Cherish on Sour Cream & Chive Yukon Gold Mashed Potatoes
"My family loves this dish. I just got online to print it out (again!). The kids asked what we were having for dinner, "I LOVE THAT!" Thanks for giving me a new family favorite."~Liz M. on Roasted Italian Sausage & Potato Bake
"So I found your recipe on Pinterest and I made it tonight. It was AMAZING!!! Thank you so much for the recipe definitely a keeper!"~Dayra V. on Chicken Francaise
"I made this with olive oil and it was a hit! Does need the full 55 minutes or so.. Gets a nice crisp browned top.. Juicy flavor ! Simple with only 3 ingredients:)!" ~Brandi on Crispy Ranch Baked Chicken Thighs
"Made this for dinner tonight – it was wonderful! It reminded me of a dinner I had when I went to Paris with my daughter. It was so simple and yet tasty. I didn't measure everything and I added some minced sweet onion, and used the "Simply Organic" brand of Herbes de Provence.Thank you!" ~Barbara on Herbs de Provence Encrusted Pork Loin with Chardonnay Gravy
"We LOVE this dish @ Cheesecake Factory. At the last minute I tried your recipe for the sauce….OMG, its amazing!! To us it is a perfect match for the real thing, color, consistency and TASTE! Super easy to make. Trying the entire recipe tonight for his birthday, at his request! Ty soo much!" ~Sandy on Chicken Costoletta (The Cheesecake Factory Copycat)
"I've made this dish several times and it never disappoints. Sometimes I will use turkey instead of chicken. It's also super quick. So glad I found this site." ~Maxwell on Feta & Sage Mini Chicken Meatloaf
"Back in the 1960's and 1970's my culinary creative father used to make this at least once every couple of weeks, and I remember my two younger sisters and I never tired of it! Of course, he used sour cream, as he was certainly NOT a low-fat cook, but your recipe is at least as good as my dad's. I followed the recipe exactly and it was just as delicious as I remember it. It brought back lots of good memories of family gathered round the dining room table and enjoying the food, and I love it when a meal does that! Thanks for posting this…it really deserves to become a household staple dining experience again!" ~Mike J. on Chicken Parisienne
"I made this last night and it was a huge hit, so delicious. It is also very easy to make and the ingredients didn't bog me down. I was never a fan of eggplant, but friends of mine made the best eggplant parmesan dish imaginable and it converted me. I look forward to cooking them this deconstructed version sometime soon. Thank you Carrie!" ~Chris G. on Deconstructed Roasted Eggplant Parmesan
"I stumbled upon this after doing a google search for slow cooker recipes using kielbasa and I am so glad I did! I made this over the weekend and it was phenomenal. Normally I will play with recipes and tweak a bit, but I made this exactly as you have it and it was perfect. I will be definitely be making this again!" ~Jennifer C. on Slow Cooker Kielbasa, Chick Pea and Tomato Ragout
"This is a simple and has very good flavor. I've made this a couple times now. I use whatever roast I have in my freezer and it's turned out great each time." ~Dee H. on Crockpot Kahlua Beef Brisket
"I made this tonight and it was so easy, and so good!! We had no leftovers!" ~Tammy Q. on Mongolian Beef (PF Changs Copycat)
"We used Granny Smith apples and they turned out great! Thank you for sharing!" ~Emily on Cinnamon Apple Chips
"I made these last night for dinner, along with some roasted chicken leg quarters and it was delicious! I didn't have any fresh rosemary, so I substituted dried and cooked it a bit longer since I was baking the chicken at 400. Balsamic is so great with beets. Thanks for the recipe! I will definitely be making it again." ~Elaina N. on Oven Roasted Balsamic Rosemary Beets
"I made these about a week ago with what I had on hand…They were AWESOME! Super easy, smooth & creamy, & crispy. Toddler loved them…until she got a bite of corn. Oh well, can't please everyone! Going to try a no corn version for the husband & tot soon. Perhaps I'll add a bit of left over crumbled bacon to the no corn version. Thanks for sharing!!! I never knew what to do with the leftover potatoes…now I purposefully eat a smaller portion with dinner (and who needs all those carbs in one meal anyway! hehe)." ~Lori on Corn & Cheddar Mashed Potato Fritters
Stop back and comment on any recipe that you try and don't forget to tag #CarriesExpKtchn when you share your recipe on Instagram!