Beef brisket combined with garlic, mushrooms, fresh rosemary, beef broth and Kahlua; then slowly cooked in the crock pot.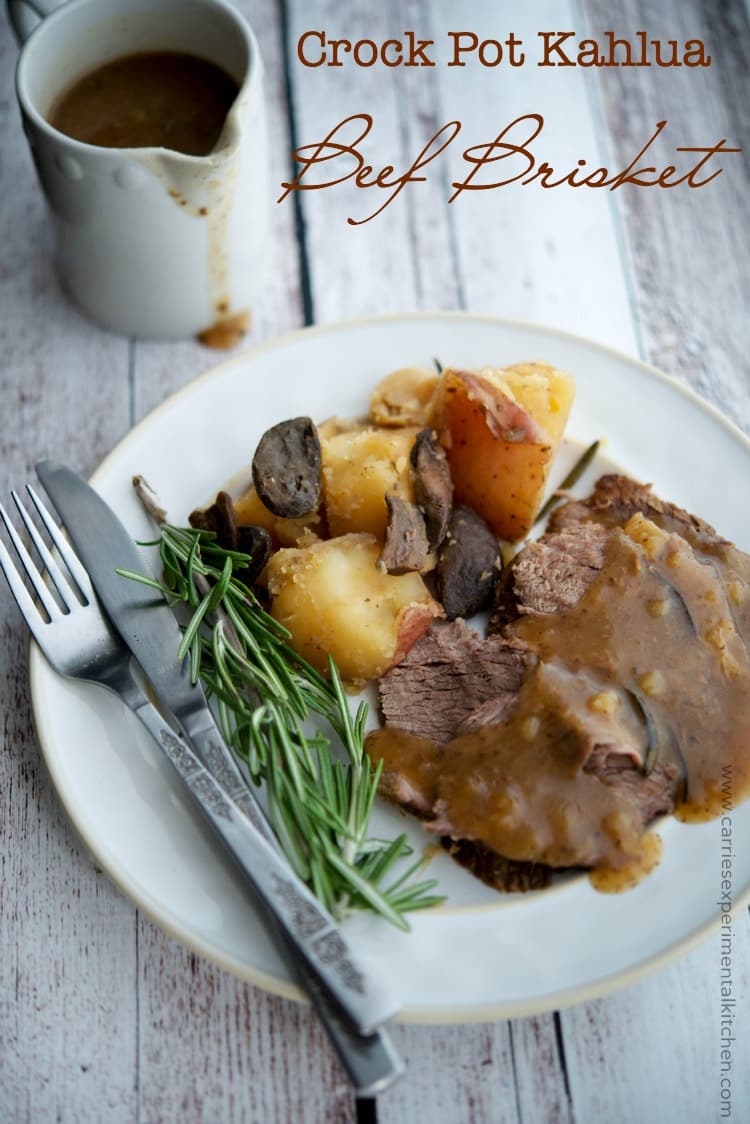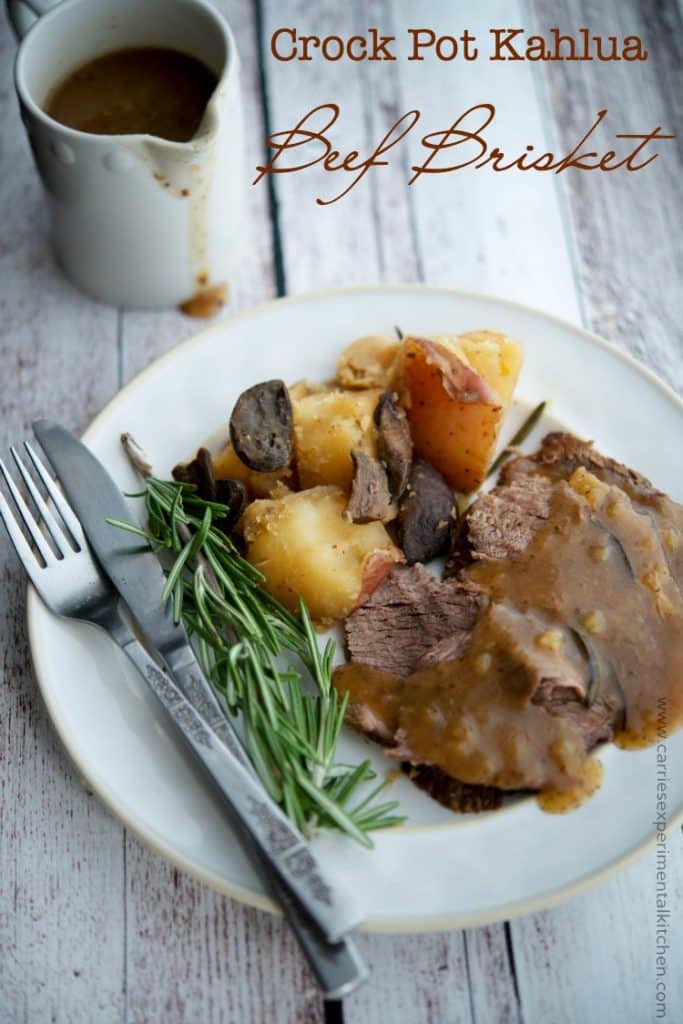 Have you ever tried cooking with Kahlua? It's a coffee flavored liquor and adds a sweet taste to your recipes. I don't make beef brisket that often; let alone make it during the week as it's usually saved for a Sunday afternoon meal because it takes several hours to make.
I've made Tuscan Style Beef Brisket and also a Marsala & Lemon Roasted Beef Brisket before which my family enjoyed immensely. I had purchased a brisket on one of my recent shopping trips and was in the mood for it one night for dinner, but didn't have time to cook it in the oven so I decided to make it in my crockpot.
Also because I know how much you all love crock pot recipes; especially this time of year. And being that I like to experiment in the kitchen, I decided to add a little different flavor to it by adding Kahlua.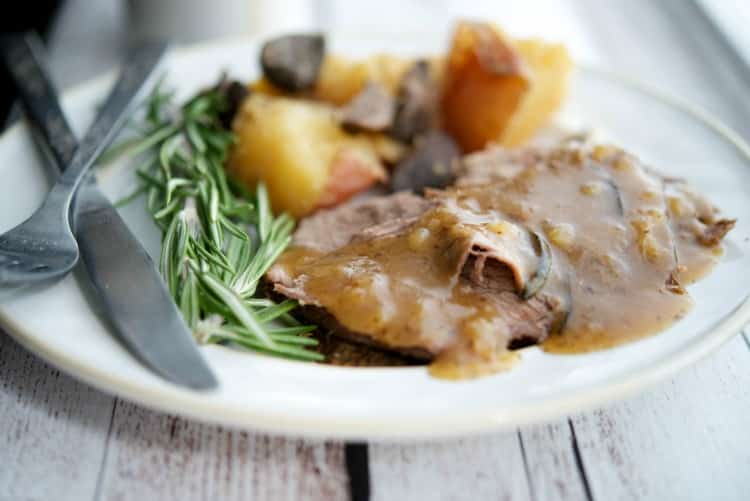 How do you make Kahlua beef brisket?
This recipe is pretty simple, like most of the recipes you'll find here and starts off by browning the beef brisket is a little olive oil. Even though you could put the brisket in the crock pot without browning the meat first, I don't recommend it.
You really want to seal in the meats natural juices by browning it first. Once the beef is browned, about 8-10 minutes, add it to your crock pot with all of the remaining ingredients: Kahlua, beef broth, red potatoes, mushrooms, garlic and fresh rosemary.
Cover your crock pot then allow to cook on HIGH for 4-6 hours or LOW 6-8 hours before carving across the grain.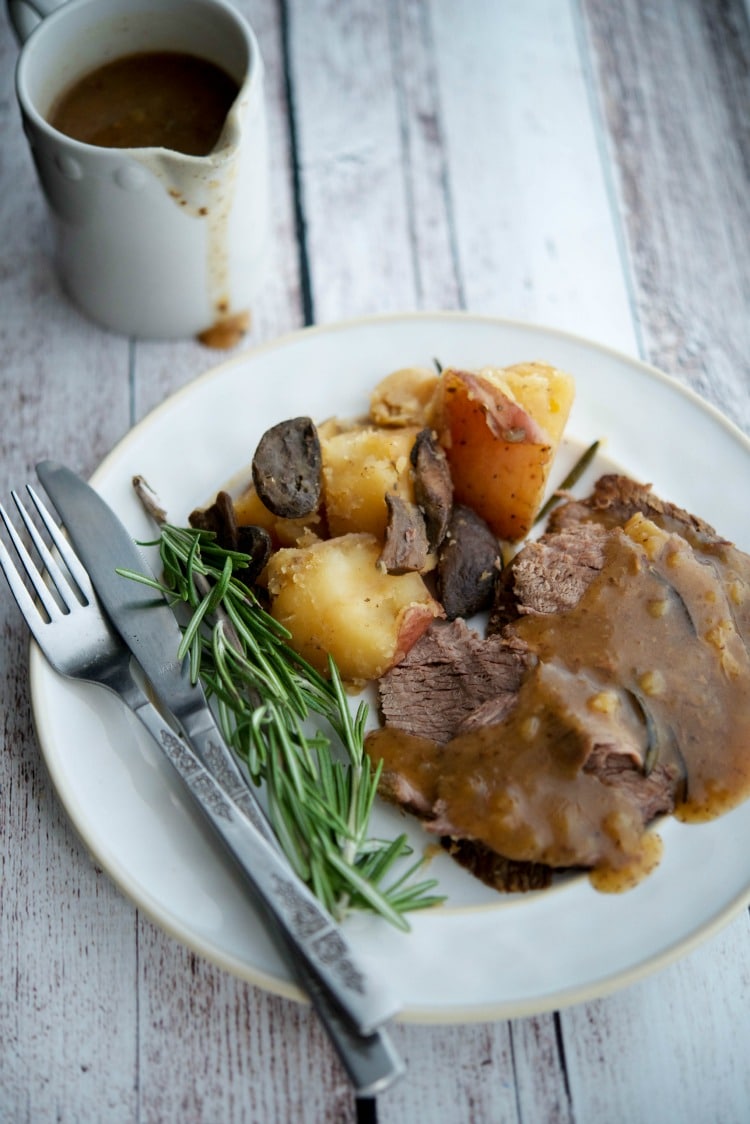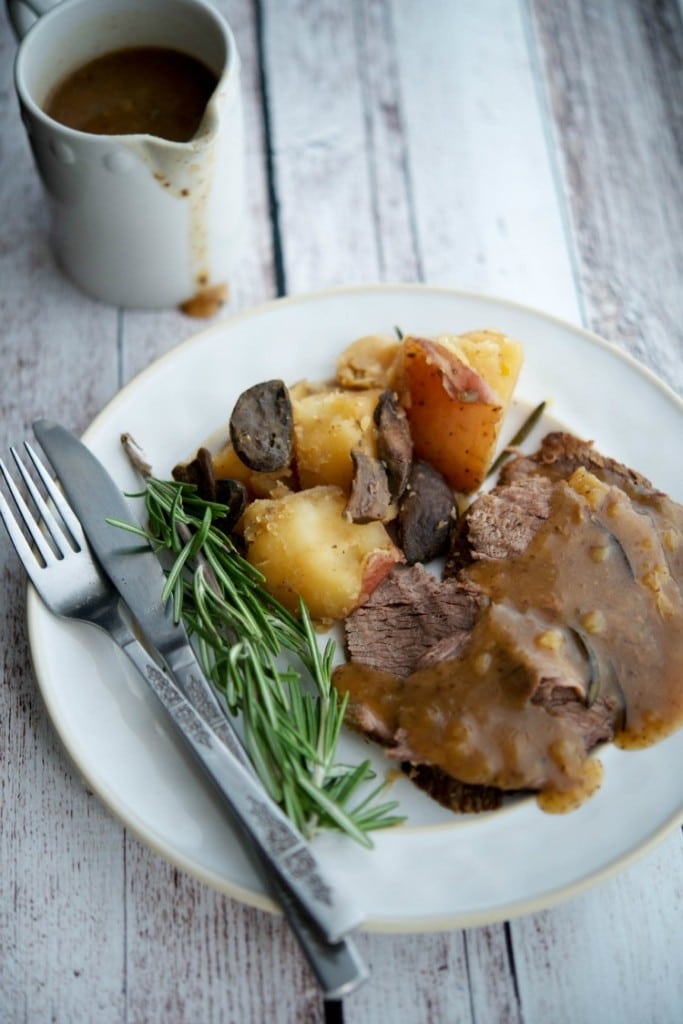 After mine was done I removed everything and separated the remaining liquid; then placed that in a small saucepan to make a gravy. This Crock Pot Kahlua Beef Brisket was so moist and tender; not to mention delicious!
The Kahlua gave it a bit of a sweet flavor so if you don't like to cook with alcohol (though it does burn off while cooking), you can use all beef broth. I have another beef brisket in my freezer and can't wait to see what other ways I can make it. ~Enjoy!
Sign up for my weekly newsletter
and receive
a FREE eBook!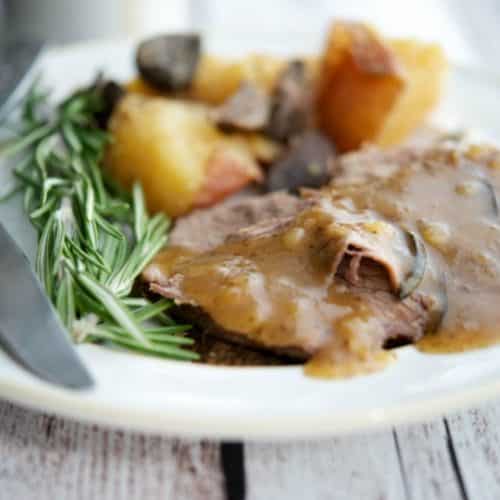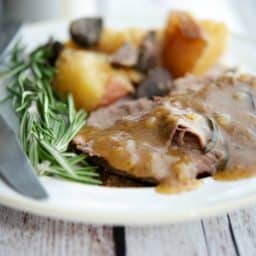 Crock Pot Kahlua Beef Brisket
Beef brisket combined with garlic, mushrooms, fresh rosemary, beef broth and Kahlua; then slowly cooked in the crock pot.
Ingredients
2

pounds

beef brisket

1

tablespoon

extra virgin olive oil

½

cup

kahlua

(or other coffee liquor)

½

cup

beef broth

4

medium

red potatoes,

quartered

3

cloves

garlic,

halved

8

ounces

mushrooms,

halved

1

sprig

fresh rosemary
Instructions
Heat the oil in a Dutch oven or large pan over medium-high heat. Add the brisket and brown on both sides; approximately 3-5 minutes per side.

While you are browning the meat assemble the remaining ingredients.

Add the brisket to your crock pot; then add the remaining ingredients. Cover the crock pot and cook on Low: 6-8 hours; High: 4-6 hours. Remove the meat and carve against the grain.
Notes
To make a gravy out of the remaining liquid, place in a small saucepan and bring to a boil. Combine equal parts of cornstarch/flour and cold water (1-2 tbsp. should be fine) and stir into the liquid until it thickens.

Connect with me on Social Media
Related Recipes