Feta and Sage Mini Chicken Meatloaf made with ground chicken, fresh sage, onions and Feta cheese is a deliciously healthy, simple weeknight meal.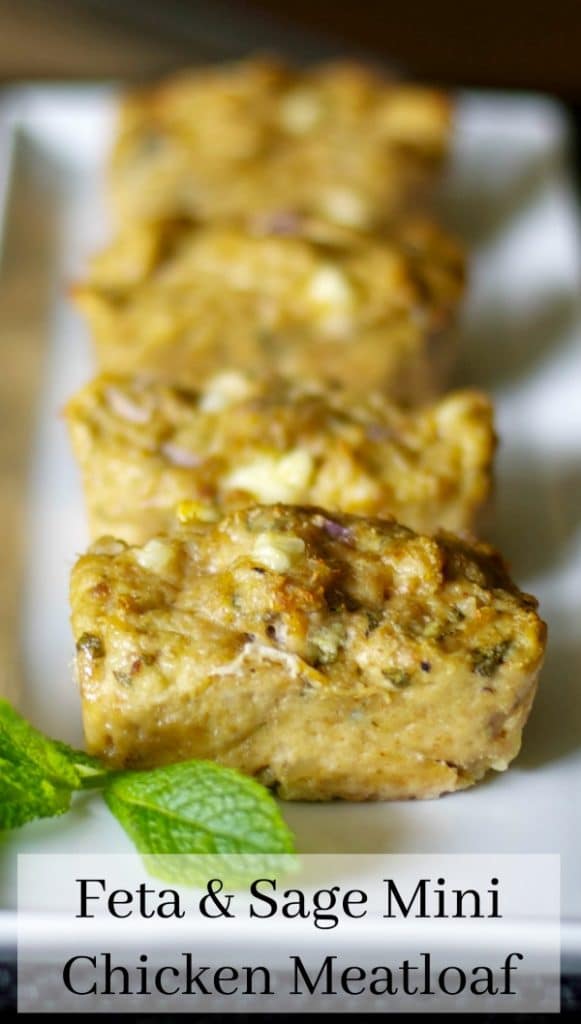 So if you can't tell by my picture, I'm spilling a secret. These are actually mint leaves in the photo, not sage leaves. I completely forgot to save one for photo purposes after the meatloaf was done and used all of what I had in the recipe. Oh well, nobody's perfect right!
These little meatloaves were still delicious and I loved the flavors of the sage and Feta cheese combined together. I also wanted to use a mini square loaf pan so that I could get individual portions, but feel free to make it full size. I have to say, my little one doesn't generally like ground chicken or turkey, but DEVOURED these. So I don't know if she liked the taste or that they were cute and little for her to eat! In any event, it was another healthy meal the whole family enjoyed.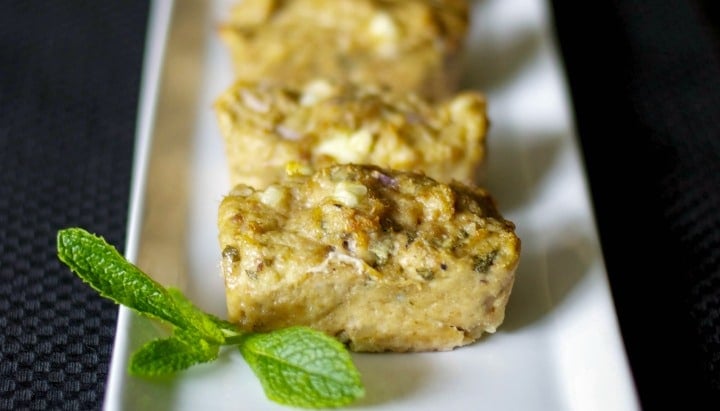 Here are some storage tips I found for fresh sage since it's a spice that I myself only started using a few years ago.
Fresh sage leaves should be aromatic and should have no soft spots or dry edges.
To store, wrap in paper towels and store in a plastic bag in the refrigerator and use within 4 to 5 days.
According to About.com, fresh leaves may also be covered in olive oil and stored in the refrigerator up to 3 weeks.
Use the flavored oil for sautéing or in salad dressings.
To freeze fresh sage leaves, wash and pat dry, remove leaves from the stems, and pack loosely in freezer bags. Freeze up to 1 year. Be aware that freezing will intensify the flavor of the herb and adjust accordingly.
Dried sage is preferred by most cooks and comes in whole leaf, rubbed, and ground form. Rubbed sage has a light, velvety texture, whereas ground sage is more of a free-flowing powder. As with all dried herbs, store closed containers in a cool, dry place away from sunlight. Use within 6 months for best flavor.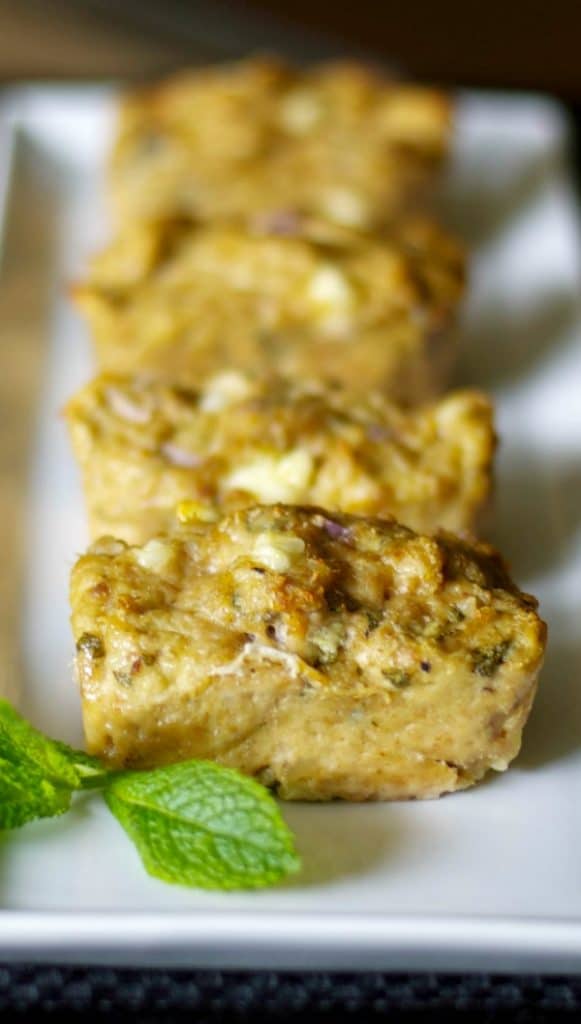 Sign up for my weekly newsletter to get
 the latest recipes and receive
 a FREE eBook!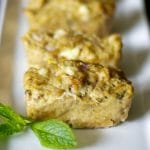 Feta & Sage Mini Chicken Meatloaf
Feta and Sage Mini Chicken Meatloaf made with ground chicken, fresh sage, onions and Feta cheese is a deliciously healthy, simple weeknight meal.
Ingredients
1

lb.

Ground Chicken

1

tbsp.

Fresh Sage, chopped

1

tbsp.

Red Onion, finely chopped

1/2

c.

Reduced Fat Feta Cheese, crumbled

1

Egg white

1/4

c.

Italian Flavored Breadcrumbs
Instructions
Preheat oven to 350 degrees F.

Add all ingredients to a bowl and mix well; then form into six equal portions.

Place each portion into a greased mini loaf pan and bake for approximately 40 minutes or until the proper internal temperature is reached. (minimum 165 degrees F, but I prefer my poultry at 180 degrees F)
Recipe Notes
Nutrition Facts
Feta & Sage Mini Chicken Meatloaf
Amount Per Serving
Calories 161
Calories from Fat 81
% Daily Value*
Total Fat 9g 14%
Cholesterol 60mg 20%
Sodium 258mg 11%
Potassium 22mg 1%
Total Carbohydrates 5g 2%
Protein 7g 14%
* Percent Daily Values are based on a 2000 calorie diet.
*Nutritional information is based on specific ingredients and products used in this recipe and was calculated by MyFitnessPal.com; which may not be 100% accurate. 
©2017 Carrie's Experimental Kitchen. Unauthorized use and/or duplication of this material without express and written permission from this blog's owner is strictly prohibited. Please contact the owner for any licensing inquiries for commercial use, publication and/or general distribution.
Original recipe can be found at www.carriesexperimentalkitchen.com
Visit the 

recipe index

 to search for more recipes by category.
Connect with me on Social Media