This Panera Bread copycat recipe for Napa Almond Chicken Salad made with tender white meat chicken, slivered almonds and grapes in a honey lemon herb mayonnaise makes a tasty sandwich for lunch or dinner.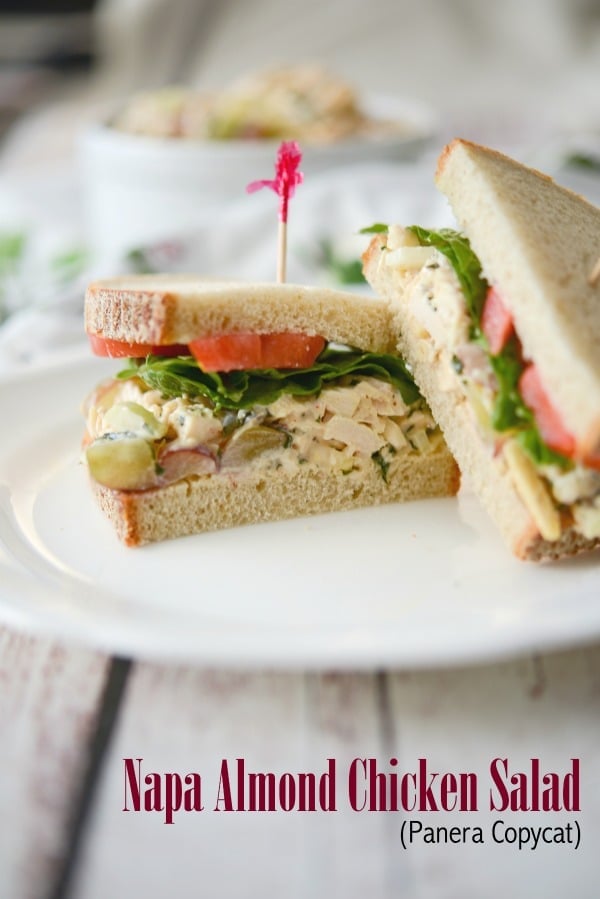 When our oldest daughter was still in high school and taking SAT prep courses, there was a Panera Bread restaurant right next door.
Since it was too far for me to drive her back and forth, I'd just stay the 2 hours, get something to eat, like this Napa Almond Chicken Salad or some soup and get some blogging work done. It was actually quite relaxing.
I really enjoyed their sandwich so much that I visited the website and printed out the description of the sandwich so that I can replicate it myself one of these days.
Five years later as I was sifting through all of the recipes I want to make, I came across it and since I had just made a roasted chicken and had leftovers, decided that now would be the perfect time.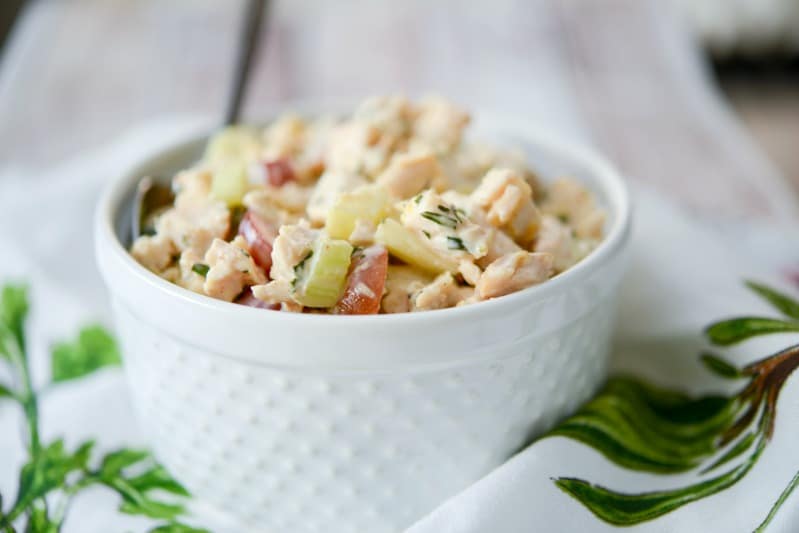 How do you make Panera Bread Napa Almond Chicken Salad?
After looking at their detailed ingredients list, I highlighted the ingredients. I only used the more natural ingredients that I keep in my pantry and got to work. For this recipe you'll need cooked chicken (preferably white meat), slivered almonds, red grapes, and celery.
Combine all of these ingredients in a medium bowl; then make the dressing.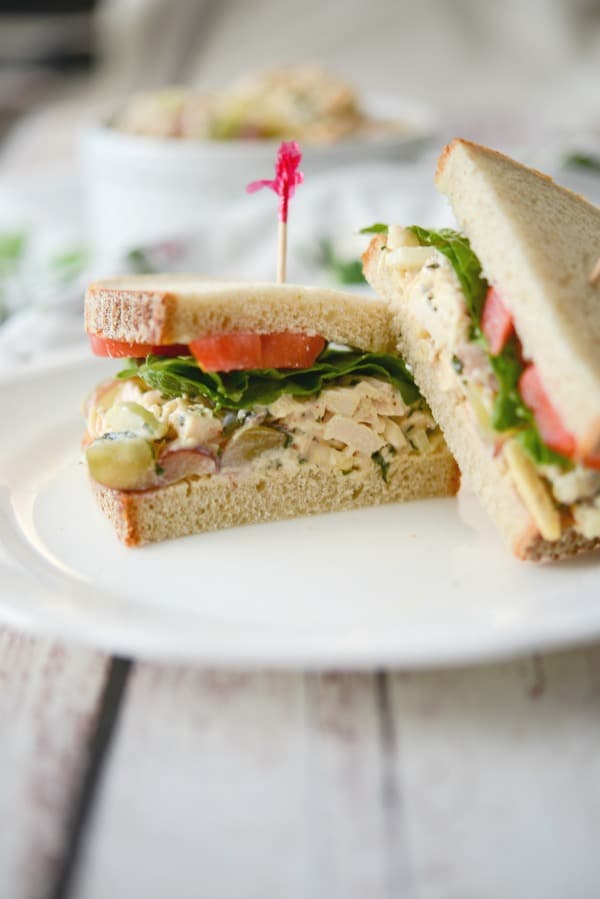 How do you make the dressing?
For the dressing, you'll need honey, cider vinegar, mayonnaise (I prefer Hellmann's), and mustard powder, lemon rind, rosemary, basil, black pepper, garlic and onion powder. If you have lemon pepper seasoning, you can use that in place of the lemon rind and black pepper.
Whisk all ingredients together; then add to the chicken and mix well to combine all of the ingredients. This recipe for Napa Almond Chicken Salad was so good and tasted just like the original.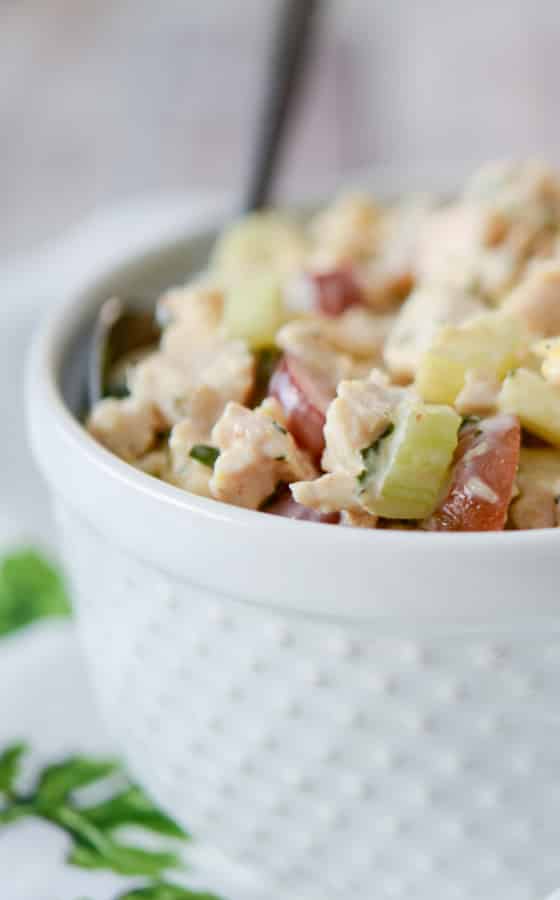 Make a sandwich or just eat it without, it's so flavorful you really don't even need the bread. This Panera Copycat Napa Almond Chicken Salad makes 3 cups or six 1/2 cup servings and it taste just like the restaurant version. ~Enjoy!
Sign up for my weekly newsletter
and receive
a FREE eBook!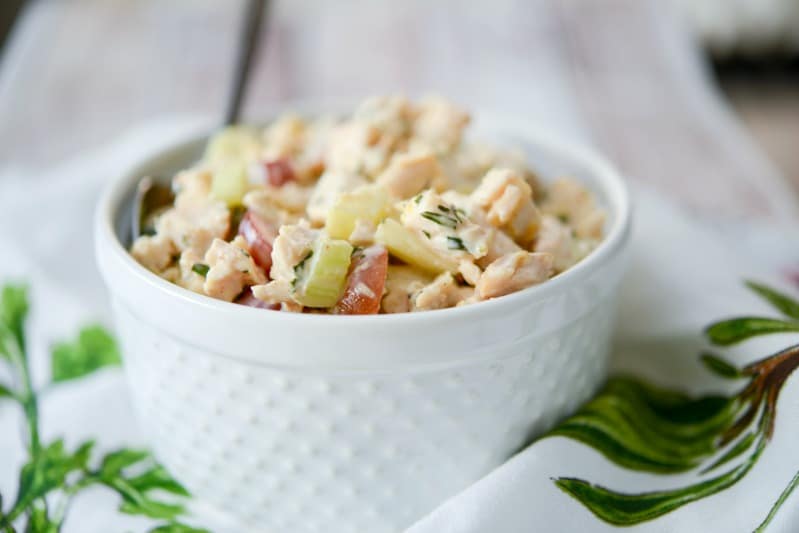 Ingredients
For the Chicken Salad
2

c.

Cooked & Diced Boneless Chicken Breasts

1/4

c.

Diced Celery

1/4

c.

Slivered Almonds

1/2

c.

Grapes, cut in half

Prepared Dressing
Instructions
For the Chicken Salad
Mix all ingredients together in a large bowl until combined.
For the Dressing
Whisk all ingredients together in a bowl until combined.
Nutrition
Did you make this recipe?
Share a comment on the blog or mention @CarriesExpKtchn on Instagram!
Visit the

recipe index

to search for more recipes by category.

Related Recipes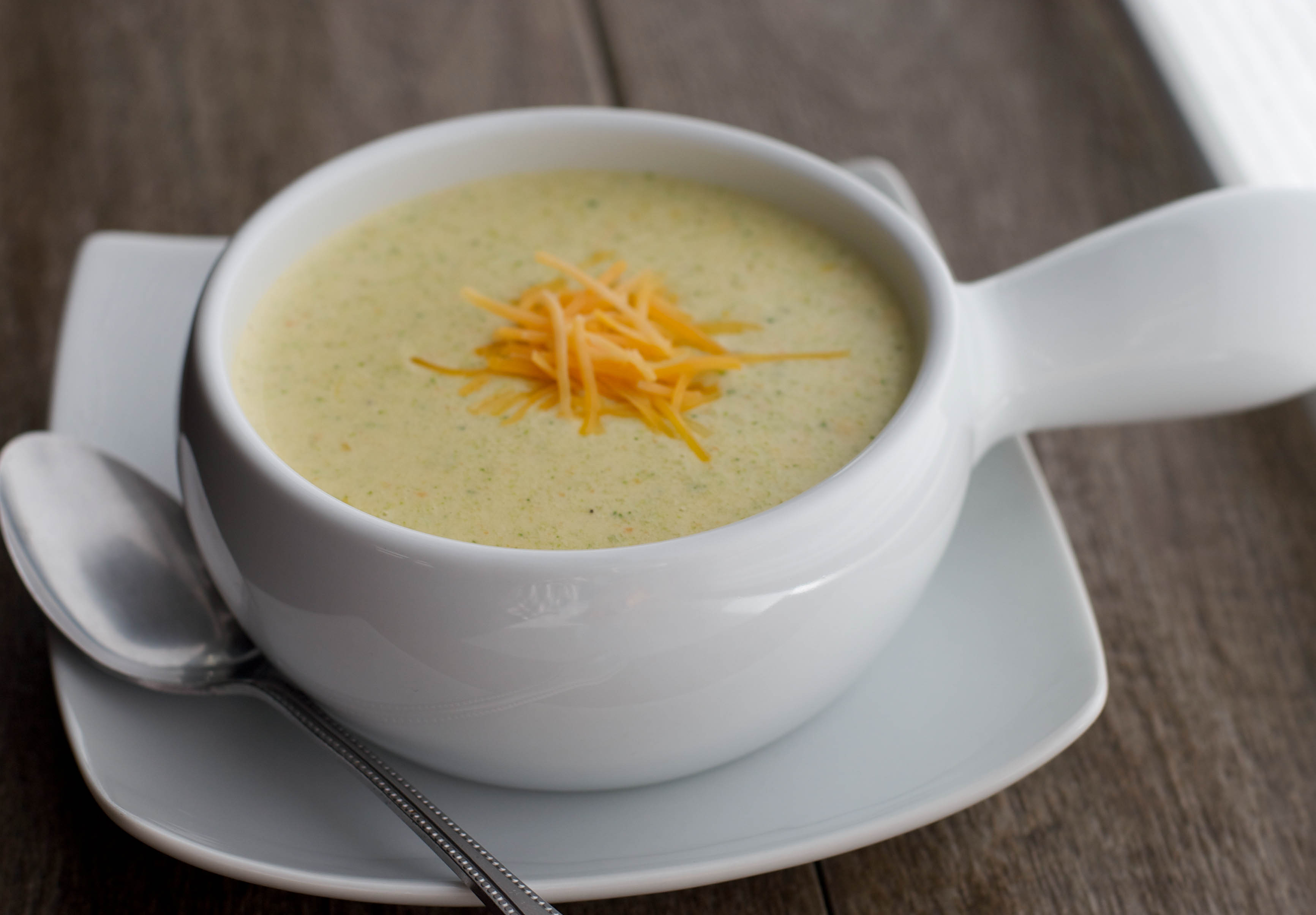 Copycat Panera Broccoli & Cheese Soup
Bleu Cheese Pecan Chopped Salad (Outback Steakhouse Copycat)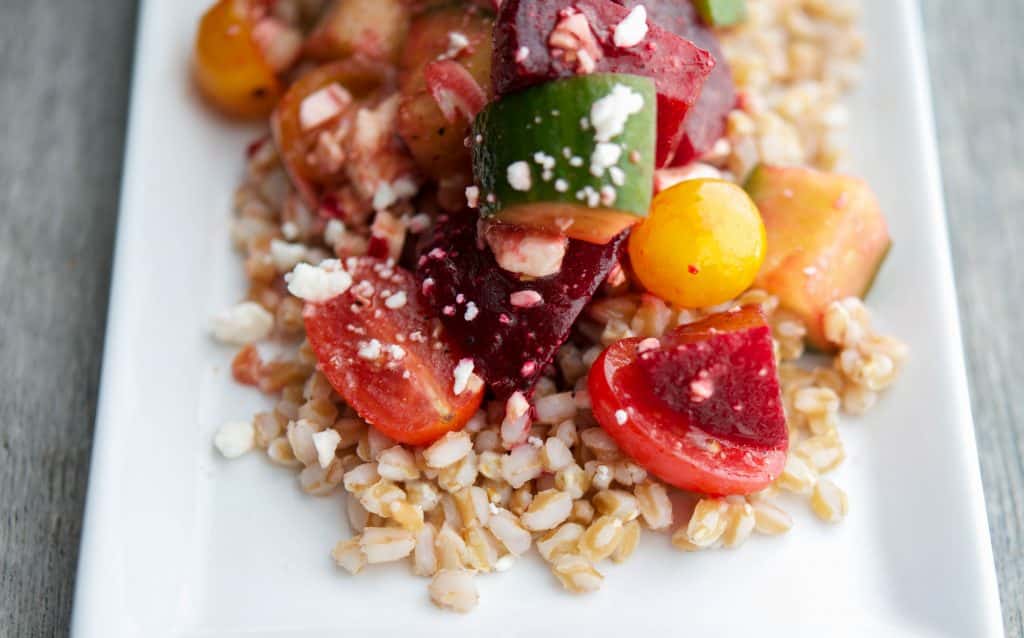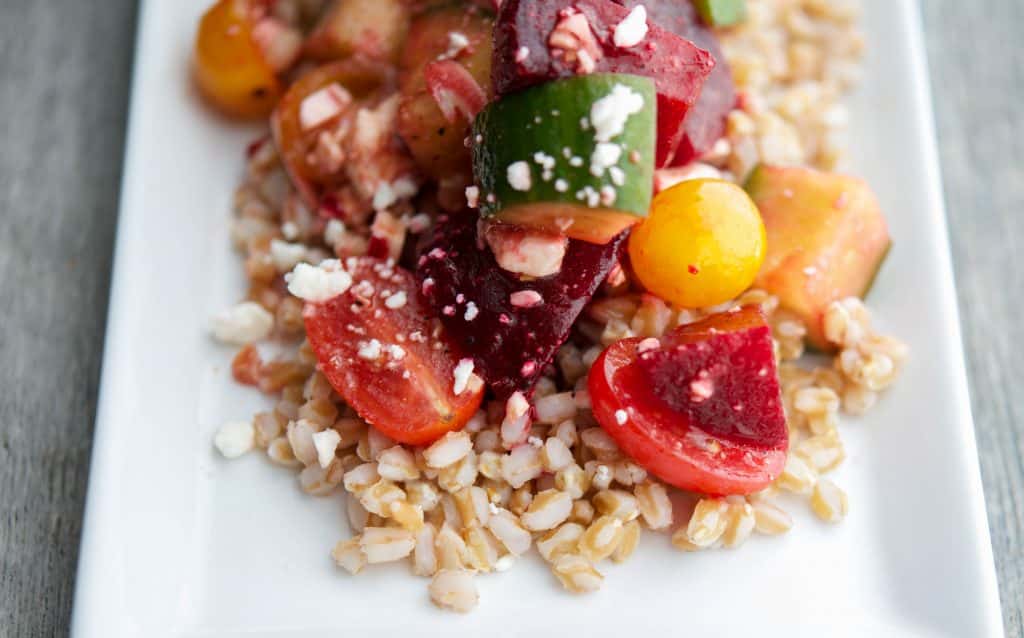 Santorini Farro Salad (The Cheesecake Factory Copycat)
More Recipes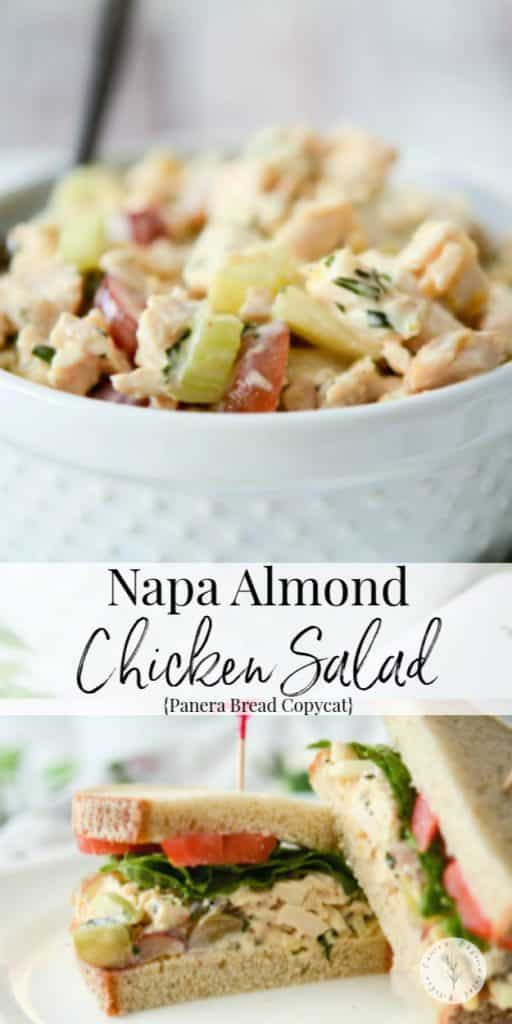 Connect with me on Social Media