Amaretto Roasted Acorn Squash with butter and brown sugar has a buttery, almond flavor that makes this the perfect side dish for Thanksgiving.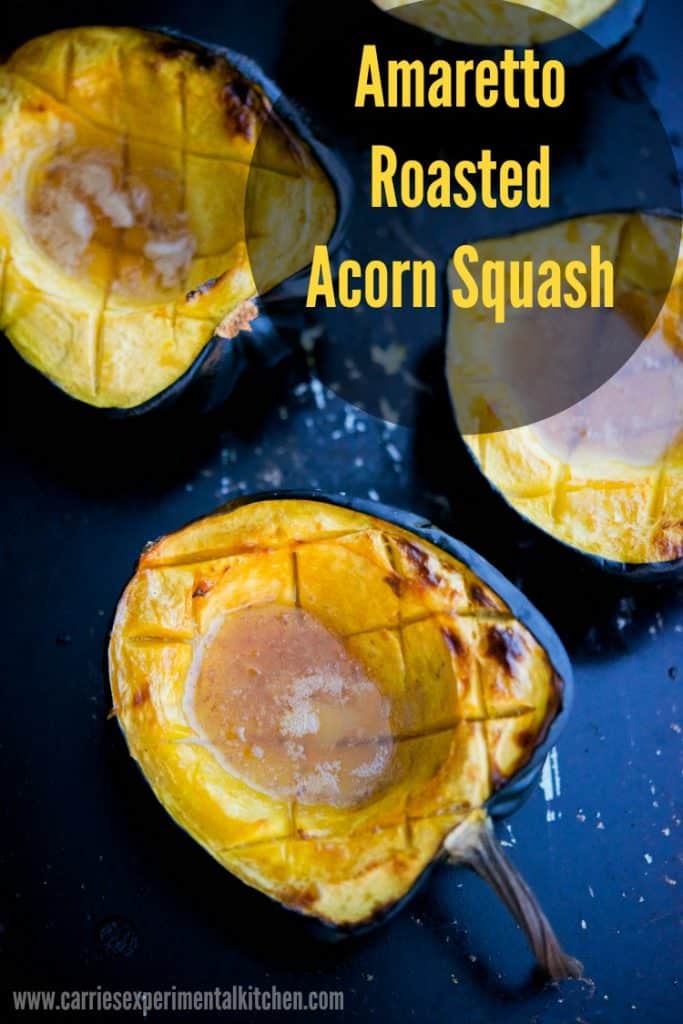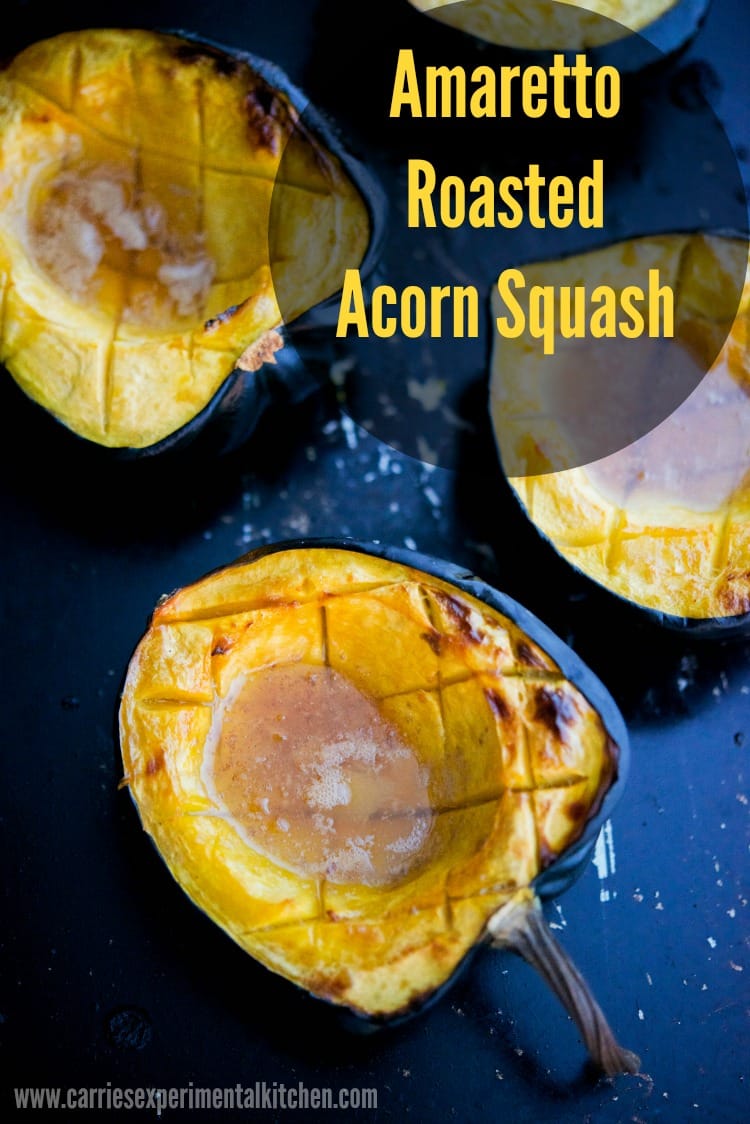 Acorn squash isn't something I regularly make for no other reason than I didn't really eat a lot of it growing up and wasn't sure I would like it. In fact, when a family friend gave my in-laws some from their farm, they passed some along to me. I wasn't sure what I was going to do with it at the time, but they told me about a recipe that one of their friends (who has since passed away) used to make by adding a little butter, sugar and Amaretto to it; then bake it. It sounded perfect to me!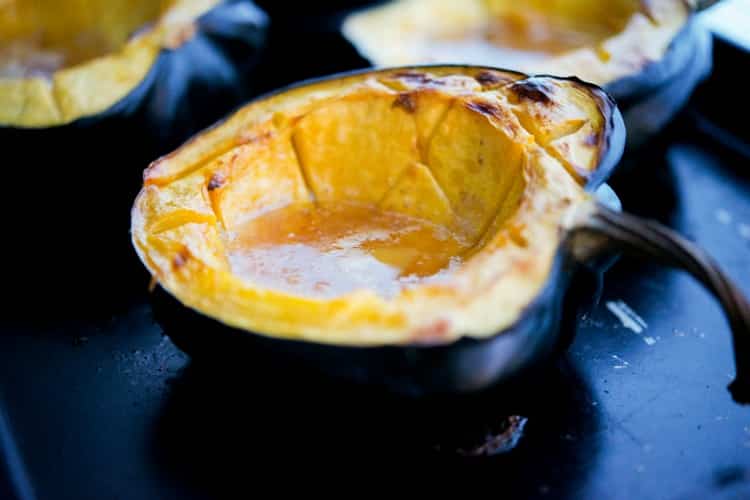 This Amaretto Roasted Acorn Squash recipe was so simple to make. In fact it only took about 5 minutes to prepare before I popped it into the oven. All you need are acorn squash, butter, light brown sugar and Amaretto; which is an almond liquor. Place the butter, sugar and Amaretto into the center of the squash; then bake for an hour. The squash is done when the flesh is soft and lightly browned.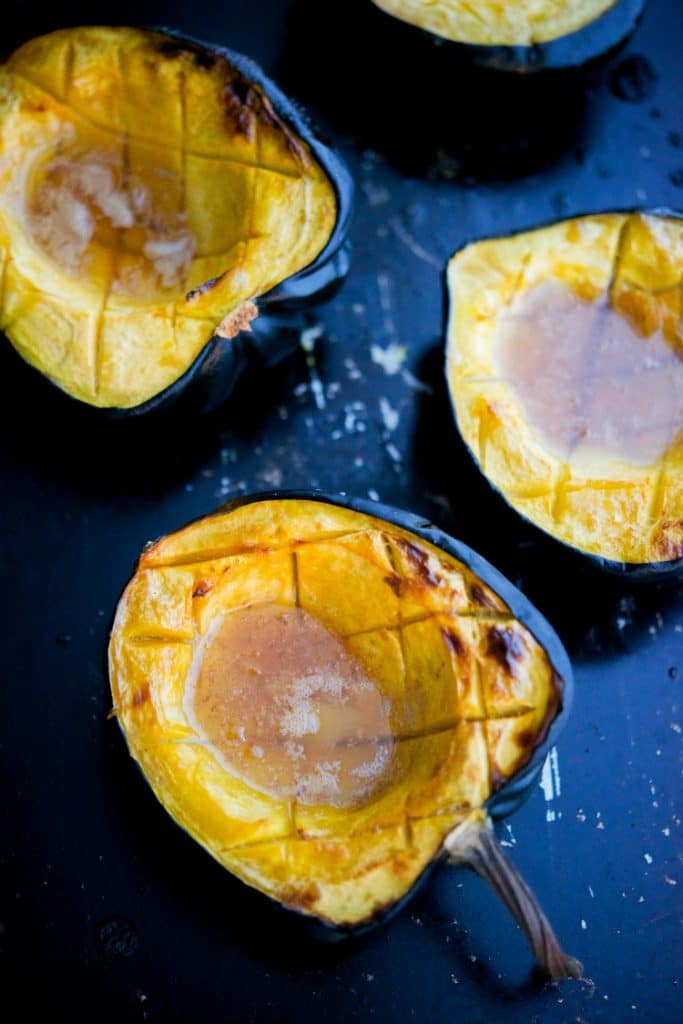 As you can see the liquid kind of pools into the center, but as you cut into it with your first bite, the liquid disperses throughout the squash and you get this really sweet, buttery-almond flavor with every bite. This recipe serves four; each person gets a half. However, if you're feeding a large crowd for Thanksgiving, I suggest the following:
Cut the acorn squash into 1″-2″ pieces. (You may leave the skin on.) Once the squash is cut, place in a large bowl.
Melt the butter and add it to the squash along with the sugar and amaretto. Mix well; then place on a baking sheet. Roast until soft; approximately 40-50 minutes (turning halfway).
Amaretto Roasted Acorn Squash
Click To Tweet
This Amaretto Roasted Acorn Squash was delicious and is going to be a new Fall favorite. The best part is that it takes only minutes to prepare. If you're concerned about oven space Thanksgiving day, might I suggest making these the night before. Once they're cooked, allow them to cool then wrap tightly and refrigerate. You can either reheat in the oven or microwave when you're ready to serve. I for one will be making this recipe again for our Thanksgiving dinner. ~Enjoy!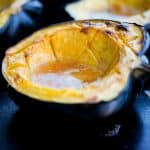 Amaretto Roasted Acorn Squash
Ingredients
2

Acorn Squash

4

tsp

. Butter

4

tsp

. Light Brown Sugar

4

tsp

. Amaretto

almond liquor
Instructions
Preheat oven to 425 degrees F.

Wash the outer skin of the acorn squash; then carefully cut it in half lengthwise for each one. You should have four halves. Scoop out the inside pulp and discard, make criss-cross slits in the flesh; then place the squash on a baking sheet.

Place 1 tsp. of butter, 1 tsp. brown sugar and 1 tsp. Amaretto into each half.

Bake for 1 hour or until soft.
Here are some more acorn squash recipes you might like to try:
Roasted & Stuffed Acorn Squash (The Cozy Apron)
Chipotle Chicken Stuffed Brown Sugar Roasted Acorn Squash (Half Baked Harvest)
Stuffed Acorn Squash with Apple, Cranberry & Sausage Stuffing (Happily Unprocessed)
Garlic Parmesan Roasted Acorn Squash (Spache the Spatula)
Acorn Squash Stuffed with Cranberries (12 Tomatoes)
What is your favorite way to eat acorn squash? 
If you want to stay up to date on all of my latest recipe experiments, sign up for my weekly newsletter or you can visit the recipe index and search for more recipes by categories. Also, don't forget to visit me on Facebook,Twitter,Pinterest and Instagram too!