Chicken Scampi over Fettuccine made with tender boneless chicken breasts in a garlic, butter sauce over fettuccine pasta is a quick, delicious weeknight meal.
Last week, I had taken chicken out to make a new dish, but as the day progressed I really wasn't in the mood to cook…GASP! So I decided to make this quick and easy Chicken Scampi over Fettuccine instead.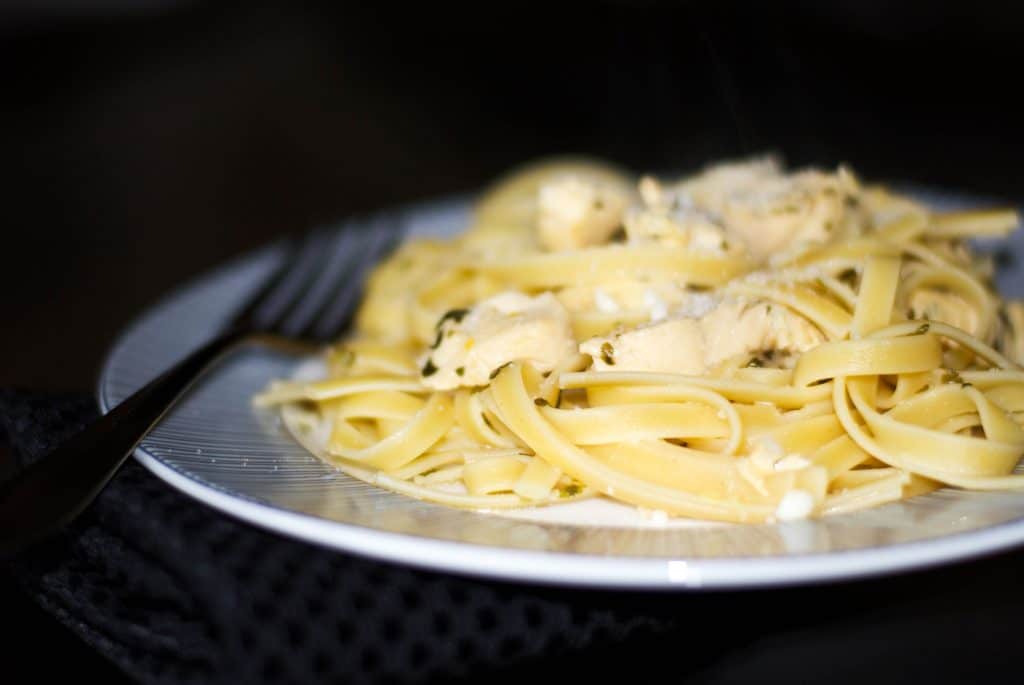 You all know I don't eat shrimp, but the rest of my family loves it. I make it for them on occasion and when I do I generally make a chicken version for me; similar to this one. It was delicious and ready in under 30 minutes. Now that's my kind of meal! ~Enjoy!

Chicken Scampi over Fettuccine
15 ounces Boneless Chicken Breasts
1 tbsp. Extra Virgin Olive Oil
1 tbsp. Butter
3 Garlic Cloves
1/3 c. Vermouth
1 tsp. Lemon Zest
1tbsp. Parsley
1/2 c. Low-Sodium Chicken Broth
2 tbsp. Pecorino Romano Cheese
1 lb. Fettuccine
Directions:
1. Cook pasta according to package directions; drain.
2. While the pasta is cooking, cut the chicken into bite sized pieces. Heat the oil in Dutch oven or large pot, then add in the chicken. Cook until the chicken is no longer pink; approximately 5-8 minutes.
3. Next, add the butter and garlic and saute for 1 minute; then add in the vermouth, lemon zest, parsley, chicken broth and cheese. Allow to simmer for 3-5 minutes. If the sauce is done before the pasta, turn off the heat.
4. Add the cooked pasta to the sauce and mix well. Serves 6.
Nutritional Information per Serving: Calories 351, Carbs 50.5g, Fat 4.7g, Protein 22.8g, Fiber 2.4g, Sugar 1.2g
*Calculations based on ingredients entered into Calorie Count and may not be 100% accurate.