Chocolate Chip Cranberry Oat Muffins made with flour, oats, buttermilk, chocolate and cranberries is delicious for breakfast or afternoon snack.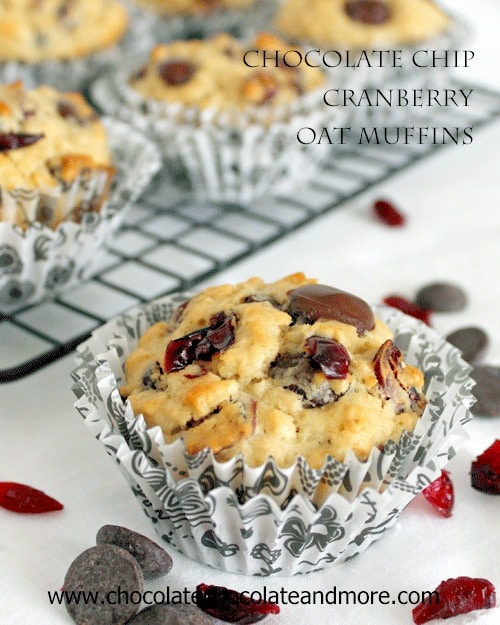 Today, I'm excited to have Joan Hayes from Chocolate, Chocolate and More back here at Carrie's Experimental Kitchen as a Guest Blogger. I've known Joan for quite some time now through our foodie world and she is such an amazing person, besides being one of the most talented bakers I have had the pleasure to get to know.
Last July, she sparked a ton of interest with her recipe for Cinnamon Swirl Bread (which my family LOVES!) and today she is going to share her recipe for these Chocolate Chip Cranberry Oat Muffins. Do you see the drool running down my face???!!!
Take it away Joan!
Hi all, I'm Joan and I blog over at Chocolate Chocolate and more. I live in small town Georgia and love being able to stay at home, volunteer at my children's schools and have dinner on the table most nights for us to all sit down and review our days together.
It's getting a little harder each year as the kids get older and have more activities dragging them in different directions but dinner is still a special time in our house and for that I'm thankful.
I'm so happy to be guest posting for Carrie. She was one of my very first bloggy friends and has always been so supportive of everyone she comes in contact with. I love all her recipes and her cookbook is amazing.
I was thrilled when Carrie sent me my copy and I've got so many pages dog-eared with recipes I want to try.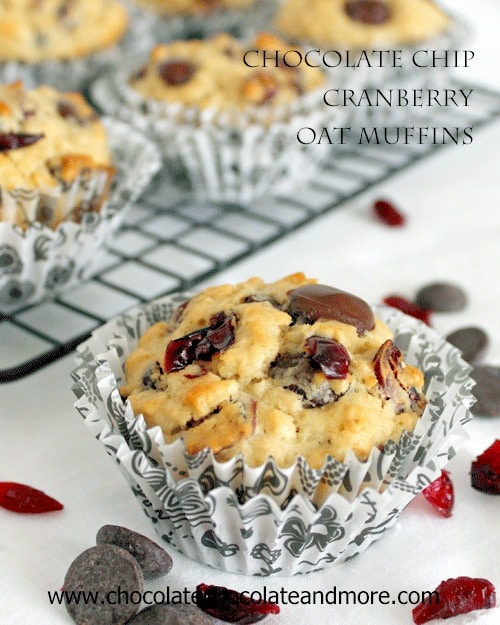 I'm mainly a sweets maker, although I also love making breads. There's just something about kneading dough by hand that I find therapeutic. As you can tell by the name of my blog, I do have a special affection for chocolate. If I could live off of chocolate alone, I think I would.
Sadly I can't and there are so many other wonderful treats out there to bake up. Variety is the spice of life right?
Muffins are one of our favorite breakfast foods. Since I'm not a morning person, I love that I can make muffins, pop them in the freezer and then the kids can grab one or two before school. Just put them in the microwave for about 30-45 seconds and it's just like they came out of the oven.
Sign up for my weekly newsletter
and receive
a FREE eBook!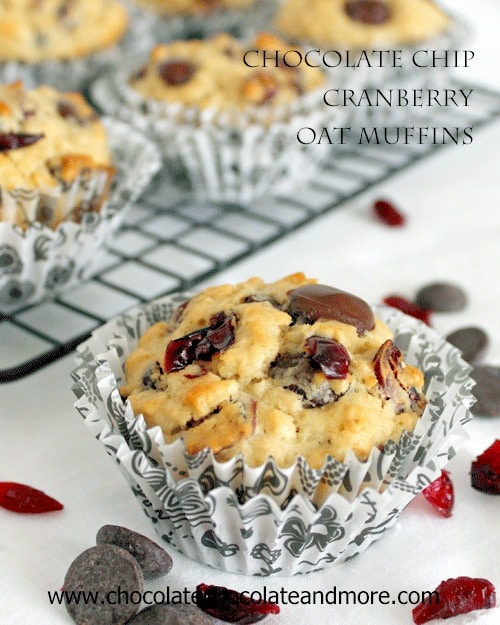 Instructions
Combine flour, oatmeal, sugar, baking powder and salt in a medium bowl.

In a separate bowl, beat egg and add buttermilk and oil, beat again to combine. Stir in buttermilk mixture to dry ingredients until completely moist.

Fold in chocolate and cranberries.

Spoon into 12 paper lined muffin tins and bake in a 400 degree oven for about 20 minutes, just until tops begin to golden.

Remove from oven and let rest for 5 minutes. Serve warm or store in airtight container once completely cooled.
Did you make this recipe?
Share a comment on the blog or mention @CarriesExpKtchn on Instagram!
Visit the

recipe index

to search for more recipes by category.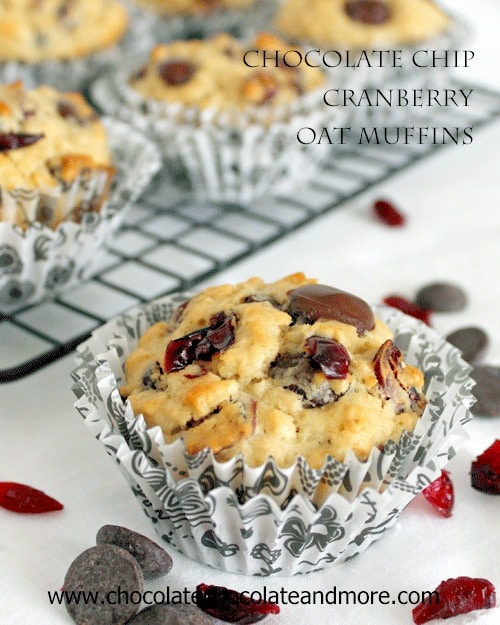 Thank you for another incredible recipe Joan! My kids are literally looking over my shoulder begging me to get up from this computer and make them…NOW! 🙂
If you like what you saw here today, she has plenty more where that came from! Please visit her website Chocolate, Chocolate and More
Connect with me on Social Media